Irish Electric Vehicle Report
Let's explore Electric Vehicles (EVs)
Last updated: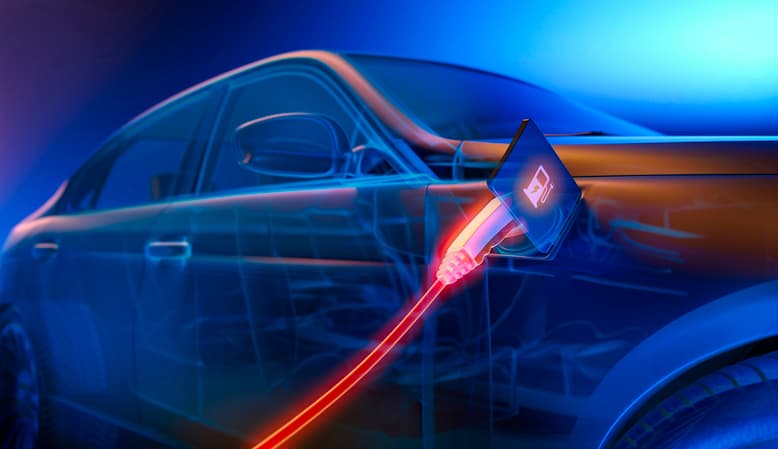 From saving you cash to help with your financial goals, to helping you plan upcoming road trips, we like to look towards the future at Chill.
And when it comes to driving, it seems that electric vehicles (EVs) are the cars of the future. As a solution to cutting carbon emissions, EVs are becoming increasingly popular in Ireland. The government has also announced a range of initiatives and grants to make owning an EV cheaper and more accessible.
With Ireland pledging to ban the sale of new petrol and diesel cars from 2030, you may start driving an EV sooner than you think. But, how prepared are we for the change?
The Best Counties in Ireland for EV's
To rank each county, we looked at factors such as the number of EV charging stations per 10,000 people, the number of EV dealerships per 10,000 and the potential petrol savings for people in each county.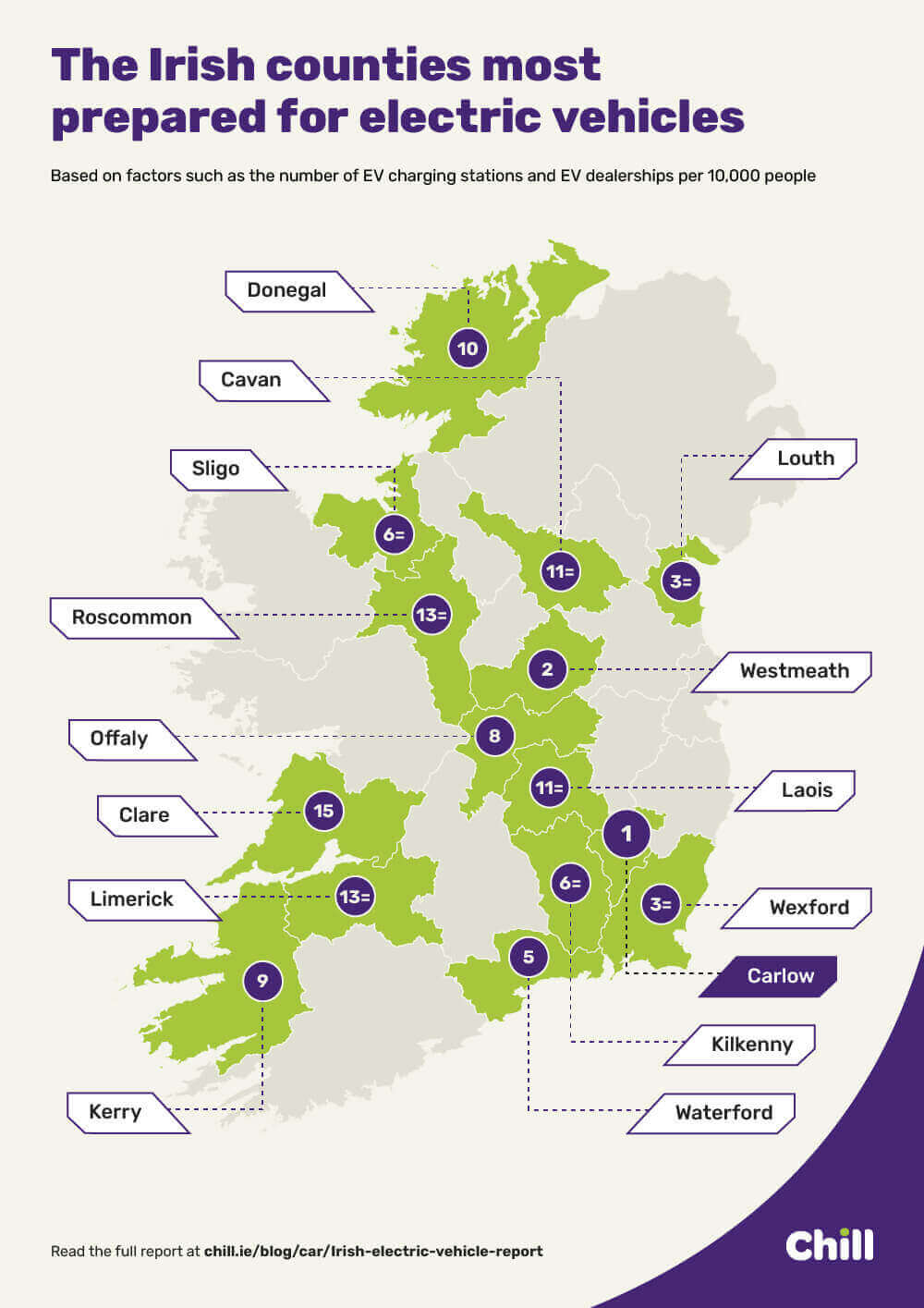 5. Co. Waterford
County Waterford has 36 electric charging stations for a population of 127k, resulting in 2.8 charging stations for every 10k of Waterford residents. Taking the population into account, this is the seventh best number of charging stations per 10,000 people in Ireland.
3 = Co. Louth
According to recent figures from the Central Statistics Office (CSO), the number of EVs registered in Louth in the first six months of 2022 was more than the whole of 2020 and 2019 combined. Proof that demand for EVs in the coastal county is showing no signs of slowing. Our report placed Louth as the third best county for electric vehicles in Ireland.
3 = Co. Wexford
County Wexford is the third best county in Ireland for electric vehicles. A county known for its rich heritage, medieval lanes and historic monuments, it may come as a surprise that Wexford is so geared up and ready for the future of driving. It has one of the highest numbers of EV dealerships in the country, and the third highest number of charging stations per 100,000 people.
2. Co. Westmeath
County Westmeath has the highest number of EV dealerships per 10,000 people, our study revealed. Making it easier to find the right car for those looking to make the switch. According to the CSO, electric vehicle registrations in Westmeath are set to be their highest this year. Currently, 133 new electric vehicles have been licensed in Westmeath (Jan-Jun), compared to yearly figures of 155 in 2021, 59 in 2020 and 85 in 2019.
1. Co. Carlow
Our Irish Electric Vehicle Report has found that county Carlow is the best county in Ireland for electric vehicles. It consistently came out towards the top of each of the rankings, including the number of EV charging stations and dealerships, as well as potential savings for EV drivers.
Where EV Drivers Could Save the Most in Ireland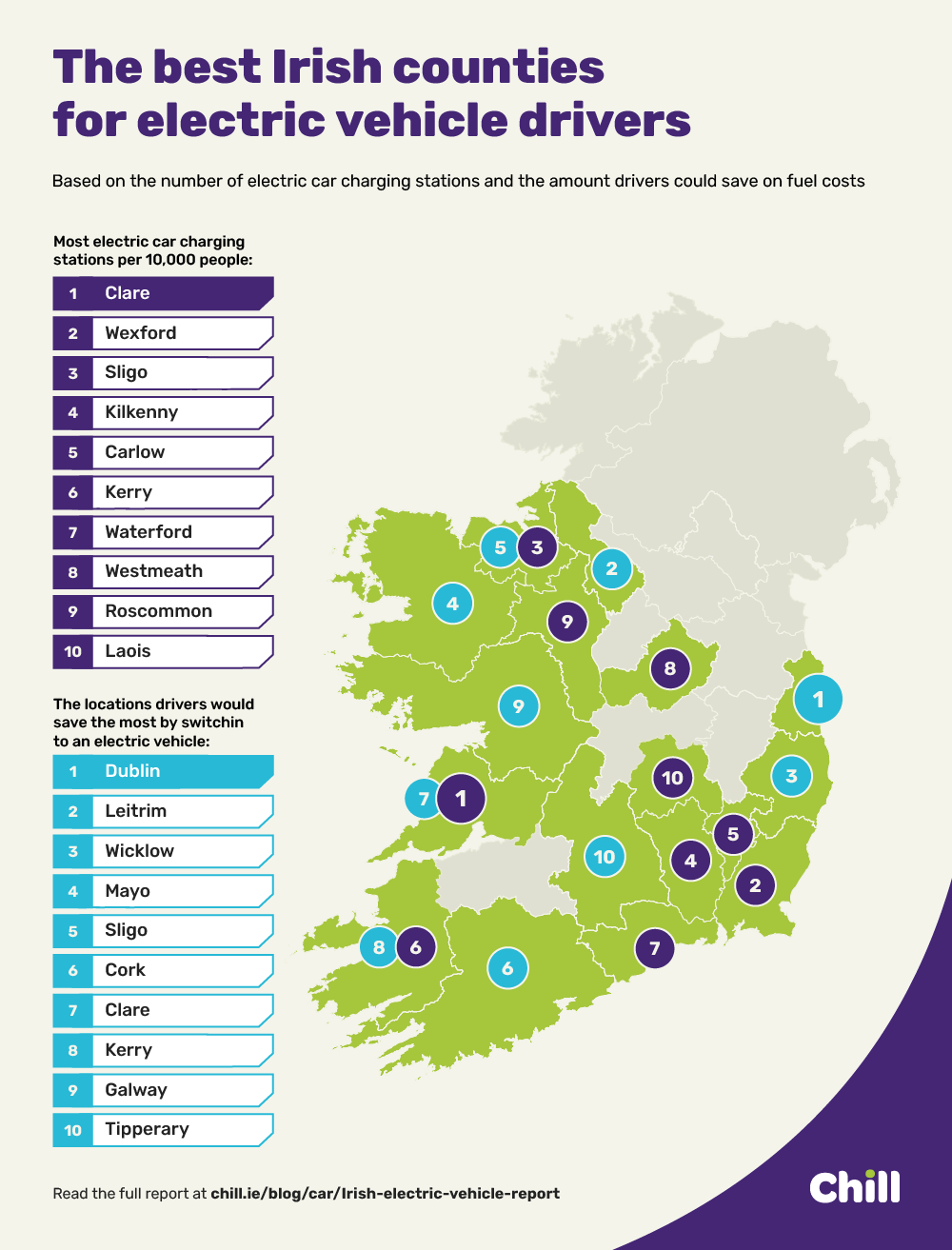 We all know that filling up your car is becoming more and more expensive. As fuel prices continue to rise, as will the potential savings for switching to an EV. Taking into account the average petrol prices in each county in comparison to the average electric vehicle charging cost, we discovered the counties which could save the most money by switching to an EV.
As one of Ireland's most expensive places to live, it's little surprise that Dublin is the county that spends the most on petrol and diesel, and could save the most in the long term by purchasing an electric vehicle.
Ways to Save Cash by Switching to an Electric Vehicle
Gearing up for an electric vehicle? Here are three ways you can save money on your EV purchase:
Get Up To €5,000 Off A New Electric Vehicle
The Sustainable Energy Authority of Ireland is offering a government grant of up to €5,000 off the price of an electric vehicle, providing it's from an approved list of EVs.
Get Up To €600 Towards The Cost Of A Home Charging Unit
Eligible homeowners can receive up to €600 towards purchasing and installing a home charging unit for their electric vehicle. Typically, charging from home costs less than public charging points.
Save On Your Motor Tax
Electric vehicles qualify for the lowest tax band of motor tax, meaning your new rate yearly rate could be €120.
If you're looking to purchase an EV, Chill can help you find the cheapest quote for your electric vehicle insurance, comparing the best deals from some of Ireland's leading providers.
Methodology
The number of EVs registered: Central Statistics Office Ireland, Vehicles licensed for the first time report (June 2022).
The number of car charging stations:
Using the tool Plugshare to highlight the number of EV stations within each county.
Population (number of x per 10,000 people): Using the 2022 Census to provide a breakdown of population per county.
The number of EV dealerships: Sustainable Energy Authority of Ireland's 'Find a Dealer' page, searching by each county to find the final figure.
Cost of petrol/diesel:
Utilising Pumps.ie to find the average cost of diesel and petrol in each county.
First published by Ian O'Reilly