The Irish Road Trips That Are The Best Value For Money
Save Money On Your Next Staycation
Last updated: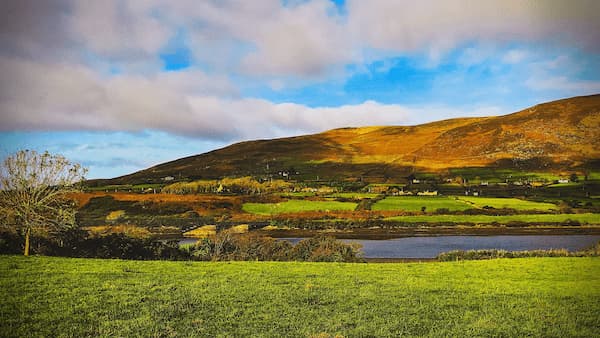 Summer is here and for many of us, a holiday is on the horizon.
Staycations can be a great solution to avoiding airport chaos and costly travel fees, and with Ireland being rich in natural beauty, it's no wonder staycations are a popular choice.
We've looked at some of Ireland's favourite road trips to discover which are the best value for money. So you can bask in the natural beauty Ireland has to offer whilst saving some cash.
Using a range of factors including the number of free activities in the area and the number of cycle routes, we've discovered the top Irish road trips that will give you the most for your money.
The top Eight Irish Road Trips That Are The Best Value For Money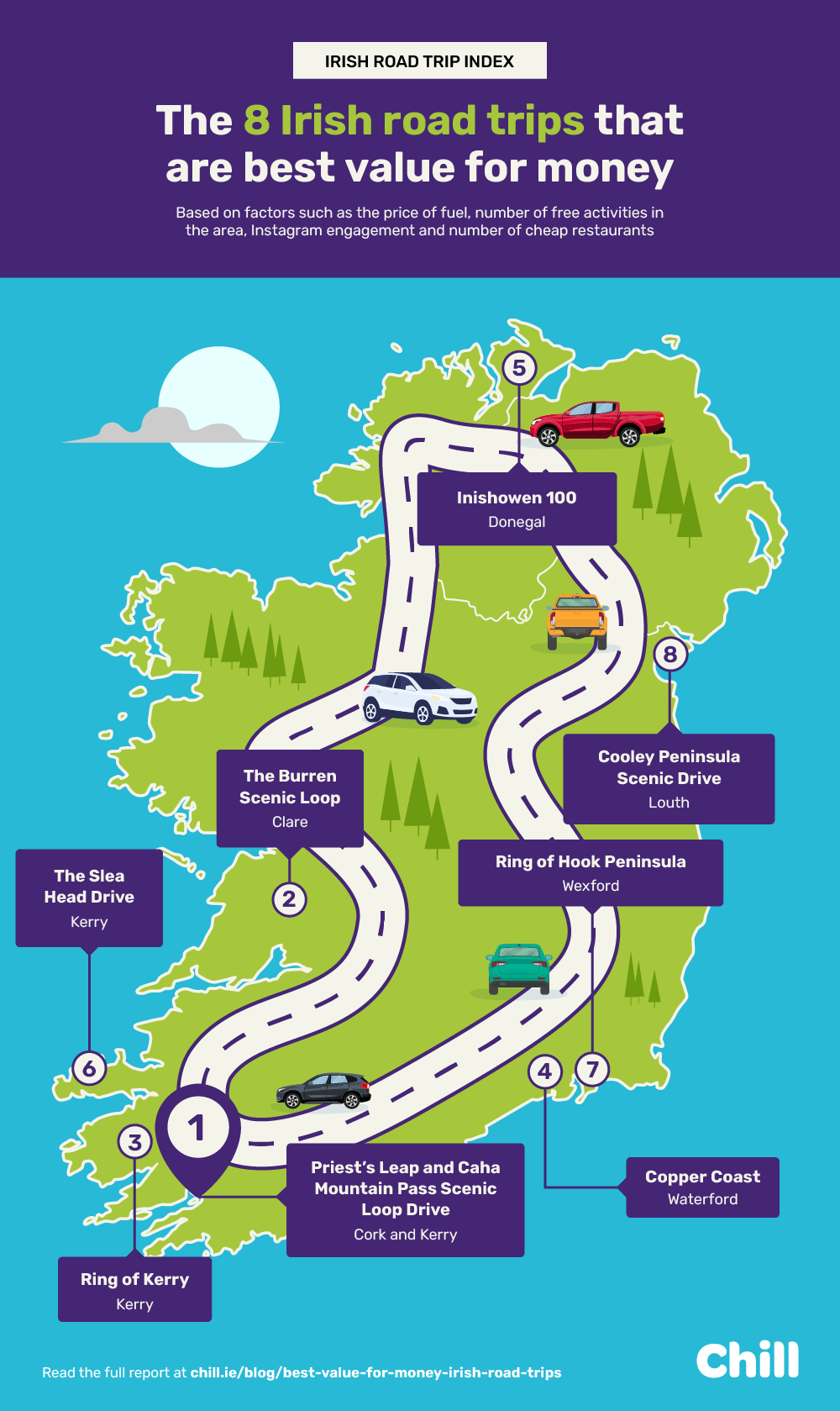 1. Priest's Leap and Caha Mountain Pass Scenic Loop Drive, Cork and Kerry
Taking the crown as the best value Irish road trip is the Priest's Leap and Caha Mountain Pass Scenic Loop Drive, which passes through counties Cork and Kerry. Boasting the highest mountain pass in Ireland, you can enjoy breathtaking views; admire rocky waterfalls, streams, and sheep. Admiring the scenery won't cost you a penny, making Priest's Leap great value for money as you can soak in the sights, take snapshots and create memories - for free! From hiking trails in Beara Way to exploring the village of Bonane including the heritage park. It also has the third most cycle routes in our study and a total of 105 affordable restaurants to choose from, based on the number of TripAdvisor 'cheap eats'. With all that on offer, it's no surprise that Priest's Leap earns the number one spot.
2. The Burren Scenic Loop, Clare
From stunning coastal views to picturesque landscapes, The Burren Scenic Loop in Clare is the second-best road trip in Ireland that'll give you the most bang for your buck. Enjoy 98 free activities in the area such as a stroll down Doolin Pier, exploring The Burren National Park, or a dip in the sea at Fanore beach. After a day of fun with the family you can choose from 41 cheap restaurants, so there's plenty to do and see without breaking the bank. Also, with the highest Instagram engagement rate of 62,000, it's clear that this road trip has an abundance of natural beauty.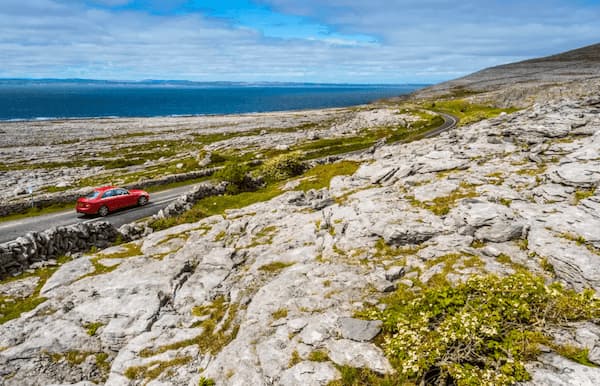 3. Ring of Kerry, Kerry
The popular circular route, aptly named Ring of Kerry is the third-best Irish road trip for your money. With a number of hotspots to visit including the panoramic viewpoint, Ladies View, and Lough Leane, it's as easy on the eye as it is on the pocket! Hosting 206 free activities, children can enjoy the Irish Fairy Trails and explore O Carrolls Cove making this a great road trip for families. With 73 cheap restaurants, this is the perfect spot to park up and unwind after a day on the road.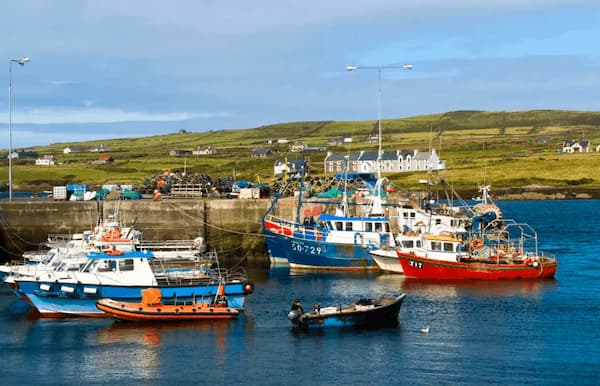 4. Copper Coast, Waterford
With the second-highest number of cycle routes at 138 and an Instagram engagement rate of over 30,000, Copper Coast in Waterford places fourth in our index. With 62 cheap restaurants to choose from and 33 free activities, it's clear that Copper Coast is excellent value for money. Home to the Geopark Visitor Centre and the Copper Coast B&B, families and couples alike can make the most of their time in this stunning location, learning about the area's rich history and enjoying the Irish coast. Pairing this with scenic landscapes and coastal views, Copper Coast lands comfortably in our top five.
5. Inishowen 100, Donegal
Named after its distance in miles, the Inishowen 100 in County Donegal completes our guide to the top five best value Irish road trips. On a clear day you can even see Scotland - so keep your eyes peeled! With one of the highest number of free activities, it's clear that the Inishowen 100 has more to offer for your money than just the breathtaking views.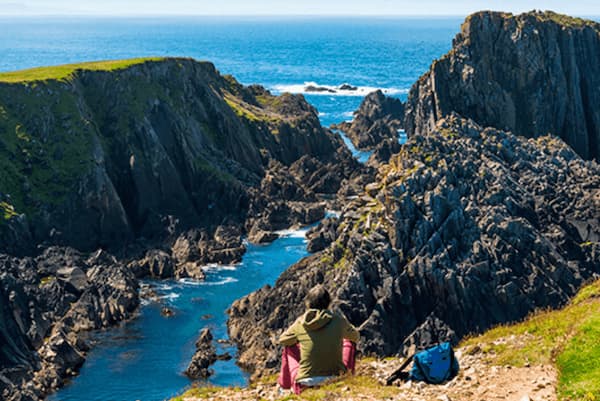 | | | | | | | |
| --- | --- | --- | --- | --- | --- | --- |
| | Road Trip | County | Free Activities | Cycle Routes | Cheap Restaurants | Instagram posts |
| 1 | Priest's Leap and Caha Mountain Pass Scenic Loop Drive  | Cork | 83 | 96 | 105 | 1,266 |
| 2 | Burren Scenic Loop  | Clare | 98 | 16 | 41 | 62,000 |
| 3 | Ring of Kerry | Kerry | 206 | 30 | 73 | 100 |
| 4 | Copper Coast | Waterford | 33 | 138 | 62 | 30,177 |
| 5 | Inishowen 100 | Donegal | 143 | 23 | 76 | 57,400 |
| 6 | Slea Head Drive | Kerry | 206 | 37 | 73 | 41,139 |
| 7 | Ring of Hook Peninsula  | Wexford | 45 | 48 | 18 | 5,807 |
| 8 | Cooley Peninsula Scenic Drive | Louth | 34 | 304 | 40 | 5,795 |
Most Instagrammable Irish Road Trips
No journey is complete without a few scenic pics for your Instagram feed, right? A stunning snapshot costs nothing, so to land those all-important holiday pics we also discovered the most Instagrammable Irish road trips.
The Burren Scenic Loop in County Clare came in first place with the highest number of Instagram posts, celebrating the beauty of its crystal blue waters and green clifftops. There were over 62,000 posts using the Burren Scenic Loop's hashtags, making it the most Instagrammable road trip in our study.
Completing the top three for scenic views on Instagram were the Inishowen 100 in County Donegal with 57,400 posts and the Slea Head Drive in County Kerry with 41,139.
Wherever you're planning to travel in Ireland this summer, let Chill lend a helping hand by saving you money with our car insurance offering.
Looking for more Irish travel advice? Be sure to check out our guide to Ireland's Best Service Stations.
Methodology
Through researching various road trips within Ireland we identified 8 of the top road trips all being able to complete within 1-2 days. Of these road trips, we looked into various factors to rank them on which road trip is the best value for money.
Number of Cycle Routes
This was calculated using the cycling resources 'Komoot' and 'Bikemap; to highlight the number of cycling routes in the region of the relevant road trip.
Number of Free Activities
Activities in the local region were categorised on Trip Advisor as free entry.
Cheap Food and Drink
Restaurants in the local region were categorised on Trip Advisor as "cheap eats". We also used public price data to discover the cost of popular Irish drinks in the region.
Instagram Engagement
To determine the Instagram rating we used the three most popular hashtags relating to each road trip and local region, analysing the number of posts utilising these hashtags to determine popularity.
First published by Ian O'Reilly