How Much To Charge An Electric Car
Cost Per 100km Driven
Last updated: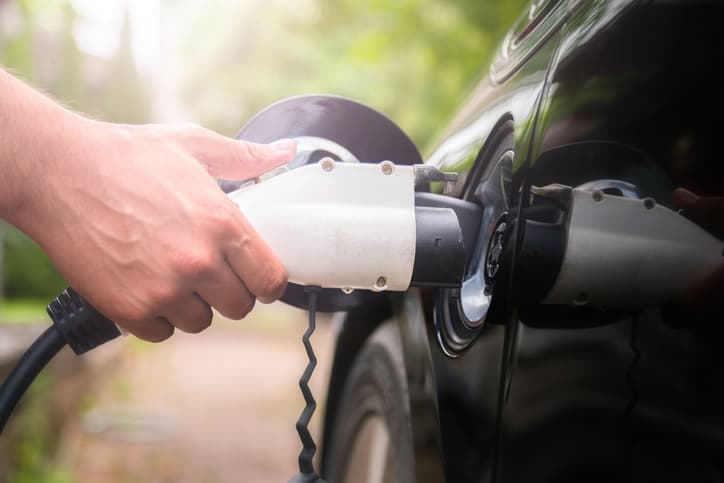 Electric vehicles (EVs) are becoming ever more popular in Ireland. Figures from the Department of Transport for the year 2019 show that there are 8,473 electric passenger cars on Irish roads. With great incentives such as grants and low motor tax, it is expected that there will be a continued uptake in the purchase of electric cars.
Although making the switch from a conventional fuel-powered car to an EV is becoming more and more appealing - especially with a number of government schemes and incentives in place to 'go green' - it's thought that the two biggest factors currently preventing more consumers from switching to an EV are the battery performance and the cost of charging. With so many new manufacturers of EVs and an array of different models to choose from, deciding which green car is good value for money can also be a challenge.
Here at Chill, we wanted to cut through the noise and provide a comprehensive ranking of some of the most popular EVs on the market today. Looking at variables including the cost of charging with standard, home and fast charging points, we found out how much it actually costs to drive some of the most common EV models 100km, and which might best suit your needs. 95 models were reviewed in our testing.
Read on to find out how we ranked each EV and which models performed best.
Methodology
In order to create rankings that are fair and produce interesting and useful results relating to the performance and cost of each EV, we reviewed 95 electric vehicles and analysed them based on their battery size (kWh) and their range (in km). We then calculated the charging costs for each model using the three forms of charging appliances - standard, fast and home charging points - using the average unit price per kWh calculations below:
- Standard 22 kWh charging point - 26.8 cents
- Fast 50 kWh charging point - 30.5 cents
- Home charging point (overnight) 9.91 cents

This then allowed us to calculate roughly how much a full charge costs for each model using the different appliances and how much it costs to drive 100 km. To do this we used the following equations:
- Battery Size (kWh) x Charging Cost of Standard/ Fast/ At Home Charger (kWh) = Cost of full charge
- Cost of full charge / Real World Electric Range (km) = Cost per km
- Cost per km x 100km = Cost to charge per 100km
After we had used these equations for each of the 95 electric vehicles in question, we were able to rank each model. Our findings below allow you to compare the pros and cons of each model for yourself and select the perfect EV to suit your needs.
The 10 most cost-effective EV models over 100 km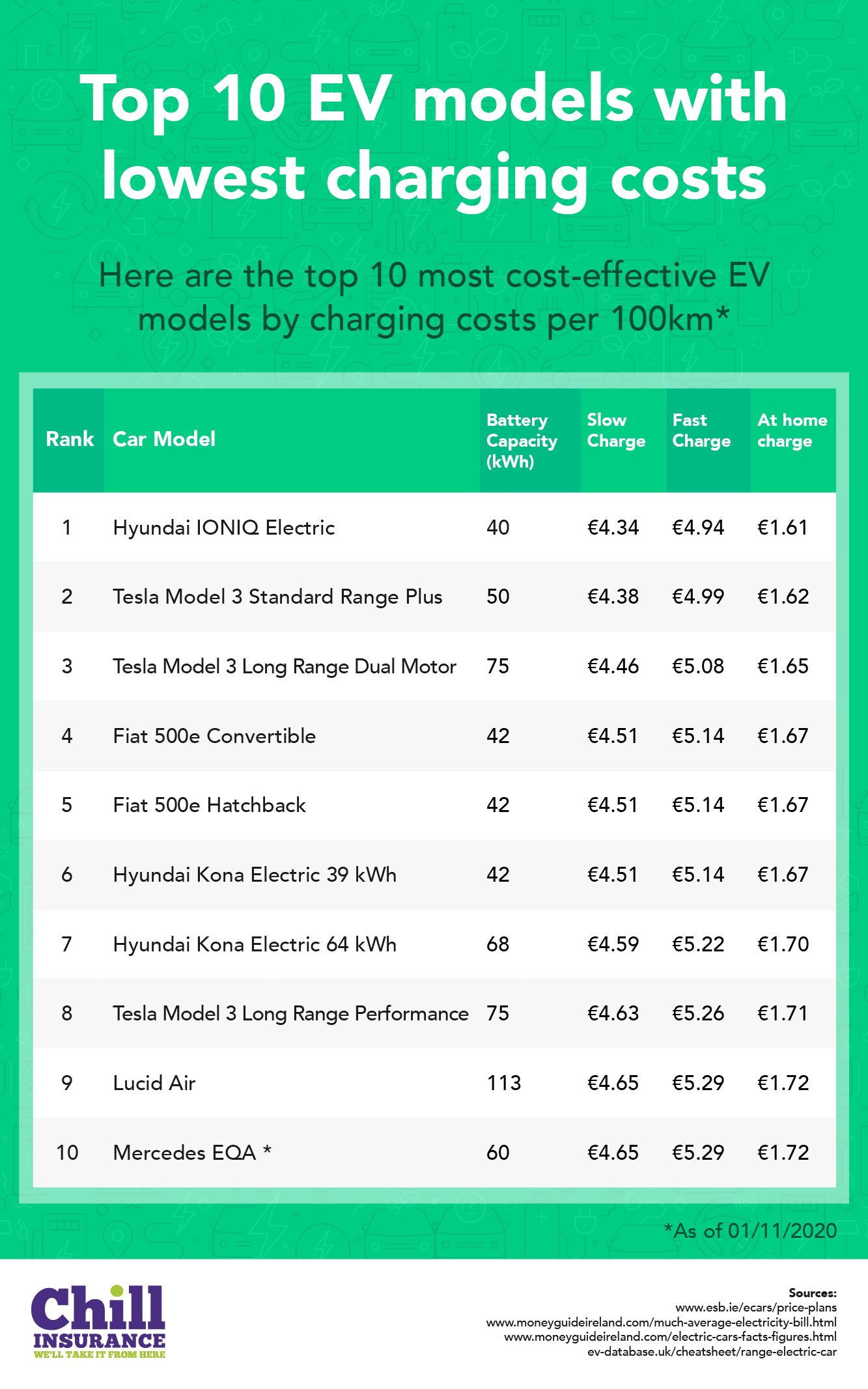 Overall, when all the popular makes and models of EV were analysed, all the equations were completed, and each car was ranked accordingly, we found the Hyundai IONIQ Electric to be the most cost-effective EV when it comes to travelling 100 km. With a battery capacity of 40.4 kWh and cost of €4.34, €4.49 and just €1.61 using the slow charge, fast charge and at home charging points (overnight) respectively, this South Korean EV is more cost-effective that any other EV we tested. Tesla's Model 3 Standard Range Plus and Long Range Dual motor rank in second and third place when it comes to cost-effectiveness over 100 km, while the Hyundai Kona Electric 39 kWh and the two EVs included in the Fiat 500 range also rank well.
The 10 least cost-effective EV models over 100km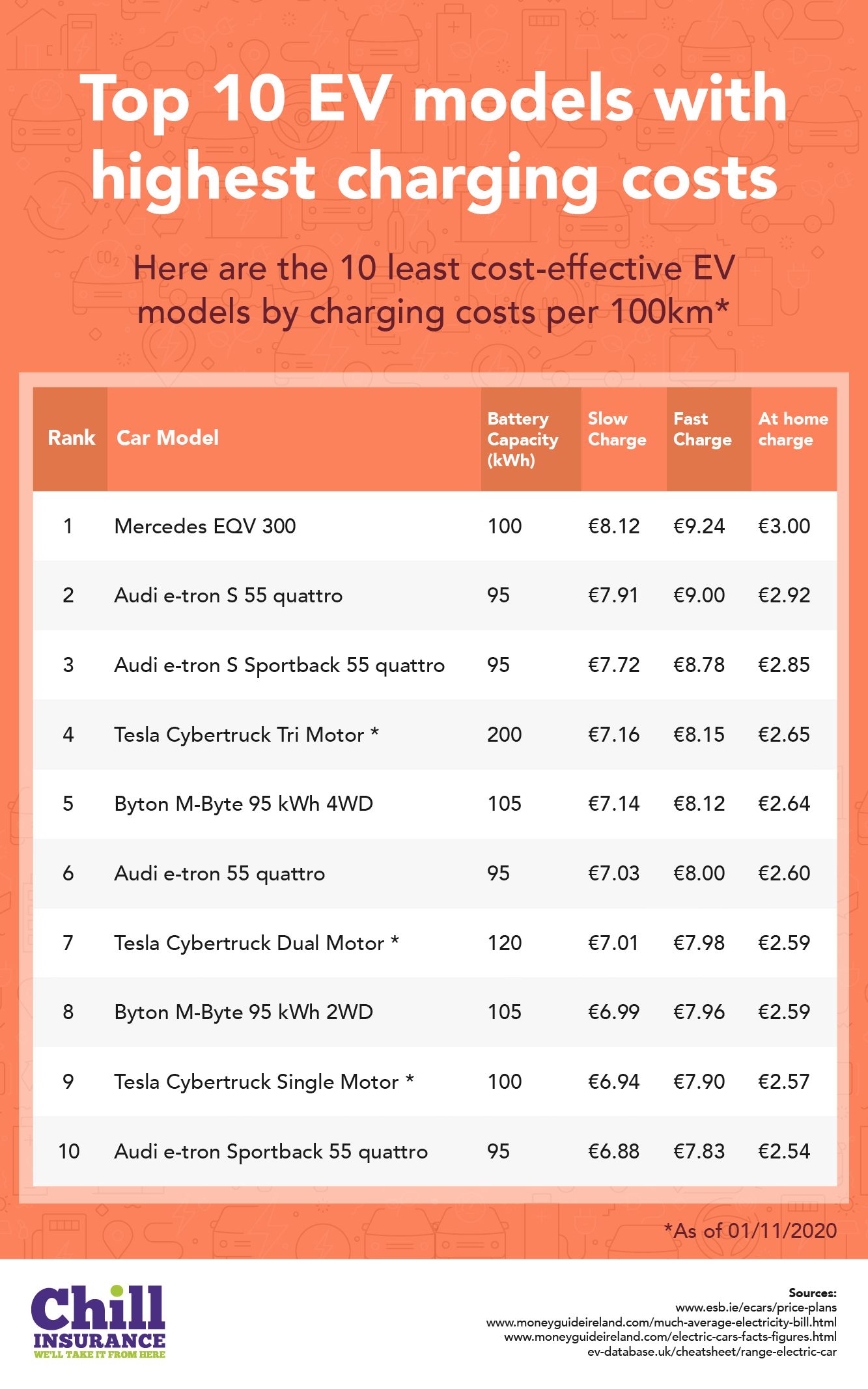 At the other end of the scale, we found the Mercedes EQV 300 to be the least cost-effective EV over 100km. The German multi-purpose vehicle (MPV) has a sizable battery capacity of 100 kWh, however this comes at a cost. To travel 100 km the EQV 300 costs approximately €8.12, €9.24 and €3.00 using the slow charge, fast charge and at home charging points respectively. While this may not sound a great deal more expensive than the top-ranked Hyundai IONIQ Electric, given that the average EV drives 14,422 km each year in Ireland, these additional costs can really add up. Aside from the Mercedes EQV 300, the other least cost-effective cars to feature in the bottom of our rankings typically include a range of bigger EVs with larger than average battery capacities. These include the three models that make up the Tesla Cybertruck range and the Byton M-Byte.
Additional benefits of electric vehicle ownership
When weighing up the pros and cons of making the switch and purchasing your first EV, it's difficult to look past the environmental advantages they offer. However, it's important to note that today's EVs can provide so much more than that. Unlike conventional fuel engines, for example, battery operated cars can produce their maximum torque capacity instantly from a standstill. This means that some models can accelerate more quickly, making them ideal for city and urban driving. They are also far quieter than traditional cars, with fewer vibrations than you experience with cars that use an internal combustion engine, leading to a smoother, effortless drive. Finally, with fewer or no gears to worry about, learning to drive an EV is much simpler than learning to drive a traditional fuel-powered manual vehicle.
So there you have it - Chill's ranked list of the most cost-effective EVs per 100 km. With the clock firmly ticking on the sale of new combustion engine cars in Ireland and the popularity of their EV replacements increasing year on year, are you tempted to join the green vehicle revolution, or do the same old concerns regarding battery performance, initial outlay and the cost of charging still worry you?
Share your thoughts with us on social media using the tag #EVChargingCosts. We want to hear from you if you've already made the switch or are seriously considering it, and please let us know which car from our rankings stands out to you and why!
We hope you found this blog interesting. You might be interested in reading other EV related posts:
First published by Ian O'Reilly