Eliminating Your Bad Driving Habits
Becoming a Better Driver
Published on by Fergal Lynch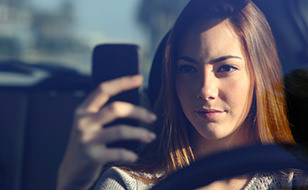 Although we are quick to point out how other people drive on the road, we can have bad habits that we are sometimes slow to pick up on. But don't worry because we have had an office amnesty on bad driving habits and have come up with some of our potential quick changes. Our list also has some easy fixes that we have made to our daily commute which you can hopefully add to your routine as well.
Indicate

During the daily commute there can be times when you forget to indicate as you are changing lane. When cycling this is an issue when merging with on coming traffic so it is an even greater issue when I am in a car. Get into the habit of checking your mirrors before indicating. Use them in good time, giving other road users plenty of time to react and adapt.

No Mobile Phones

It is illegal to be use a phone while you are driving and If you happen to be pulled over not only can you get automatic penalty points but you could also receive an on the spot fine. Driving a car requires your full concentration so unless it is an emergency,and you can pull off the road safely to take the call, there should be no need to answer your phone whilst driving.

Take A Break

Trying to stay alert at the wheel, whilst fighting tiredness, can be as dangerous as driving whilst over the legal alcohol limit. Everyone who gets behind the wheel of a car can be of risk from tiredness.There are many ways to curtail your sleepiness before you get into the car and the RSA have made some really helpful tips available on their website. Our simple tip is to pull over and park, when it is safe to, until you feel comfortable to start off again

Wear Your Seat Belt

Wearing your seat belt in your car is mandatory by law. But it is not only adults who must ensure that you are wearing your seat belts at all times, there is an additional responsibility that passengers under 17 are wearing belts at all times. www.citizeninformation.ie goes through all the legal requirements of children wearing a belt in a vehicle. Most cars now come with both a seat belt reminder light and chime which is activated in the event that you don't have your belt on correctly. The noise emitted when you don't have your belt on can be annoying so get into the habit of putting on your belt before you start the engine.
These are just a selection of some of the bad habits we have admitted to in the office but if you are in the sharing mood why not let us know in the comments below what were your bad driving habits and how you got out of them.
Our helpful and friendly team are also on hand to listen to any questions you may have. Why not contact us on 01 4003400 or get a car insurance quote now.
Modified Date: