All About Retail Security
Securing Your Customers And Your Business
Last updated: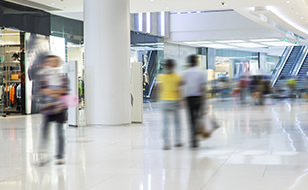 In our recent series of business blogs we focused on some of the different types of insurance certain businesses should have in place. The blogs focused on the insurance requirements of tradesmen and van drivers as well as a brief explanation of professional indemnity insurance. As part of our series we also looked at 5 types of insurance cover required by anyone who currently operates a retail business. We got some great feedback on this particular blog as well requests for some additional tips for people who operate in this environment. Many of the readers comments asked us for some of our tips on retail security and some ideas on how to protect your own business.
Although we are not security experts we have put together a quick and easy A to Z of retail security ideas that we believe will protect you, your stock and your customers.
Alarms

This goes without saying. Making sure you have a security alarm system in places ensures that your business is not left exposed or unprotected.

CCTV

We suggest positioning your security cameras both inside and outside the business in places such as doors, counters and merchandise. Ensure your systems are recording 24 hours a day. Many CCTV systems currently allow for remote viewing so you can watch your business from home as well.

Closing

It's a good idea for employees to open/close the retail store together as thieves are less likely to enter your business if there is a group of people opening/closing together.

Community

It's essential to use your community to your benefit in respect to safety. Get involved with the community network where other local businesses are involved. This is a good way to share information and link with community Gardaí, and other crime prevention groups in your area.

Gardaí

We suggest working with your local Gardaí to obtain planned and unplanned visits such as asking them to drive through your car park. It's also a good idea to install silent alarms to notify Gardaí.

Glass

Install security glass. Employ the use of roll down security panels or screens over vulnerable glass doors. It's highly effective at deterring break-ins.

Insurance

As always, we cannot stress how important having the right insurance is. If you would like to learn more about how quick and easy it can be to get a business insurance quote click here or call us today on 01 4003400 and we'll ensure that you are covered with the right policy for you.

Keys

Never leave keys in an unsecured location and change locks if keys are lost. Consider updating systems to access card that can easily change employee access or deactivate lost and/or stolen cards.

Lighting

Having good lighting in place is essential from both a security and safety standpoint. Reduce potential dark spots by using photo sensors and security lighting as much as possible.

Merchandise

Never place valuable goods in the shop window as this is an invite to robbers. Always keep them on top shelves, close to the counter or inside locked cases where staff can see them. See our vulnerability sections below for further information.

Money Matters

The Gardai have recently released information on a number of counterfeit notes that have entered circulation. Ensuring your team are up to date with information such as this will increase their vigilance when handling cash at the counters. When taking a trip to the bank, be careful. We suggest going with security personnel or another employee, concealing the money and not wearing your uniform at that time. Routinely check details on debit/credit cards to protect against fraud and don't leave money in your till overnight.

Mirrors

Strategically place mirrors in locations where both you and your staff can view as much of your premises as possible during peak time.

Opening Hours

Be extra vigilant when opening/closing the store. It's common for criminals to force staff inside and get them to open the safe or tills. Close up at night and leave the till drawer open when the shop is closed.

Personal Items

It's important to have facilities to allow staff to keep their personal items in a locker. This will cut down on the potential of internal theft and the chance that their goods might be stolen.

Reporting

Have a clear process in place for reporting theft or any other crime that may occur in your store.

Signage

Put up robbery prevention signage such as stickers and decals as this will show customers/robbers that you are doing to deter robbery.

Staff

Train all employees (including security officers) on emergency cases so they can react effectively to an emergency situation, such as first aid. Since security officers are the face of safety and security it is important to train them just as much as other employees.

Video Surveillance

Video systems that includes a monitoring centre is another effective way to control theft, as businesses can quickly ascertain what happened and help Gardaí to catch the offender.

Vulnerabilities

Getting inside the mind of someone gives you a great insight into how they think. This especially true of potential shoplifters. As the saying goes, "To catch a thief, you have to think like one". To insure that your stock doesn't go missing you should start by identifying your most vulnerable areas in your store. This can be done by looking at the layout of your store and identify security blackspots. Make sure you don't place your vulnerable (i.e. small or expensive items) here. One such area is around your tills. Although placing stock here can be a good way to increase impulse buys it can also be one of your least secure areas on your premises.
Some ways to increase security without having to invest in high tech systems include:
Providing personal customer service to as many people as possible.
Assigning zones for staff to own. This means that you can have all areas of the floor covered by small numbers of staff.
Lower displays around the cash registers so that cashiers have full view of the floor.
Identifying potential vulnerabilities of your business is a good starting point for any retail business that wishes to review their security. Once you have done this many of the other parts of our A-Z will fall into place.
We know how important it is to have your retail business properly insured and at a keen price. In terms of retail insurance, we have a range of insurers who are both competitive on price while offering some great benefits. Why not contact us on 01 400 3400 or simply click on Get A Quote and we'll happily give you a call to discuss your needs.
First published by Fergal Lynch