You Spin Me Right Round
Tips to Tackle Roundabouts!
Published on by Simon Keating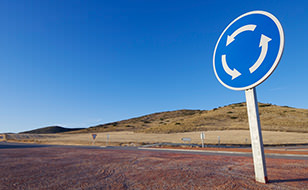 Approaching a roundabout can be a daunting prospect as you see cars spiralling around and shooting off in different directions. When's the right time to enter the roundabout? How fast should you go? It's unsurprising that many of us fill with dread when we catch a glimpse of them.
But never fear Chill will take it from here! Our guide to roundabouts should hopefully put your mind at ease, and help you know how to navigate those exits and lanes like a driving pro.
Be aware. Be very aware

There are all sorts of things you need to keep in mind when approaching a roundabout. Drivers need to consider where road users are coming from and the direction they're going. You also need to watch out for pedestrians, cyclists, and motorcyclists that can easily appear from any angle. The best advice is to keep an eye out for long vehicles and the exits they plan to take, and not to mention watch the car in front of you.

Planning your move

When you see the road sign, you need to start thinking what your next move is. Coming up to the roundabout you'll need to decide which exit you want to take, and using your indicator and mirrors, move into the correct lane. Remember to do this at the correct speed. Nobody likes a speed demon!

Roundabout ahoy

At the roundabout, you always need to give way to traffic on your right, and those already on it. Be aware of other drivers as you don't know where they plan to go next. When there's room, enter the roundabout with caution. Take your time, it's not a race and only proceed if there's space in front.

Taking that first left

Now that you're on the roundabout, you want to exit straight away? To do this for the first exit, or making a left turn, you must signal left and approach in the left-hand lane. Keep left and continue signalling left to leave.

Staying a little longer?

So you plan to take a later exit? This is a little different than before. You must signal right and move into the right-hand lane. Some roundabouts have more lanes than others, so use the appropriate lane. Stay in this or the right-hand lane until your exit is near. Indicate and move into the left lane when you have passed the exit before the one you wish to take.
Congratulations! You have successfully navigated the troublesome roundabout. We hope these tips help with your driving and reduce the need for making a roundabout related claim.
We know looking for car insurance can be tricky (just like navigating a roundabout), so if you're looking for a helping hand, why not give our friendly team a call on 1890 30 20 20 or hit Get a Quote.
Modified Date: