The Meaning Behind Different Shapes On Motorway Signs
Squares, Triangles, Circles and Diamonds
Last updated: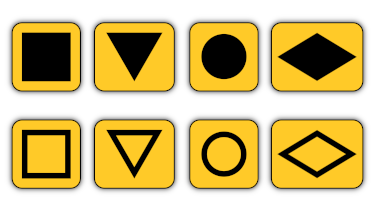 Over the last number of years, you may have noticed different shapes appearing on motorway signs across Ireland. The shapes (square, diamond, circle and triangle) are placed on yellow backgrounds and can often be found at major motorway junctions.
But why are they there and what do they mean? We reveal the secrets behind the shapes.
SHAPES ON SIGNS CAN HELP YOU AVOID CONGESTION
Ever since 2016, shapes have been appearing on signs to help drivers avoid congestion. They show an alternative route, meaning if there's a hold up, just follow the shapes to freedom.
The idea behind the system is to improve the flow of traffic in the event of an emergency. Basically, if you follow signs with shapes on them, you'll divert around any traffic jams.
Learner drivers taking the theory test since 2016 will be familiar with the rules. For anyone who's not, we explain all.
FOLLOW THE SYMBOL TO RE-JOIN THE MOTORWAY
In the event of motorway collision, the Gardaí will close the road at the previous junction and traffic will be forced off the motorway.
The diversion signs will direct motorists to follow a particular symbol which will allow the driver to re-join the motorway at the next junction.
The diversion routes are selected so that all types of vehicles can use the suggested detour. For example, roads which involve bridges would only be selected if large trucks would be able to pass underneath.
The road network tends to favour solid black shapes placed on yellow backgrounds. However, where there is a large number of diversion routes in one location, there may be diversion signs that use hollow symbols. In total, there can be eight variations.
Motorists familiar with the M50 will have seen the symbols beside junctions around Ballymun, Finglas, Blanchardstown, Lucan, Red Cow and Sandyford. Transport Infrastructure Ireland liaises with the relevant Local Authorities when considering introducing new diversion routes.
We hope that you have found this blog useful. If you are looking to renew your car insurance, make sure to get a Quick Quote above. Alternatively, you can speak to us on the phone by calling 01 4003400.
First published by Ian O'Reilly