Where to put 'L' Plates on your Car in Ireland
Learn where your 'L' plates should go
Last updated: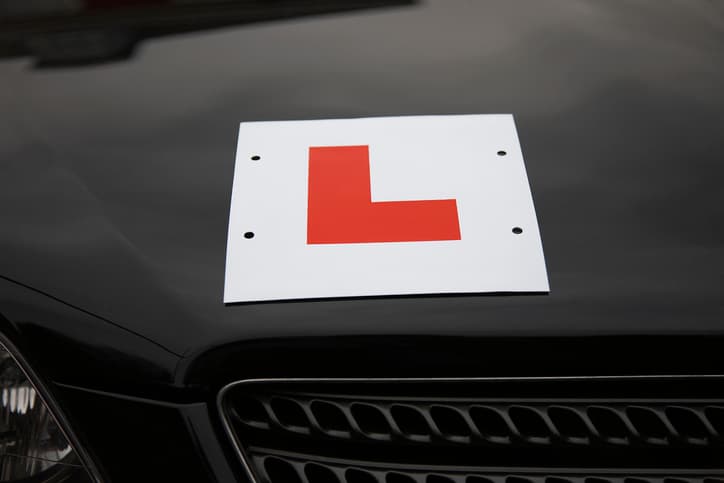 Welcome to the exciting world of being a learner driver. Whether you've just recently applied for your learner permit or are raring to get in some practice on the roads, there are some things you need to organise first.
Besides the obvious priorities, like learner's insurance, you will also need to purchase some 'L' plates that will go on the car you're learning to drive in. Have more questions about when you need to use 'L' plates and where they should go? You can find all the answers in our handy guide to learner plates.
What are 'L' Plates?
First, what exactly is an 'L' plate? It's a sticker that must be displayed on your car when you're learning to drive a vehicle. The sticker is square and has a white background on which is located a large red 'L', which stands for 'Learner'. The plate tells people that you haven't passed your test and that they should be a bit more patient with you or give you a bit more space to manoeuvre.
There are certain guidelines the plate must adhere to, so do be sure to buy the right ones (we discuss this a little further down this guide). The plate should show a red 'L' on a white background and must be at least 15cm high with a border of at least 2cm.
Who needs to use 'L' Plates
If you haven't yet passed your driving test then you will need to display 'L' plates on the vehicle you're practising in at all times. You must have a minimum of two places, and these should be placed at the front and rear of the vehicle. Additional plates can be added to the sides of the vehicle, but these aren't a legal requirement.
If you're learning to drive a motorbike, you must also display 'L' plates. Instead of attaching them to the bike, you should wear a hi-vis jacket or vest that has a letter 'L' on it in red, with a white background. The letter should be on both the front and back of the vest so drivers can see it no matter what direction you're facing.
The plates must be on the car whenever you're driving it (though they can be removed when another driver with a licence is using the car). As you must practise driving for at least six months before taking your test, this is the minimum amount of time you will need to display the signs.
Do I need to leave 'L' Plates on the vehicle all the time
The 'L' plates must be on your vehicle whenever you, the learner driver, are behind the wheel. Not displaying a learner sign when you haven't yet passed your test is illegal and could result in a fine or even points on your licence (yes, before you've officially got your licence).
The fine is usually €120, as long as you pay it within 28 days of receiving the penalty. After this time period, the fine increases to €180. If you accept the violation, you'll also receive two penalty points, and this could increase to four points if you appeal the violation and lose your case.
To avoid receiving such penalties, you should be sure to apply the learner plates before you get behind the wheel. It may be worth keeping spares in your car, too, should one blow off or you realise you don't have them with you.
'L' Plate FAQs
Below, you can find a few more frequently asked questions about 'L' plates.
Magnetic 'L' plates: are they illegal?
Magnetic 'L' plates aren't illegal, as long as they adhere to the transport regulations. For this reason, when purchasing 'L' plates, you should check in the product description that they are "transport-approved". Generally, the magnetic plates should have a full magnetic back instead of just a magnetic strip, as these are more likely to stick to the car.
There are other types of plates you can buy, such as adhesive ones that will stick to the glass or body of the car, or window cling ones that are fixed to an inside window.
Can I print my own 'L' plates?
You can print your own 'L' plates, as long as they conform to the correct sizes and are clearly visible. You can attach your printed signs to the inside of your front and back windscreens. The only issue with this is they are harder to remove, so they will likely stay in the car, even when a non-learner is driving. This isn't a problem, but magnetic plates may be easier to remove and reattach when needed.
Where to buy 'L' plates
'L' plates can be bought from a number of online and in-store retailers. However, do be careful that they adhere to the guidelines we've outlined above (i.e. they're the right size and colour) and that they conform to the transport regulations.
Some reputable retailers you can buy 'L' plates from include Tesco, B&Q and Screwfish and they have options to purchase both in-store, even via Click and Collect, or online.
When to remove 'L' plates from Car
Desperate to take the 'L' plates off your car? You can only do so once you have passed your driving test, however, since August 2014, you now need to replace them with 'N' plates. The 'N' stands for 'Novice' and tells other drivers and road users that you've only recently got your licence. The reason for this sign is that you're not an experienced driver yet. In fact, it's thought that you need to rack up over 100,000km to be considered experienced, hence the need for 'N' plates.
'N' plates must be kept on your vehicle for a minimum of two years. While there aren't any restrictions for novice drivers, (you don't need to be accompanied, for example, and can drive on motorways), there are some stricter regulations for you. For example, you will have a reduced drink-driving limit compared to experienced drivers (20mg of alcohol per 100ml blood as opposed to 50mg).
Once the two years have passed, you can remove your 'N' plates and can finally drive without any signage on your car.
First published by Ian O'Reilly