What To Look For When Buying An Apartment
Things To Know Before Purchasing
Last updated: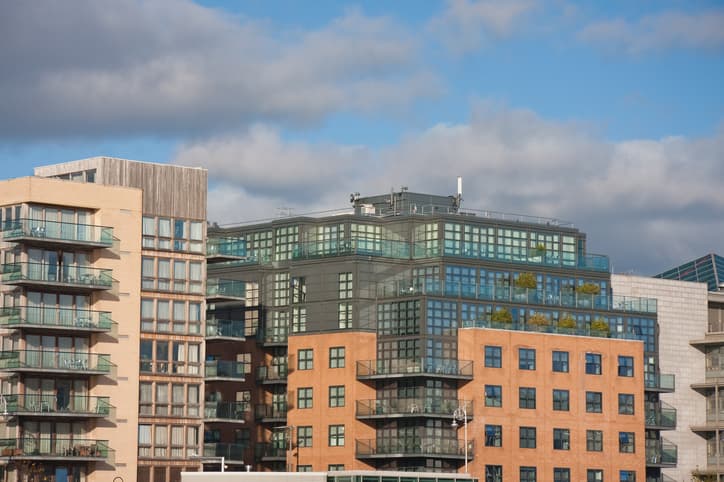 It's often said that purchasing a new property is one of the most stressful things adult life can throw at you, especially if you are a first time buyer. From sorting out a mortgage and exchanging contracts to switching from tenant insurance to homeowner insurance, with so many things to think about and many moving parts often out of your control, preparing for this significant life step is important. This is particularly true if you are looking to buy an apartment.
Purchasing an apartment in Ireland is very different from buying a house. This is chiefly because when you buy a house you typically acquire a freehold interest in the property, while when you purchase an apartment you are usually only acquiring a long leasehold interest. Aside from this key difference, when buying an apartment you also have to consider additional ongoing charges such as communal sinking fund contributions, service charges, and communal 'block' insurance.
Here at Chill, this got us thinking about everything a potential buyer needs to look into when buying an apartment. With all of this in mind, we put together this handy guide that can be used as a checklist before you start the buying process.
Things To Look For When Buying An Apartment
When it comes to buying an apartment, looking beyond the living space and at the bigger picture of your new potential home is essentially important. Unlike when you buy a house, when you purchase an apartment you are essentially buying into a community - one that typically shares financial responsibilities when it comes to emergency maintenance, general upkeep and even collective insurance. For this reason, it is vital you know exactly what you could be signing up to before making any commitments. Major things to look out for include:
The Condition Of The Building
As you should do before making any purchase, checking the condition of an apartment building is key. This could give you a better idea of if you think maintenance costs could be high or low. Remember, it's important to check all communal areas such as corridors, lobbies, stairs and hallways, as well as the actual apartment itself, as once you purchase the apartment you could be partly responsible for the upkeep of all communal areas. Remember to check the condition of everything from brickwork and window sills to light fittings and outdoor cladding.
Space And Light
Just as you would if you were looking to buy a house, you want to ensure the apartment you want to purchase is spacious enough for your needs and it also receives a lot of natural light. It's easy to be fooled by the space when viewing an empty or unfurnished apartment, so be sure to bear in mind that you'll need room for all your furniture, as well as extra storage areas. Looking for apartments with built-in wardrobes and kitchen cupboards as standard is a good place to start. It could be worth asking if the building also includes additional storage units in other, communal areas.
When it comes to lighting, you want to keep an eye out for the size of windows in the apartment and which way they face. As a rule of thumb, if you're viewing an apartment during the day and multiple lights are switched on, the unit does not get enough natural light.
Sound
As well as things to look out for, it's also important to use your ears. After all, you don't want to purchase an apartment that is blighted by excessive noise. Before you commit to purchasing any apartment, consider the noise impact if it is located next to any main roads or motorways, or located in an area that is known for its nightlife, as this could keep you up at night. If you are particularly sensitive to noise, avoid apartments located near lifts, or any other potentially noisy communal areas of a building. Finally, listen out when viewing a potential property. If you can hear neighbours or excessive outdoor noise during your viewing, it's probably not a good sign.
What To Ask When Buying An Apartment
What Is The Situation With The Lease?
As touched on above, unlike when you purchase a house, when you purchase an apartment you are usually only acquiring a long leasehold rather than a freehold. This means you essentially own the apartment you are purchasing, but are only 'renting' the land it is built on for a set period of time. Although this leasehold is typically long - with new leaseholds up to 99 years - it is important to understand exactly what is included as part of this agreement. As well as lease length, this legally binding contract can also set out bylaws you must abide by if you sign up. These can include everything from rules about pets, the type of floor coverings you can install, any aesthetic changes you are prohibited from making, etc. For this reason, this is a key question you will need to know the answer to.
2. How Much Are Service Charges And Is There A Management Company?
It is important to check if there is a management company that organises cleaning or maintenance jobs of the apartment building. Some management companies also employ agents to help with this work. Before purchasing, it is important to ask what this company will be responsible for and how much it will cost in monthly/annual service charge fees. Only then can you decide if the management fee is realistic and worth it.
3. How Much Do I Need To Pay Towards The Sinking Fund?
By law, all multi-unit developments such as apartment blocks in Ireland must have a sinking fund. This pot of money is to be used for the improvement or maintenance of non-recurring issues in the building. Unit owners must make regular contributions to keep the fund topped up, so before purchasing an apartment, it is important to know how much you will be expected to pay. Legislation states this must be a minimum of €200 annually per unit. However, it is often more.
Is Buying An Apartment A Good Investment?
Although there are plenty of differences between buying a house and buying an apartment, which may put you off the latter, this doesn't mean apartments are not good investments. If you find an apartment that ticks all the boxes when it comes to location, size and price, and put in the necessary hours of research regarding additional costs such as services charges, leasehold extensions and sinking fund contributions, there is no reason an apartment cannot be a savvy investment as well as an ideal home. The key is simply weighing up what you are actually getting for your money and ensuring the apartment is suitable for your needs.
Do I Need Building Insurance For An Apartment?
When you own an apartment you do indeed need to pay for building home insurance. However, the way you do this is likely to be different compared with owning a house. This is because if you buy a leasehold apartment, the building in which it is housed should already have what is known as 'block insurance'. This policy will be held by the owner of the freehold or the management company of the building and will cover the entire property against things like fire, flood or storm damage.
Before you first purchase an apartment, you need to ensure you know how you contribute to paying for this insurance policy as a unit owner. This is either paid as part of your annual service charge or you might be asked to pay directly to the owner of the freehold. It is vital you know what the arrangement is before completing your purchase as your mortgage company may not release funds without being made aware of the formal details.
First published by Ian O'Reilly