What Does Home Insurance Cover?
Home insurance cover explained
Last updated: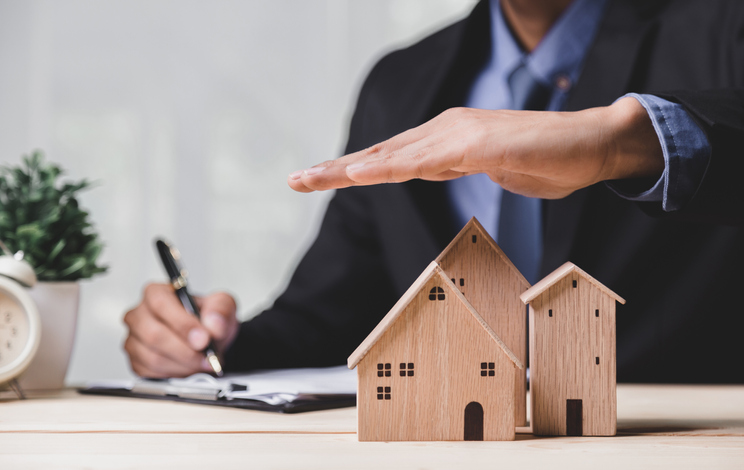 If an item in your home has been lost or stolen, or a part of your home has been damaged, you may be wondering what your home insurance covers you for. Does it cover flood damage or items that have been lost outside of the home? What about your garage and other outbuildings?
Knowing exactly what protection your home insurance provides can be a minefield, but we're here to help. We've answered the questions that you've been asking about your home insurance and what you're covered for should an incident occur.
If you've taken your insurance out with Chill, then you can use the below to determine what your policy covers you for. Alternatively, check your policy documents.
What is Home Insurance Cover?
Home insurance is a policy that could payout should any items in your home, or part of the building itself, become damaged or lost. While the terms will be more specifically laid out by your insurance provider, it's generally the case that you will receive compensation for the value of the damaged item or to cover the cost of repairs. Most commonly, these policies cover you for loss, damage by theft, damage by fire, flood or water, damage caused by subsidence and more.
When you take out a home insurance policy, you're safeguarding your property and your belongings.
The Types of Home Cover
When you take out home insurance, you might be given a few options to consider. You can find the types of home cover below, as well as what they would and wouldn't insure.
Building Cover
Building cover protects the physical building itself, including the roof, floor and walls.
Contents Insurance
Content insurance protects the items within your home, so your belongings, furniture, etc.
Add-Ons
There are a number of different add-ons to a standard home insurance policy that could protect you against more complex accidents or additional costs, like legal fees. Please note that not all insurance providers will offer all of the below add-ons.
The most common add-ons include:
Home emergency cover - many insurance policies don't offer emergency cover as standard, but this add-on could protect you should you have a burst pipe, a leaking roof, a broken boiler, and more. Should you have to move out of your home while the problem is fixed, it can also cover the cost of emergency accommodation, like a hotel room.
Accidental damage cover - accidental damage is another aspect that may not be included on a standard insurance policy. From drink spillages to DIY disasters, such as drilling through a water pipe, this extra could save you when you need it most.
Personal possessions cover - are most of your belongings only covered when they go missing from your home? When you're out and about, or even on holiday, you want to ensure your things are still insured. This type of cover makes sure this is the case. Personal possessions cover is sometimes called 'away from home' cover too.
Legal cover - Should you need a lawyer, for neighbourly disputes or conveyancing issues for example, legal cover will recompense you for any legal fees you might have had to pay.
Downloads insurance - should a tablet, laptop or computer be stolen, you may be covered against any downloadable material that your electrical device contained..
What is typically covered by Building Cover?
Buildings cover will typically cover the cost of repairing, replacing or rebuilding parts of your property (depending on the severity of the damage and the cause). This includes the roof, floor and walls. It can sometimes also include permanent fixtures and fittings, like kitchens, and outbuildings, such as garages.
Incidents and natural disasters you're protected from might include fire, explosion, lightning, smoke, storms, falling trees, subsidence and theft, though these will differ from provider to provider.
What is usually not covered by Building Cover?
While we've stated what is usually covered above, the cause of the damage can sometimes change whether your insurance provider will pay out. Below, we've included some specific examples that wouldn't be covered on your insurance:
Someone felled a tree incorrectly, causing it to fall on your property
Subsidence caused by unsuitable design or poor workmanship
Theft that occurred while your home was empty for more than 60 days
Damage caused to fences, gates or decks during a storm or flood
Smoke damage that happens gradually, and not from one specific incident
Damage from frost, pests and leaking gutters
Theft that occurred from leaving a window or door unlocked
Damage caused by general wear and tear
Your provider will have examples like this laid out in your policy document, so it's worth giving it a read to see what you are and aren't covered for.
With building cover, the contents of your home isn't protected, so you will need a separate contents insurance policy for these things.
What is typically covered by Contents Insurance
Contents insurance will usually cover the items contained in your home. This can include electronic gadgets, furniture, books, clothes, DVDs, appliances, jewellery, works of art and even the contents of your fridge and freezer.
When you take out this kind of policy, the provider will ask you for an estimated sum of the contents of your home. This is the value of all the items in your property combined. You don't actually have to add up each item, but getting the estimate right is important so you're not underpaid should you need to make a claim.
Contents insurance can also cover the cost of:
Replacing your door locks if your house keys were stolen
The fridge and freezer contents if an appliance breaks down or there is a power cut
Architects', surveyors' and other legal fees
Contents left in the open temporarily
Credit and debit card loss
What is usually not covered by Contents Insurance
As with building cover, there are some things not covered by your contents insurance. This could include:
Items damaged by frost
Deliberate damage caused by a member of the household
Damage caused by pests, birds, insects or family pets
General wear and tear
Items that have become damaged through lack of maintenance
There are many more examples that will likely be covered in your insurance policy documents, so be sure to read those through when you get a chance.
Home insurance cover FAQs
Have a specific question about what your home insurance does and doesn't cover? You may be able to find the answer below in our handy FAQs.
Does home insurance cover theft outside the home?
If you've had a valuable possession stolen while you were out and about, you may be wondering if you're covered on your home insurance.
Most insurance policies won't cover items that have been lost or stolen outside of the home. The only way you could be reimbursed is if the item had been previously specified in your policy for All Risks cover. Most policies will allow you to list separately for All Risks cover any items over the value of €1,000. This will come at an additional cost but it means that these belongings are individually insured, including when you're outside the house. For example, if your engagement ring is stolen but has been specified for All Risks cover, you may be eligible to have the ring replaced.
Does home insurance cover central heating?
Your central heating system will be covered by your buildings insurance to provide cover for oil leaks or water leaks that may be caused by burst or frozen pipes, as well as smoke damage that may be caused by a faulty boiler.
However, there are some instances where cover won't apply such as if your home is unoccupied or damage is caused by general wear and tear. For example, if your home has been left unoccupied for more than 30 consecutive days, you may not be covered for damage that may have occurred while you weren't there.
Does home insurance cover exterior painting?
If your home has experienced smoke or water damage, you may be worried about the external parts of the house, such as the paint. Your buildings insurance should cover damage to any aspects of the building, including the exterior paint.
The only reason you may not be covered is if the property has been left unoccupied for more than 30 consecutive days.
Does home insurance cover cracked walls?
Every home will have cracked walls. Buildings naturally settle into the ground over time, so small cracks around the ceilings and windows are nothing to worry about.
However, if your home has lots of large, localised cracks or you can see daylight through a gap in the wall, then your home may have some more serious underlying issues, such as sinking foundations. General wear and tear, such as cracked walls, won't be covered on your home insurance. However, if the cracks are caused by more serious problems, you may be able to make a claim.
Does home insurance cover fire damage?
Your home insurance will cover any damage that has been caused by a fire or smoke, regardless of whether the fire was accidental or arson. You must make sure that your home isn't underinsured or you could lose out.
Does home insurance cover flooding or water damage?
Home insurance can be useful if your policy covers for flood damage and you are not in a flood risk area. In this case, your buildings insurance will cover flood damage caused naturally and shouldn't be the result of frost damage or rising groundwater levels. Insurance will usually cover your home and any additional outbuildings, but any swimming pools, terraces, drives, gates or tennis courts may not be covered.
You will also be covered for water damage, however cover may depend on how the water damage was caused. If it was from frozen or burst pipes, then you should be able to claim on your insurance. However, if the water damage was caused by a faulty shower or a leaking bath, you may not be covered. Again, check your policy document to confirm such details.
Does home insurance cover garages?
The contents of your garage or other outbuildings may be covered by your contents insurance for incidents such as theft. You should check your policy documents to confirm this. Some policies may only cover outbuildings up to a certain value, such as €3,000. If multiple items have been stolen that have a total value over this amount, you may not receive compensation to cover your full loss.
Garages or outbuildings should be kept secure at all times. You should avoid keeping valuables in them if it can be avoided. Expensive bikes and tools may need to be insured separately.
Does home insurance cover garden walls?
Buildings insurance will protect your building and any other permanent fixtures on your property, including walls, gates and fences. Do be aware that some fences may belong to your neighbours and are therefore not your responsibility.
Does home insurance cover wind damage?
Damage that has been caused to your home by wind will be covered under your buildings insurance as storm damage. For example, if a tree falls on your home because of high winds, your insurance should cover the cost of the damage caused. Generally, garden walls and fences are excluded under wind damage.
Do I need Home Insurance?
When asking yourself whether you need a home insurance policy, you may need to consider whether you could afford to re-buy any items that are lost or damaged, or whether you could afford to have parts of your home rebuilt if it was damaged in some way. While some incidents can be less costly than others, such as having a mobile phone stolen, it isn't worth the risk.
Plus, when you take a look at the most common reasons why people claim on their insurance, the damage caused by these things could be huge:
Escape of water
Storms
Accidental damage
Theft
Fire
In our opinion, it's not worth being without a good home insurance policy that can support you when you need it.
First published by Ian O'Reilly