Home Contents Calculator
CALCULATE THE VALUE OF YOUR HOME CONTENTS
Last updated: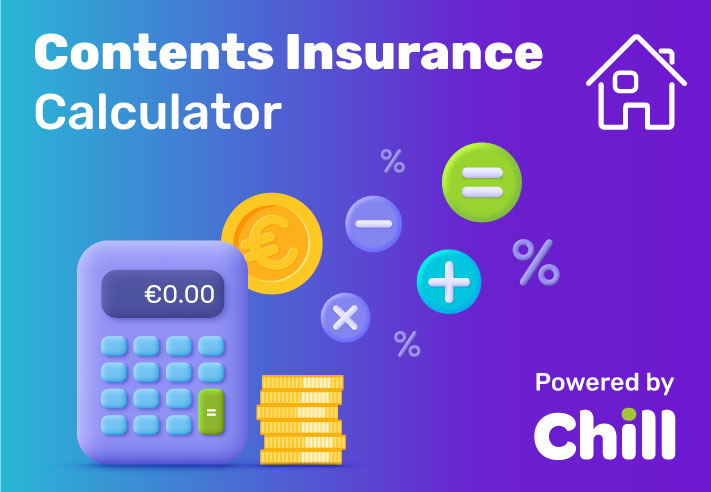 Use our handy tool to add up the total value of your home contents. Once you've added in your estimates below, our calculator will tot up all the values to give you an idea of what you should insure your contents for. If you need help with any of the valuations, we recommend referring to receipts, current prices online or with an independent valuer.
Remember that you don't need to include the value of fitted kitchen units/wardrobes/bathroom suites as these are considered to be part of the building.
Sitting Room
Dining Room
Kitchen
Bedroom(s)
Bathroom
Extra Rooms
Garden/Garage/Shed
Other Valuable Items
---
How Did You Get On?
The amount that households insure their contents for can vary widely. From different surveys we have explored online, average valuations can range between €36,000 to €50,000 depending on location and household type.
Calculating the value of your home contents is important to ensure that you are properly covered. If you over-estimate your contents, you will be paying more than you should for your insurance. Under-value your contents, and you might find yourself in a difficult position if you need to make a claim. Using our calculator will help you to think of the things in your home that need to be protected.
Contents Calculator Disclaimer
The Chill Contents Calculator has been created to help you estimate the cover that you might need. It may not cover everything that is in your home and so you should not rely solely on this checklist. When completing a home insurance quote with Chill, it is important to add specific items of high value such as jewellery, laptops, tablets, bicycles, musical instruments, hearing aids, pictures, furs or other items. This can be done easily online with our quote form.
Start your home insurance quote today with Chill.
First published by Ian O'Reilly