Stress-Free House Moving
How To Move House Smoothly
Last updated: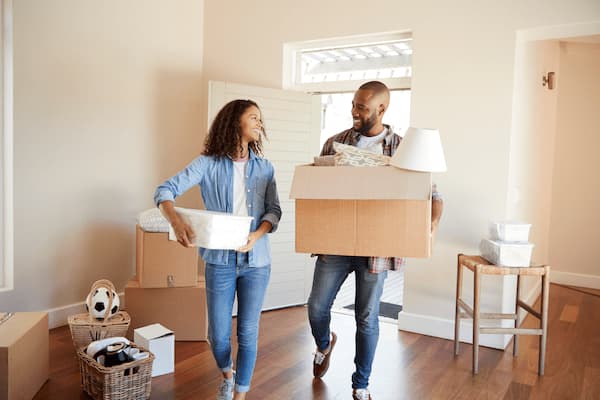 Stress-Free Tips to Use When Moving House
People say that moving house is one of the most stressful things you can do. Every item in your home has to be transported from one property to another, and it doesn't matter whether you're moving around the corner or to another city - it takes a lot of hard work and organisation.
Being organised is so important when it comes to this big life event. It's likely that you want to do everything you can to ensure the move goes smoothly and that your belongings are moved as quickly as possible so you can begin to settle in. However, there is a long list of other things that need to be done as well as the physical move.
If you are lucky enough to have secured your new home and are in the process of planning the move we thought you might be looking for some simple packing tips.
Top Tips for Moving House
Things to do a month before
In the month prior to moving, declutter and throw out everything you don't need or want anymore, use up all food in your fridge and pack away any clothes after a wash as this will make your job much easier. Also pack any items that aren't needed before the move such as ornaments, seasonal clothes and garage items. Stack your packed boxes so that you can get a head start on the move.
You should begin to think about what to do with your home insurance as well. There can be additional costs when moving house, such as insurance for the rental vans and special equipment that you'll need. We suggest getting yourself the right home insurance should anything go wrong.
Make moving arrangements
Arrangements should be made in advance, so consider how you will move home. These arrangements could change depending on the size of your home, the distance to move, your budget or time restraints. You may decide to take on the move yourself, with help from a few strong friends, or hire a mover to do the job. There are many pros and cons for both so make sure you make the right choice before starting.
This would also be a good time to start collecting boxes as well as any other packing supplies you might need, such as tape, bubble wrap, newspaper, etc. Look for big and small boxes for various items. You could make a trip to your local supermarket and ask for a few boxes with divided inserts which are perfect for safely transporting any liquids that you may have.
Pack Belongings
As the moving date approaches, you'll need to start packing as much as you can. Wrap any delicate items such as china, glassware, dishes and other breakables in bubble wrap, clothing, towels or bedding. Ink can sometimes rub off and end up staining glassware which is why it is best to use bubble wrap and steer clear of newspaper.
You should label as you go so that you know what is in each box. We suggest labelling boxes by the items inside and the room it belongs to: Kitchen, Living Room, Master Bedroom, Bathroom etc. This means that, on moving day, boxes can be placed in the correct room ready for unpacking. It also means you won't have issues with not knowing where your mugs or bedding are, as you'll need these for your first night. Make your labels large and easy to read. Place them on the top and sides of the box so that you can see them from any direction. You could also try different colours to make the differences easy to spot without actually reading the label.
Moving day
When moving day comes around, you should have all the people you need to help you and everything should be suitably packed and labelled. Remember to take regular breaks and put on workout music or other entertainment in the background to help keep momentum up; just try to avoid anything that will cause distractions.
Try to find the box that contains the kettle, tea and coffee and your mugs first so that you can provide refreshments throughout the day.
Don't forget that you should leave time to do a food shop as you'll need to stock the fridge up with fresh food and essentials. Alternatively, you could arrange an online delivery to come that day, saving you a trip to the supermarket.
What do I need when moving into a new house?
If you're just moving out of your parents' home, it's likely that they had everything from pans, plates and mugs to towels, toilet brushes and mops. Now, you will need to buy all of these things for your new place. Below, you can find a comprehensive list of items, organised by room, that you should probably invest in.
Kitchen
Cutlery and crockery
Pots and pans
Casserole dishes
Toaster, microwave and kettle
Tupperware
Basic utensils, such as a wooden spoon, spatula, tin opener, etc.
Chopping board
Kitchen roll and tea towels
Oven gloves
Basic cupboard food, such as chopped tomatoes, baked beans and spices
A bin
A dustpan and brush
Washing up liquid
Table and chairs
Bathroom
Towels
Toilet paper and toilet brush
Shower curtain
Cleaning supplies, including cloths, sprays and air freshener
Hand soap
Bedroom
A bed, mattress and bedding
Pillows and a duvet
Pillow and mattress protectors
Wardrobes and coat hangers
Bedside tables and lamps
Mirror
Living Room
Sofa
Coffee table
TV stand and TV
Bookcases
Miscellaneous
Vacuum cleaner
Ironing board and iron
First aid kit
Lightbulbs
Tools, such as screwdrivers and a hammer
Smoke and house alarms
Who do I tell when I move house?
It's likely that there are a lot of people and companies that have your address should they need to get in touch with you. When you move, you will need to notify everyone of your new address.
You should transfer all your utilities, such as gas, electricity and water. This is important as you certainly don't want to be paying twice for your energy. If you're moving into a house that was occupied, you could ask the original owners to transfer everything into your name. You will also need to change the address on your telephone, broadband and TV contracts. It may be that you're able to transfer your account from one property to another for a small fee, so contact the provider to find out your options. And don't forget about your TV licence!
You will also need to change your address on the electoral register. This should be done by the 25th November as a new register is created each year.
When it comes to your car and your home, you will need to alter the address on your driving licence, car insurance and vehicle registration certificate, as well as your home and contents insurance. If you've moved to a larger or more expensive property, you may need to alter your home insurance to reflect this.
Other people and companies to update include your employer, life insurance provider, bank and your children's crèche, school or college.
If you've moved to another location, you may need to swap to your new local doctors or dentist surgery. You should notify the original surgery that you've moved away and apply to the new one.
If you have pets, don't forget to update the address on their microchips or collars. If they get lost, the vet may not be able to track you to your new home. You may also need to move to a new vet depending on how far away the new property is.
Finally, don't forget to tell your friends and family. While letter writing certainly isn't the done thing any more, they may occasionally want to send cards and other packages to your home.
First published by Ian O'Reilly