Driving Test Preparation
Advice to Help You Pass!
Published on by Sinead Greene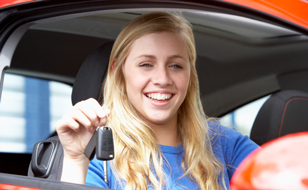 Are you dreaming of binning your L-plates and hitting the open road? Learning to drive is not just a rite of passage for most people, but a necessity, especially for those living in rural areas or places where there's a lack of public transport.
Ahead of your driving test we know you may be feeling excited, nervous, stressed or a combination of all three, so to help put you at ease, we've come up with these tips to help you pass first time:
Lots of lessons

Booking lots of driving lessons is perhaps the best way to prepare for your test. The Essential Driver Training (EDT) initiative was introduced back in April 2011 and requires all learner drivers wishing to sit their driving test have an EDT certificate from their registered driving tutor. To get your certificate you must have received a minimum of 12 lessons over a six month period.

Book a pre-test

A lot of drivers fail their test because of a lack of preparation, so taking the time to run through the test route on a pre-test is a wise move. On a pre-test you'll normally cover the manoeuvres you'll be expected to complete on your test and hopefully iron out any bad habits you may have developed, as well as familiarise yourself with the road. It's definitely money well spent.

Hit the books

Although, a driving test assesses your skills on the day of the test, it's really important that you also have a good theoretical knowledge of driving and understand the rules of the road. For instance, are you familiar with all the road signs or which car has right of way? If you're unsure, we'd recommend you spend some time swotting up. You can also spend some time reading up on information related to the drivers test at Driving School Ireland.

Relax!

We know this is easier said than done, but try not to worry too much about your driving test. If possible have an early night and attempt to stay nice and relaxed on the day. If you're feeling anxious, scared or tired this will most likely show in your driving and dent your chances of passing.
If you'd like to get a quote for your car insurance, please give one of the team a call on 1890 30 20 20 or hit Get a Quote.
From everyone here at Chill Insurance, we'd like to wish you the best of luck with your driving test!
Modified Date: