Car Insurance Pricing Index
Insuring Your Vehicle
Last updated:
At Chill Insurance, we are all about getting our customers a great deal, easier. So we've created a pricing index to help you compare insurance premiums based on the make and model of the car, what county you live in, your occupation, as well as several other factors. By comparing 14 different insurers, we always make sure to find the best value insurance for you.
Car insurance is dependent on a combination of factors. Insurers will look at a few components including; your age, the type of vehicle you are looking to insure, your current job title, your claims history, postcode, annual mileage, and any additions you may choose to make on your car.
Contents
Average Car Insurance Price by Province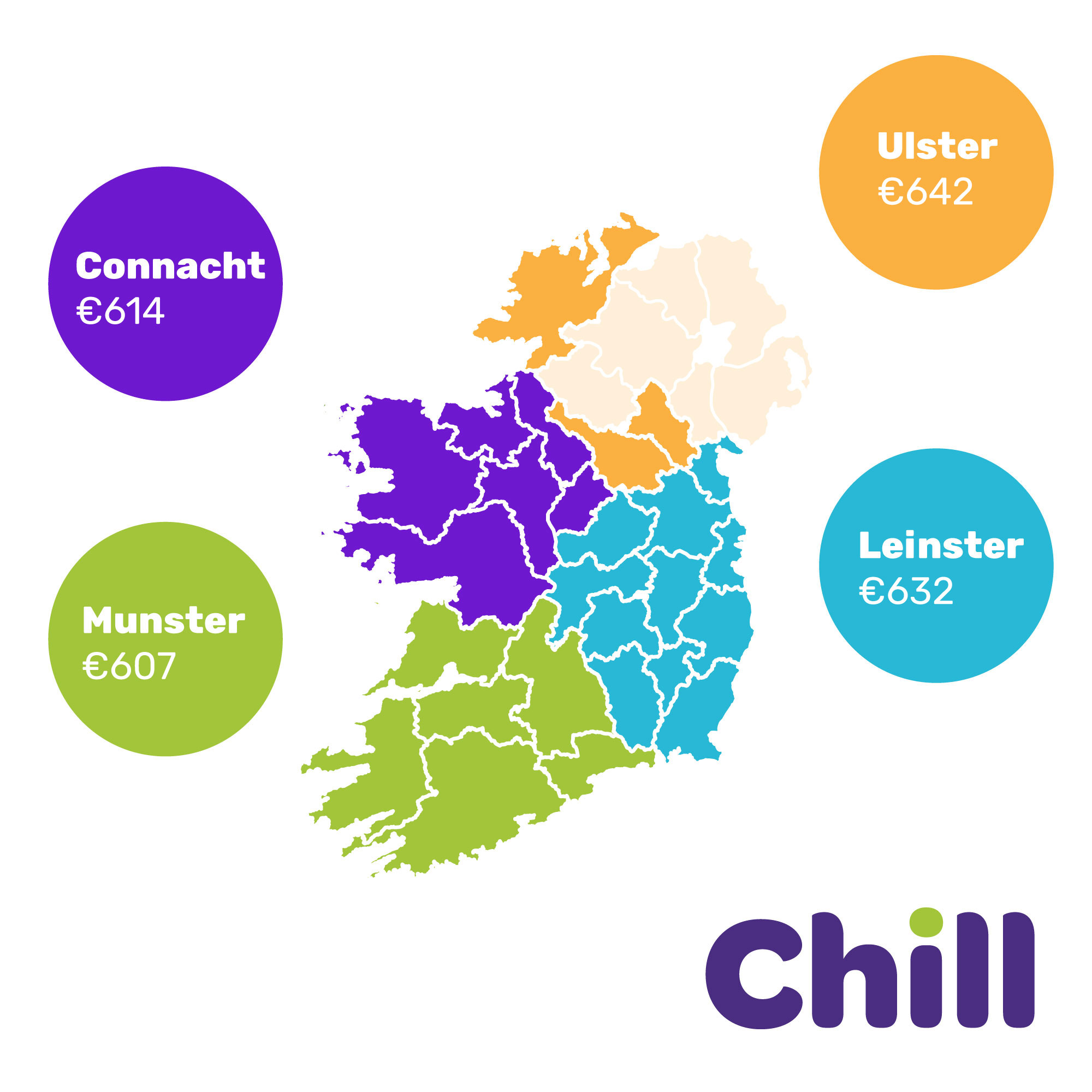 If you're looking to save on car insurance, the location you call home plays a significant role in determining your premium. Living in a city where there is a greater risk of crime and increased traffic is more than likely to push your car premium up. Similarly, in Ireland some rural counties have higher insurance premiums than others because of the higher rates of claims.
Bustling cities like Dublin, Limerick, Cork and Galway are some of the most expensive when it comes to car insurance premiums. That said, our research has shown more rural counties; Longford (€783) and Louth (€709) in Leinster, have some of the highest customer prices.
Amongst the four provinces in Ireland, Munster has the lowest average premium price at an average of €607.
Average Car Insurance Price by County
| County | Average Price |
| --- | --- |
| Waterford | €549 |
| Kilkenny | €554 |
| Wicklow | €571 |
| Wexford | €571 |
| Cork | €579 |
| Leitrim | €599 |
| Westmeath | €602 |
| Galway | €609 |
| Mayo | €612 |
| Kildare | €616 |
| Carlow | €618 |
| Donegal | €621 |
| Tipperary | €622 |
| Sligo | €625 |
| Clare | €631 |
| Laois | €637 |
| Roscommon | €637 |
| Dublin | €638 |
| Kerry | €639 |
| Meath | €646 |
| Monaghan | €646 |
| Offaly | €653 |
| Cavan | €669 |
| Limerick | €678 |
| Louth | €709 |
| Longford | €783 |
Average Car Insurance Prices by Age
The cost of car insurance typically varies depending on your age. This is because the cost of your car insurance is mainly all about risk. The 'riskier' you are to insure, the more expensive your car insurance policy is likely to be.
Younger drivers, from the age of 17-29 typically pay more for their premiums than older drivers, making them the most 'risky' age group on the road. This stems from the fact that young drivers haven't had the opportunity to gain as much experience on the roads. In fact, 1-in-5 young drivers are said to be involved in a car crash within six-months of passing their test.
Typically to insure a driver between the age of 17-29 will cost around €1,015 per annum. However, there are ways to lower these costs - you may choose to add an experienced driver with a good driving history to your policy, or it could be beneficial to choose a car from a lower insurance group to help make your policy cheaper (we will discuss more on this later). Our data suggests, 20-29 year olds pay around 62% more than the national average in car insurance premiums. This could be due to the trend of people choosing to learn to drive later than 17.
As a general rule, drivers over 70 pay less for their car insurance than younger drivers, as they are usually more experienced and in most cases have spent a lot more time behind the wheel. A potential no claim discount is built up meaning they are left with some of the lowest premiums in the market.
That said, it's important to keep in mind that car insurance is most likely to be more expensive for new drivers regardless of their age bracket - this is because drivers with less experience are considered to be at high risk.
Prices for the Top 10 Most Popular Models
Our data has shown that among the most popular models are Volkswagen, Toyota and Ford. A lot of the most popular models actually come in above the average price for an insurance premium.
Cheapest Car Brands to Insure
Our findings highlight that Dacia comes in as the cheapest out of all car brands analysed to insure - this is likely because they only sell two models which both appeal to the older demographic.
When we compared prices with age demographics, we found that Dacia is the cheapest for over 29's and Hyundai for under 29's. If you're looking to invest in an electric model, the cheapest brand to insure is Nissan - thanks to the compact five-door hatchback battery electric vehicle the 'Nissan Leaf'.
Insurance is one of the biggest annual motoring costs and your choice of car actually pays a huge part in keeping your car insurance cheap. Insurance providers may consider the following:
The size of the car
The cars value - how much it is worth
The age of your vehicle
What safety equipment it's fitted with
What security features it has
How susceptible it will be to accidental damage
How much it will cost to repair and how long it would take
It is important to keep in mind that any small changes to a car can affect its insurance group significantly too!
Cheapest Occupations
Believe it or not, your occupation actually plays a vital role in the price of your car insurance. Our data reveals that Clerks come in with the cheapest car insurance at an average premium of €480. Your occupation is used by insurance companies as a risk indicator and it can be viewed by different companies in different ways. People who work in an office or are considered remote workers may drive less frequently, or have shorter commutes. This means that they are seen as a lower risk to insurance companies and are therefore more likely to receive a lower premium. Experience on the road is a major determining factor for your insurance premium. Jobs that are populated by an older demographic will result in a lower insurance premium. A stable work schedule and driving environment can also reduce the cost of your insurance.
Methodology
Average prices are shown from new business & renewal sales between July 2022 - January 2023, including any fees.
First published by Ian O'Reilly