Everything You Need To Know About Buying A House At Auction
Going, Going, Gone!
Last updated: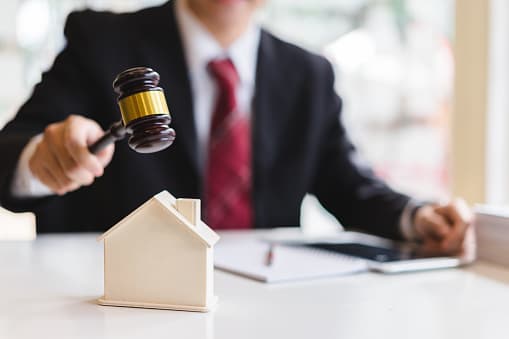 Buying a house at auction is certainly an exciting process, however, you should be as prepared as you can for an auction, with a budget and a house already in mind before you attend. This method of purchasing a home is very different from the more conventional way of going through an estate agent. When you take the latter approach, you may have lots of time to search for your perfect home, go for plenty of viewings and then take your time deciding if to make an offer and, if so, how much for. When it comes to an auction, these kinds of decisions need to be made quickly - you may only have a few seconds to decide if you want to increase your bid and being outbid is certainly a possibility.
If you've decided that you'd like to purchase your next home at auction, whether you're a first time buyer or a homeowner already, this guide should give you all the information you need to find a property and make a successful bid.
HOW DO YOU FIND HOUSES FOR AUCTION?
Before you can even think about attending an auction, you need to find a property to bid on and make sure that you view it prior to the auction. Unlike standard house sales where you can put in an offer 'subject to survey', a house that's purchased at auction is your responsibility as soon as that gavel lands and you've won that bid. Regardless of whether its roof is caving in or there's mould and damp in every room, the responsibility to fix these kinds of issues lands on you.
This is why it's so important to view the property and arrange for a survey to be completed to ensure there aren't any serious problems, like subsidence, where possible. After all, you don't want to win the bid and then find that there are lots of expensive repairs to make.
So how do you find the houses that are going to auction? The first and best place to look is the websites of auction houses in Ireland. These include The Connacht Property Auction, BidX1 and BRG Gibson Auctions Ltd.
Properties can be found either in their catalogues or on their websites. You can even sign up for property alerts, meaning you'll get an email when a new auction property becomes available. Once you've had a look at available properties, you can contact the auctioneer to arrange a visit. Generally, the catalogue or website will state the time, date and location of the auction. When new properties go up for sale, the auction is usually in around two or three weeks time.
HOW TO BID ON A HOUSE AT AUCTION
Once you've done your research and viewed a couple of properties that you have your eye on, it's time to attend the auction. So what can you expect and how do you place a bid on the house of your choice?
Each property will have a set time, so ensure that you're in the right place and seated before the bidding starts. When the auctioneer states a price, all you need to do is raise your hand or numbered card if you'd like to place a bid. There may be multiple bidders in the room wanting the same property, so it's likely that lots of people will begin bidding when it starts. Don't forget, you don't have to enter the bidding immediately - it can be tactical to wait. As the price gradually goes up, it's common for people to start dropping out, so you could come in with your bids at this point.
Typically, if there are multiple bidders for a property, the bidding will eventually come down to two people. When this is the case, the auctioneer will generally signal to you to make a counter bid against someone else. If a mistake has been made and you didn't mean to bid, you can shake your head and they will generally understand what this means.
When a counter bid isn't made, the auctioneer allows anyone else to make a final bid by stating "Going once...going twice". This is the final call for any bids and if no one speaks up, the gavel will go down and the property is sold.
Homes for auction usually have a reserve price. This means that if the bids don't reach this figure, the property won't sell. Once the reserve figure has been reached, the home will definitely sell to the highest bidder.
Prior to the auction, you should have a budget in mind. This should be a figure that you're happy to spend on the property (and don't forget to take stamp duty and other costs into account when you're budgeting). During the bidding, you should stick to this figure. If you win, there's no chance to back out - the property is yours and you'll be required to sign a contract on the spot, pay the deposit and then pay the full amount within the date on the contract (usually around 28 days after the auction).
Once the property is yours, it's important to organise buildings insurance as soon as possible. This is because the property is your responsibility and any damage that occurs to the building should be paid for by you. Therefore, by taking out buildings insurance straight away, the property will be covered.
CAN YOU BUY AUCTION HOUSES WITH A MORTGAGE?
It's rare that someone will be able to buy an auction property with cash, particularly first time buyers, and yet many people seem to think that this is the only way you can buy at auction. You can buy an auction house with a mortgage, however you must already have the mortgage offer in place and a completed application. You will also need to have at least a 10 percent deposit ready in cash to pay on the day.
CAN A FIRST TIME HOME BUYER BUY AT AUCTION?
First time buyers can purchase a home at auction, they simply have to make sure they either have the entire cash amount available to them or have a mortgage in place before attending.
INSURE YOUR NEW HOME WITH CHILL
If you win a property at auction, it's time to think about your home insurance. Luckily, Chill can make this easy for you, comparing deals from the top insurance providers in Ireland and finding you the best deal. Get a quote to start this process.
First published by Ian O'Reilly