What is comprehensive Car Insurance?
Learn more about comprehensive cover
Published on by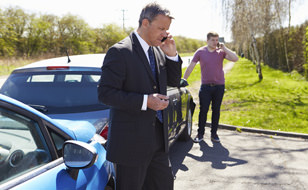 Is your car insurance up for renewal or perhaps you're looking for cover for the first time? Either way, it's always a daunting task that needs to be done. With all the different types of cover available, and the array of insurers out there, it can be confusing taking out a policy.
Perhaps you're in the market for an insurance policy that provides comprehensive cover? What's this you may ask? In a nutshell, fully comprehensive vehicle insurance gives you third-party fire and theft cover, but also allows you to claim for damage to your own car, no matter who is to blame. It also comes with a number of additional benefits which can be added depending on your cover provider.
But what exactly does comprehensive car insurance cover? And what makes it different from other third party and third party fire and theft? What happens if your vehicle is beyond repair? Don't worry as we're here to help answer these questions for you.
What It Covers
This cover incorporates third party, fire and theft cover and also includes accidental damage to your car. The benefits of comprehensive policies vary between insurers, so you need to always check with your insurer when you are taking out this cover.
What About The Other Person
Worried about someone else's vehicle? No need to fret. In the event of an accident, third party damage should be covered by your comprehensive cover as well. This means that any damage incurred by another person's car, which you may have caused, should be taken care of through your insurance. Not only that, but if there is damage to a property as a result of your negligent driving, that can be included also. Once again, make sure you check with your insurer, or broker, on the specifics of your policy.
Daily Expenses
Depending on your insurer, your comprehensive car insurance policy may provide certain level of medical expenses cover for you, and any third parties, as a result of a car incident that involves your vehicle. Once again you should consult with your insurer before taking out the cover as this benefit can vary between insurers.
What Next?
What happens if your vehicle is beyond repair? Well with some insurers fully comprehensive insurance may entitle you to a replacement car so make sure to ask when taking out your policy. It's always best to query this when setting up your policy, as if it's available, it's a welcome bonus.
Breakdown Assistance and Windscreen Protection
What if the car breaks down? Like other types of cover available, comprehensive cover can entitle you (in some cases) to breakdown assistance or windscreen cover. This means the insurer will send roadside assistance to you, so you're not stuck in the cold! Make sure you check with your insurer or broker when taking out the policy to see if your cover comes with this added benefit.
---
Although you can expect to incur a pay a higher premium for comprehensive cover than for other cover types there are many benefits associated with this type of cover.
If you do have any more questions about comprehensive insurance such as why it might be a good option for you or how it might differ from the various third party options we'd love to help. You can either call our friendly customer service team on 1890 30 20 20 or alternatively get a Quick Quote above.
---
If you are a Chill Insurance customer you can find a link to all your important contact details and documents at this link.
Modified Date: