Morning Campers!
Our Top Irish Campsites
Published on by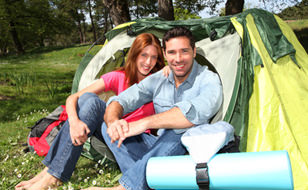 Camping in Ireland has become hugely popular over the past few years with a dramatic increase in Irish holiday makers (and those from abroad) pitching a tent or hooking up the caravan for a holiday in Ireland.
As we have seen in a previous blog post, the stay-cation is a popular choice for Irish holidaymakers this year due to reduced costs and the opportunity to explore some of the breath-taking scenery we are lucky enough to have on our very own island of Ireland. So if you are planning a trip around Ireland this year and want a different take on a traditional holiday, then why not consider camping? It's a far cry from the days as a Girl Guide or Boy Scout where we roughed it under a canvas tent with a dozen other kids. Modern day camp sites offer a fantastic range of facilities as standard and are your gateway to exploring the Irish countryside.
The Irish Caravan and Camping Council offer great advice on places to stay and facilities to suit you and your family. Many have well built and well maintained shower blocks, snack shops and onsite activity which will keep the kids entertained for hours.
---
Hidden Valley Park
The Hidden Valley Camp site in Rathdrum Co. Wicklow offers a variety of activities onsite for all the family such as archery, kayaks, fishing, bumper boats and endless walks through the Wicklow Mountains. The camp site welcomes caravans, has self catering luxury log cabins and endless amounts of camping space on the river. They also run there own themed nights and entertainment at a minimal cost.
---
Clissmann Horse Caravans & Donkey Walking
If you fancy something a bit different, then check out Clissmann horse drawn caravan and walking holidays. The family run business provides training to all visitors before they embark on a pre-planned route around Wicklow with allocated over night stops in local caravan and camp sites so the horse can graze and get a rest while you soak up the atmosphere of freedom out on the road. All the horses are extremely well behaved and the owners give every visitor hands on training course of how to manage, look after and harness the horse.
---
Mannix Point Camping and Caravan Park
Heading out West to the ring of Kerry, Mannix Point Camping and Caravan Park boasts breathtaking views out to Valentia Island and is on the waterfront of the amazing Gulf Stream coast of South West Kerry. A 15 minute stroll from the campsite will see you in the town with great pubs and restaurants if you didn't fancy sparking up the old camp fire one night. The campsite is perfectly situated for water sports, hill and mountain walks and has spectacular blue flag beaches, so you will never be short of things to do with the kids.
---
Strandhill Caravan and Camping Park
Head up to Sligo for views and scenery that are hard to beat, and set up camp in Strandhill Caravan and Camping Park. Nestled under the mountain of Knocknarea and facing directly onto the award winning Strandhill Beach, it's a paradise for surfers! Just 2km away down the road, the flat sandy beach of Culeenamore is perfect for families if they wish to venture outside of the facilities offered in the park which include a brand new kids playground. The promenade is only a short stroll away with delicious restaurants and cosy pubs. If you get a bit wet from all the splashing around in the sea and surfing, the camping park has onsite facilities such as washing machines and dryers.
---
Camping Tips
So now we have given you a few ideas of where to go, use our handy checklist below to make sure you have everything packed! For these holidays you really can take the kitchen sink!
Tent (your own choice if you opt for an easy pop up tent or a traditional canvas with guy ropes and dollies!)
Sleeping equipment (sleeping bags, pillows, ground sheet, fold up bed/foam mat, blankets)
Cooking equipment: your own choice if you prefer the born survivor style over a real open fire, or a portable gas stove! Pots and pans, crockery, cutlery, kettle (and the tea bags!) washing up equipment, utensils and fire safety accessories.
Food: remember to pack your food in a good cool box to save your milk going off and keep your open food packets well sealed and off the ground to avoid unwanted pests having a snack! Don't forget the tin opener!! A camping trip wouldn't be the same without a tin of baked beans and toasted marshmallows!
Don't forget your own items such as shampoo, shower gel and toothpaste but most important, toilet roll!
If you are going into remote locations, don't forget to notify someone of where you are and what your plans are as you may be without mobile phone reception. Take a water sealed map with routes carefully planned out and load up the car with additional blankets, water and first aid kits in case of emergencies.
It's worth investing in a mobile phone in-car charger as remember, you may not be able to get to a plug socket! However, the modern camp sites will probably allow you access to a socket.
Pack accordingly! Although we are having a few nice days of weather at the moment, it can get cold at night and we are in Ireland after all!
Housekeeping: don't forget to take your rubbish with you and leave your campsite clean and tidy, the way you found it.
Entertainment for the kids and you! They probably wont let you forget, but the kids toys are a must! And maybe a pack of cards for you to have a game round the camp fire with some fellow campers.
Camping is a great, inexpensive holiday that the entire family can enjoy, with the benefit being you can throw everything into your car or caravan and take it with you. Many high street retailers have great deals on camping equipment which needn't break the bank, and stored correctly can last you years. You never know, next year you might hop on a ferry over to France for a bit of camping on the continent!
Modified Date: