The House Of The Future
What Futuristic Home Tech Will We Be Using
Published on by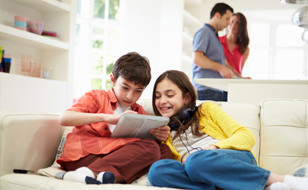 There is a phrase bandied about by many people and that is the internet of things. What this means is that we will soon be living in homes where all our devices will be interconnected via the internet. This will allow us to communicate with, and use, items such as our TV's, fridges and heating controls via our tablets smartphones and PC's.
Over the last number of years many of the technology seen on the small and big screen has made an appearance in our own lives. For instance the sliding doors that are common today could be linked back to Star Trek. Recently, Minority Report, the Tom Cruise action movie, had billboards that recognised customers which are now being used in real life. With Nike revealing that they have plans to release the runners with self tying laces, as worn by "Marty McFly" in "Back to the Future 2", we are certainly getting closer to what writers and directors imagine 10-15 years ago.
Netflix and the various player devices have allowed us to watch shows when ever we want once it has been broadcast. I personally watch Sky Sports on my tablet while my girlfriend watches something else on our internet enable TV. We even did a blog that looked at some home decorating apps that can make your home renovation easier in the future. But this use of smart technology is just the tip of the iceberg for what the future holds for our homes.
Toothbrush
Two of the most exciting tech developments over the last couple of months for me, and the tech geek community, revolved around toothbrushes and thermostats. At this years CES event in Las Vegas the Kolibree smart toothbrush, which can be used to check your dental habits, was launched. The product relies on Bluetooth and a specific app to record your dental practices and even rewards you for improvement and continued use.
Thermostat
The other big news was the purchase of NEST by Google. Nest produces both smart thermostats and smart smoke alarms. The thermostats use data to learn your schedules and cool and heat your house accordingly. The device is constantly learning as it becomes more accustomed to its owners meaning your home is truly how you like it. Their smoke and carbon monoxide alarms have early warn systems meaning that if they come across potential problems they inform the owner before setting off the alarms thus curtailing on nuisance alarms.
Smart Watches
At present you can track your level of activity on your smart devices and desktop devices but what does the future hold when it comes to integration over multiple devices inside and outside the home. Additional expansion in the area of smart watches, such as the "Fitbit", could possibly allow owners to better track their levels of exercise. Forbes has even asked whether these wearable tech items "could potentially lead to improving patients' health by spurring people to get moving". All of which could lead to a better life insurance quote in the future.
As we become more accustomed to smart tech in our lives and our homes the worry can be that we take their security for granted. Having the correct home insurance and gadget cover in place for your future tech not only makes sense it also secures your home. If you are looking to invest in your home and would like some advice on how to protect your contents we'd love to help you get a great deal.
Modified Date: