The Chronicles of Work From Home Blunders
Drops, Trips And Mishaps
Last updated: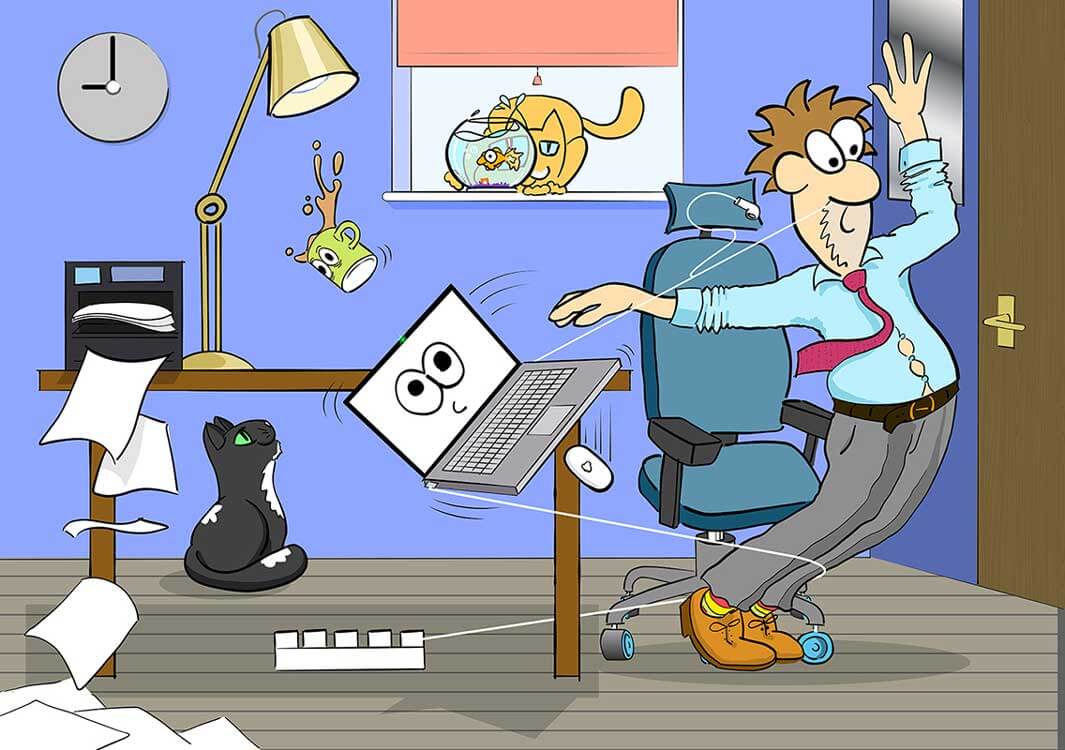 With Ireland living under Level 5 restrictions in an attempt to curb the spread of COVID-19, the entire population is once again adapting to life under strict lockdown. Dubbed 'Lockdown III', these latest restrictions have seen the Government reminding people to work from home where possible.
A new normal?
While the first two lockdowns might have felt novel and temporary, Lockdown III feels more like the start of a new long-term normal. Video conferencing has gone from being a charming novelty to a reality of day-to-day business operations and working in PJs has become standard practice for far more than are likely to admit it.
Although thousands of us have been working from home for much of the past year, many of us are still on a steep learning curve when it comes to juggling work and home life. This has led to the phenomenon of working from home 'fails'.
As with any major lifestyle adjustment, teething problems are unavoidable and the transition from regular office life to working from home five-days-a-week has been no exception. From child and pet-related mishaps to tech emergencies and video call disasters, the home office is fertile ground for blunders. Here at Chill, we've put together some of the most common WFH problems, before looking at the best ways you can protect yourself (and your contents) against these, and similar, 'fails'.
The attention seeking pet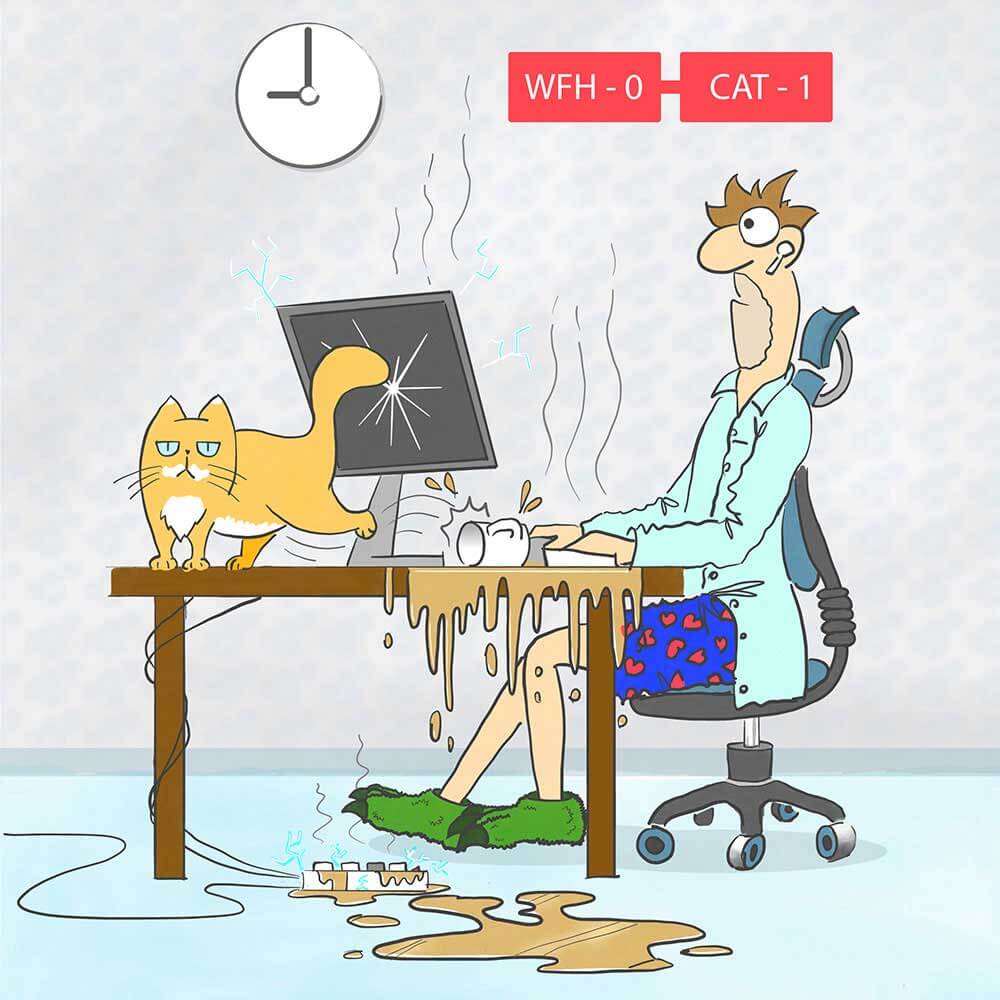 Any pet owner will tell you that working from home has its pros and cons. On the plus side, not having to leave the house early for your daily commute or return home late after a day at the office has meant that pets across the country have been able to spend more quality time with their beloved owners, and vice versa. Indeed, according to The Irish Times, there has been a huge increase in the demand for pets since the start of the pandemic. However, it's not all harmonious lunchtime walks and kitty snuggles.
While your pet may love having you to keep them company all day, their increased attachment could become a bit problematic. As parents, fresh from the experience of homeschooling their children will testify to, trying to get any work done while another living being is fighting for your attention 24 hours a day can be incredibly challenging, and not something you typically have to put up with when working from the office. Naturally, accidents happen and vital items of work equipment can be broken or damaged - especially if there is a hot drink involved!
Why tech and the bathroom should never meet…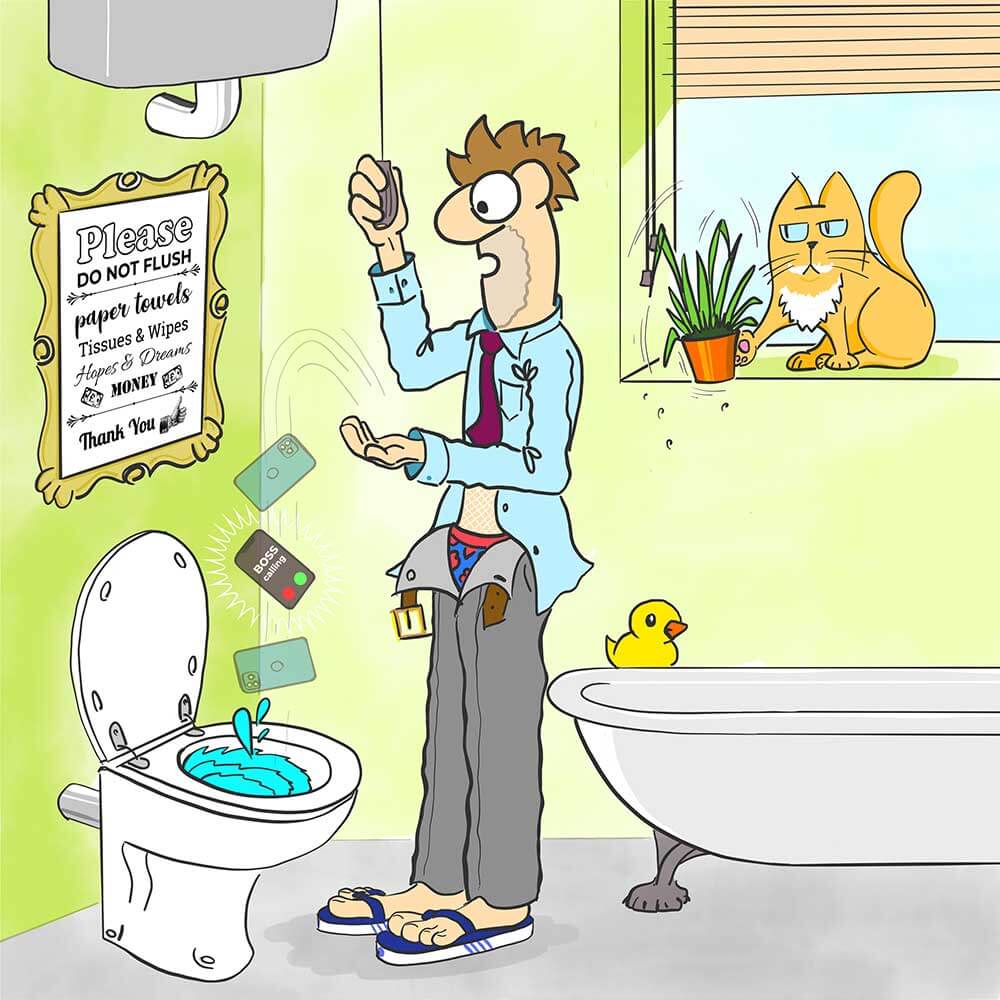 Setting boundaries and being able to separate home and working life has also been a challenge for many working from home for the first time. While you may not think twice about getting up to make yourself a cuppa or nipping to the loo in the office, stepping away from your laptop while working from home might leave you with feelings of anxiety and guilt. A recent survey from Linkedin suggested that employees feel the need to work harder and longer hours at home to fight a perception that this form of work is less productive than being in the office.
However, this is exactly why boundaries are so important. Just because your working environment has changed, this doesn't mean your basic rights as an employee have also altered. Putting too much pressure on yourself to prove that you are actually working can lead to mental health issues and totally avoidable accidents. If you need to pop to the toilet, for example, leave your laptop and phone where they are. Your inbox will be fine left unattended for five minutes or so, and there is certainly no need to be scrolling through your emails in the bathroom. The last thing you need is an unfortunately timed phone call from your boss leading to a toilet-related tech disaster!
Personal device mishaps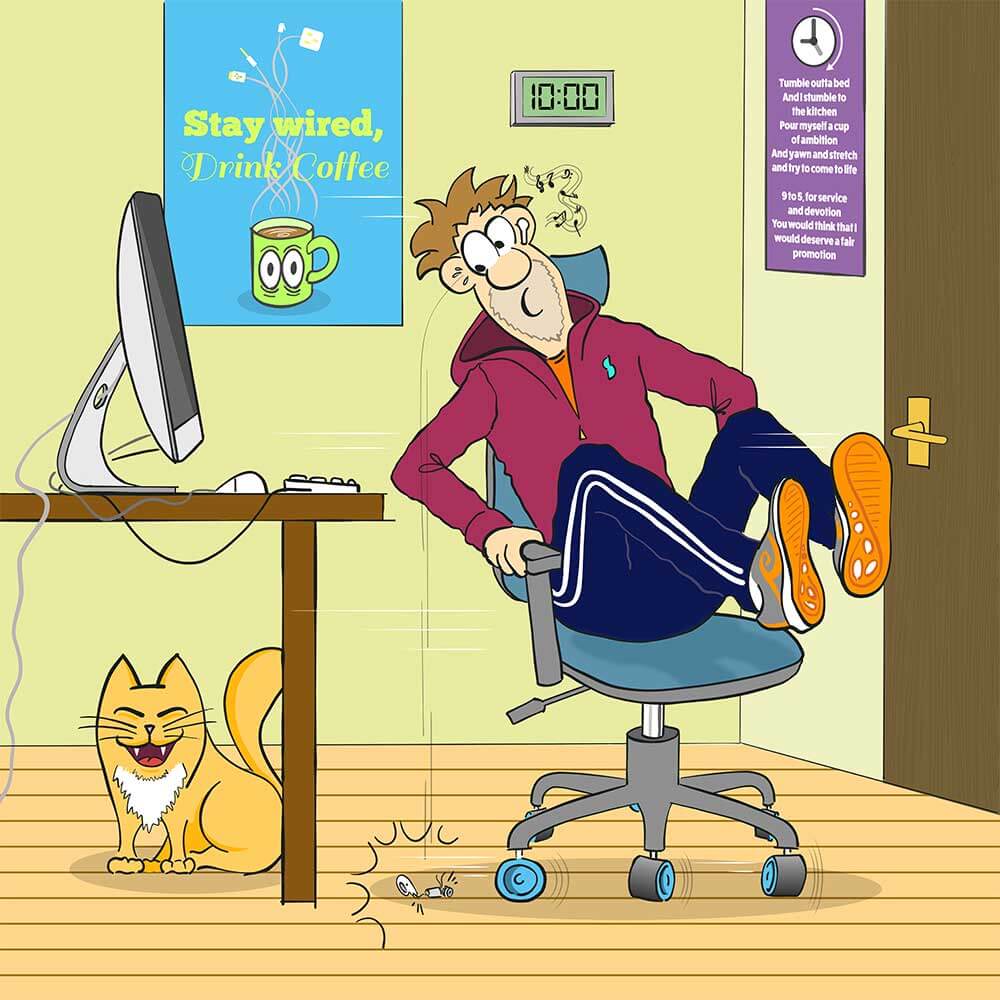 For many, the main challenge when it's come to home working has been finding a suitable space to work in and, in some cases, ensuring personal equipment - such as laptops, wifi connections, headphones, desks and chairs - are adequate enough to allow you to work. If, like many, your home doesn't include its own study or home office, this process has been a learning curve, honed by trial and error. Does the kitchen table or living room coffee table make for a better desk? Can I sit on the sofa all day while working or do I need to purchase an office chair? Are the speakers on my old laptop good enough for video calls or will I need to use my personal AirPods?
While it's true that after nearly a year of working from home many have built the perfect WFH set-up and have sourced all the equipment to work well in their new environment, it's likely that many will never be able to recreate a working space to rival that of the purpose-built working area you have in the office. Naturally, as there is always a slight element of trying to fit round pegs in square holes when it comes to your home working space, accidents will happen. We've all been there - knocked over our coffee on the kitchen table that is too small to house everything needed for a day's work, rolled over and broke a brand new AirPod as you wheeled back on your chair to pick it up, or plugged just one too many devices into an already overloaded extension lead and tripped your home's fuse box. Annoying? Yes. But as we still continue to adapt to this new normal, WFH fails and tech disasters are something we may need to deal with.
Technology trip hazards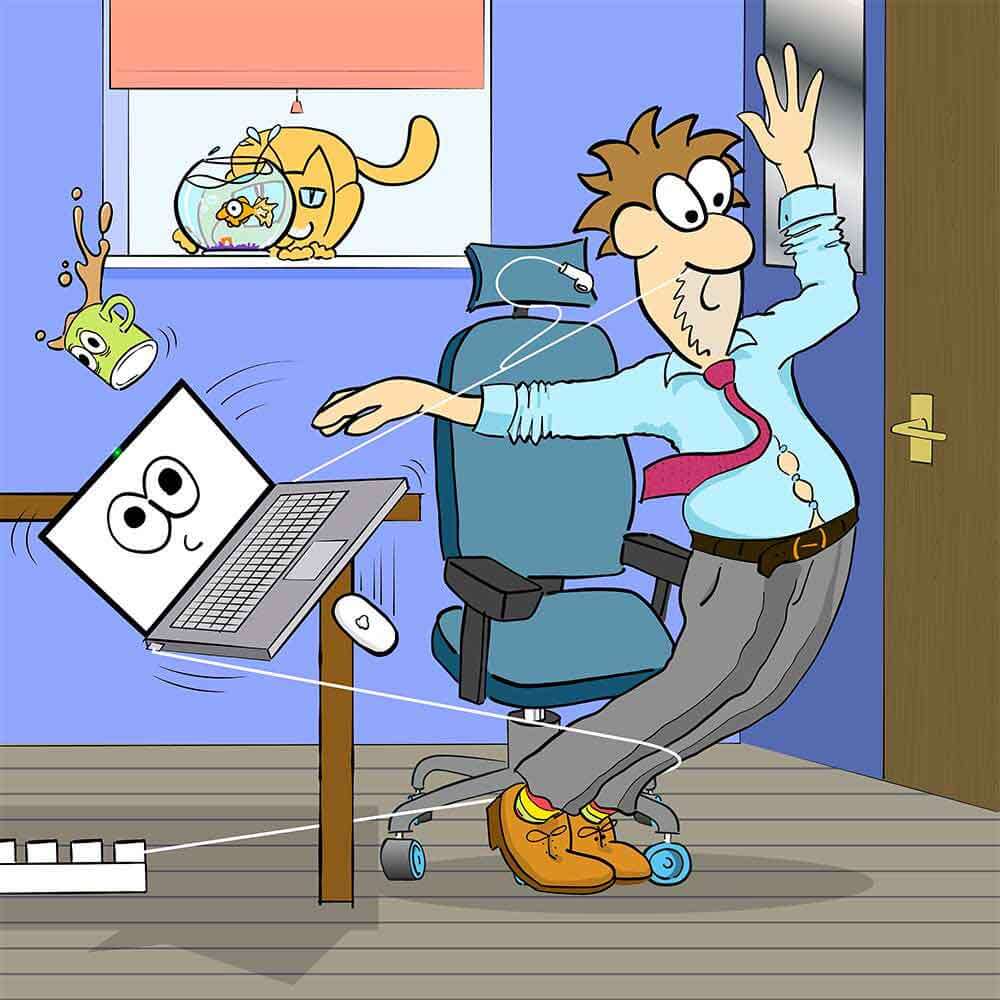 In a typical office environment, it's likely there are certain health and safety measures in place to keep you and your colleagues out of harm's way during your working day. In fact, it's the law for your employer to ensure that they stick to specific guidelines when it comes to ensuring the wellbeing of their staff members. One of the most important ways in which an employer keeps its personnel safe and well during the working day is by making sure the space is free from anything that could be a potential trip hazard, such as keeping cables and wires tidied away. But when it comes to working from home, it's down to you to make sure your work space is suitably safe. If not, you could find yourself quite literally tangled up in all sorts of trouble.
Between having your laptop charger and earphones plugged in, you could soon find yourself caught up in a web of cables and wires. All it takes is for you to stand up and trip backwards over an unruly cable or get up to make a cup of coffee with your earphones still attached, so it's important that you're extra careful and take some time to assess your work setup to ensure it's as safe as possible. For example, if you find that you just have too many wires cluttering up your space, you might want to think about introducing some sort of cable management system to help neaten things up a bit. You could invest in a cable tidy box to keep your wires out of sight, or you could even go for a specially designed desk which has designated cable holes where you can feed computer leads through. Your work setup may not pass any health and safety tests, but you can at least try to make the area as comfortable and safe as possible in the meantime.
Get some WFH peace of mind
Unfortunately, as anyone who has experienced a prolonged period of working from home will tell you, accidents and so-called 'fails' will happen - it's just the nature of the beast. Sometimes you'll laugh, while on other occasions you'll be pulling your hair out with frustration. Of course, there are some things you can do to try and make the situation better, such as settling clear boundaries - both physically and mentally - between your work and home life, and talking to your employers about how they can help in terms of lending you any specialist equipment you need to do your job, as well as perhaps being more flexible when it comes to working hours to help with childcare and homeschooling responsibilities.
As the phenomenon of working from home looks as though it is here for the long run, another thing to consider is taking out a comprehensive contents insurance policy. As we know, accidents do happen and vital, often expensive, household items and devices can be all too easily damaged or broken. Here at Chill, our home contents policies can be customised not only to cover any items contained within your house from fire, flooding, theft, and more unusual causes of damage, such as falling trees, but also accidental damage. This means that any damage done to your belongings or furniture by mistake can be claimed for, giving you that additional peace of mind and extra protection from even the most comical work from home 'fails'!
Do you work from home? What common problems, blunders or 'fails' have you experienced? Let us know by sharing your stories on Twitter using the hashtag #WFHBlunders.
First published by Ian O'Reilly