Staying Safe This Halloween
Our top Halloween tips
Published on by Simon O'Donovan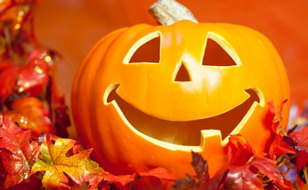 Trick or treating, bonfires, and fireworks are part of the annual Hallowe'en tradition. Make sure your enjoyment of the night isn't spoiled by staying conscious of these scenarios:
Make sure all costumes, masks, and wigs are flame resistant.
Keep pets safe and indoors if possible. If they're outside they may bolt at the sound of bangers or fireworks.
If you are out driving this Halloween make sure to slow down and drive with extra caution, especially in housing estates. Watch out for children trick or treating wearing dark costumes as they may be more difficult to spot.
Young children should always have a responsible adult escorting them door-to-door on Halloween night.
Avoid lighting candles for Halloween around your home to reduce the risk of fire.
Attend organised events in your local area which are supervised.
Be extra careful when carving your pumpkin. Carve it in a well lit room and on a flat surface.
---
In addition to keeping you and your loved ones safe you can be confident your home and car are protected during the Hallowe'en period. Call our friendly team on
01 400 3400
or get an online
quote
. Happy Hallowe'en!
Modified Date: