Staying Safe on the Road
Driving In Wet Weather
Published on by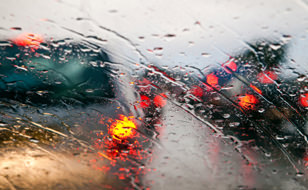 Although it is technically summer time it may not feel like it with the recent spell of high winds and rainy days. According to Met Eireann, April is generally the driest month of the year. They also tell us that most parts of the country get between 750 and 1000 millimetres of rain in the year and this year it looks like we are going to go above that figure! So with this we have come with a few little tips on driving safely in dangerous weather conditions, some of which are obvious, but are always worth mentioning.
No fiddling when driving!
If you are driving, you should set up your heating system, lights, iPod etc. before you set off on your journey. Rain and cold weather makes your windows fog up in seconds which makes driving quite tricky.
It's not a race!
There are no prizes for arriving quickly at your destination, believe it or not! We are all aware of the Road Safety Authority (RSA) advertisements with the only a fool breaks the two second rule slogan. In wet conditions, the RSA recommend that you double this and allow a four second gap between you and the vehicle in front of you as braking will take a little longer. Also maintaining a safe distance from the vehicle in front of you will avoid your windscreen being sprayed by surface water.
Keep your car in shape!
Having your car serviced every 5,000 kilometres or every 6 months (whichever comes first) is recommended, especially if you drive a lot. Before going on a long journey there are a few quick checks you can do such as:
Checking your wipers.
Making sure that your tyres are properly inflated and have enough tread.
Ensuring front and back lights work and are clean.
Making sure there is water in the washer to allow you clean your windscreen.
In the case of floods...
In cases of severe weather such as heavy flooding we recommend that you do not travel at all if it can be avoided. Should you need to make the journey make sure you keep the revs high by slipping the clutch, (not fully engaging the clutch), when the vehicle is in the water. Do not take your foot off the accelerator, as flood water may travel up the exhaust pipe and cause damage to your engine. When you come out of the water it is recommended you 'dry your brakes' by lighting pressing on the brakes for a few seconds.
And finally, be safe to be seen! In the event that your vehicle breaks down and you have to get out of it, highly visible clothing and lights are essential so I always recommending keeping a hi-vis jacket and torch in the glove compartment.
It is also worth checking that your car insurance policy includes breakdown assistance.
---
Here are a number of useful links which are also worth checking out:
Department of Transport for updates on public transport delays and cancellations.
Monitor the weather at Met Eireann
Conditions of Motorways and National roads see The Road Weather Information System
Check the Garda websitefor travel warnings.
Modified Date: