The StayCation
Irish Summer Hot-Spots
Published on by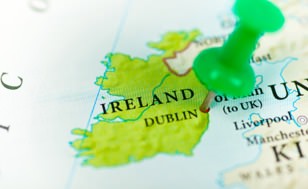 The school holidays are finally here! The end of another long year for students. Hurrah I hear you cry, or maybe not? For some families, the summer holidays can signal the start of a long two months trying to keep the kids entertained and family holidays. If you are lucky enough to be heading abroad to sunnier climes this year, enjoy and be safe. We offer lots of advice on summer safety, travel insurance and keeping you home safe while you are away.
If you aren't heading off to the sun and are planning a stay-cation this year there are still some great places to go and see in Ireland. Remember to still take the necessary precautions to secure your home when leaving. We have a look at some excellent attractions in Ireland that will keep the whole family entertained and take in the beautiful scenery that Ireland has to offer. So pack up the car and the kids and check out what this beautiful country has to offer.
---
Before you leave
Most of us find packing very stressful, especially when you need to pack for the entire family, pretty much everything gets thrown into the boot of the car including the kitchen sink! Roof top storage boxes are an excellent way of space saving and allows you the space in the boot for the dog and kids toys! Halfords have very good ones from as little as €142.99 (on sale from €415.99, saving €273!).
Give the car a once over a week or two before you leave, check that all your lights are working and replace any blown bulbs. Check the oil level is sufficiently topped up, engine coolant, wiper fluid and all other fluids. Make sure your spare tyre is in good condition and you have all the necessary tools for changing it. By doing this in advance of your departure, allows you enough time to get things replaced or fixed before you hit the road.
Don't pack too much! Be realistic in what you are taking, and remember that we are in Ireland, you know yourself, the chances of rain even during the summer is pretty high! Check the weather forecast online or download an app for your smartphone where you can set locations to keep an eye on the forecast. Keep the weight in the car as light as possible to help with your fuel economy on the long journey. Don't forget, you are not going to outer-space where you can't buy your usual grocery items like Barry's tea and Tayto, so keep realistic and buy what you need as you go.
---
Plan your route
Ensure you have your route planned out, know which roads you will be taking and if there are any toll payments required. Keep a stash of change in the car for toll roads. Knowing where you are going will help wasting fuel driving round if you get lost. If you have a sat-nav, pre-programme in your destinations and download google maps to your phone if you can.
---
Destinations
So now you are ready to hit the road and head off on a family holiday in Ireland. Have a look at a few places we have picked out that are great for families, easy to drive to and you can take in some fantastic scenery.
County Clare
If you love surfing then the coast of Clare is paradise to you. The rough and rugged coastline with the sheer expanse of the Atlantic Ocean really does provide some the best surfing in the country. Alternatively, the beaches in Lahinch and Burren offer great walks, breathtaking views and family friendly places to visit.
The Cliffs of Mohar
The Cliffs of Mohar are a sight not to be missed! Attracting over 1 million visitors each year, it has spectacular views over the Atlantic Ocean over to the Aran Islands, Galway Bay, The Twelve Bens, the Maumturk Mountains in Connemara and Loop Head to the south. The visitor centre is wonderfully carved underground building and gives interactive tours and education on how these wondrous cliffs were formed. Car parking is free and easily accessible, and with entry only €6 per adult and under 16's for free, it is a cost affective attraction for the whole family.
Doolin Cave
Doolin Cave is one of the most fascinating and compelling caves in Europe. It is home to the largest free hanging Stalactite in the world visitors can experience a 2 hours tour of the underground network which leads to this magnificent Stalactite. Cost of entry is €15 per adult, €8 per child or a family of 5 for €50. However if you book a cave tour online you can save 20%. This tour is well worth money and allows us to be proud that the west coast of Ireland is home to a worldwide phenomenon not to be rivalled across the globe. The tour leaders are a fountain of local knowledge and information on the caves and offer a professional and friendly service. The decent down to the cave is quite deep, so if you are nervous of underground confined spaces, think carefully before you head down to the cave. It is well lit and the footing is stable and the visitor centre does a good cup of coffee!
County Dublin
Don't forget our capital for some great activities and days out.
Dubin Zoo
Any trip to Dublin wouldn't be complete without a visit to Dublin Zoo! Over the last few years the Zoo have invested significant money into regeneration of the grounds and enclosures for the animals making their environment bigger and even more natural for them.
The continued conservation and breeding programmes have seen several new babies born to the zoo over the last few years including elephants, giraffes, hippopotamuses, Bongo calf, Tapir, and a Californian Sea Lion. The zoo is Ireland's number one visitor attraction and offers a fun, educational and interesting day out for all ages. As a registered charity, they rely on the money generated by visitors and tourism to maintain and develop the conservation of the animals.
See www.dublinzoo.ie for ticket prices and times. A little tip to think about is to use your Tesco club card vouchers in exchange for zoo tickets. You will have to do this in advance of your visit but well worth it especially if you are a family planning on going. Check your Tesco club card statement and rewards book for more information on how to do this.
County Galway
Volvo Open Race
Galway plays host to the final stage of the Volvo Open Race from the 30th of June to the 8th of July, you won't find spirits higher anywhere else in the country than Galway this summer.
Galway Races
For something a bit different and maybe for an older audience, the famous Galway Races take place from the 30th July to the 5th August. This week long attraction is a cacophony of colour and excitement with a mix of flat and national hunt racing guaranteed to get your heart fluttering!
Galway Atlantaquaria
For something a little more family orientated but no less fun, check out the Galway Atlantaquaria in Salthill. It's Ireland's largest aquarium and offers a comprehensive view of the under water world through interesting and educational displays.
The aquarium is home to over 150 different species and is displayed in carefully crafted units that mirror their natural habitat in the wild. The Ocean Tank is home to "Valentine" the only White Skate on public display in the world. That alone is defiantly worth a visit! Hands on exhibits and interactive educational items ensure that all the family finds learning fun whilst understanding the magnificent world under the sea.
The aquarium is open 10am-6pm daily and a family ticket (2 adults and 2 children) is only €29.
County Wicklow
The garden county of Ireland boasts some of the most famous walks and scenery in the country. People flock from far and wide to walk the famous Wicklow Way with its breathtaking scenery, rolling valley's and rugged landscape. Visitors to Wicklow will not be short of things to do and see whilst in the county.
Glendalough
One of the most popular attractions in County Wicklow is Glendalough which is the valley of 2 lakes. There fantastic walks to suit everyone from a family stroll to the serious hiker who can cross the Spink over to Glenmalure and Glen of Imaal.
The Glenmalure Lodge Hotel
Dinner and a pint in The Glenmalure Lodge Hotel is a must and an over night stay will only cost €70 for a double room (B&B). Here you can soak up a traditional Irish pub with music every weekend and a warm welcome from the friendly owners and staff. The Hotel is nestled in the valley with amazing views allowing you to feel right at the heart of the Wicklow countryside. For a true traditional Wicklow stay, you don't get much better than Glenmalure Lodge. The food is plentiful with children's menus available, and the drinks are even more plentiful with excellent pints of Guinness on tap for €3.85. The Glenmalure Lodge Hotel is a working farm run by the family owners, so during the spring you can expect to see lots of baby lambs in the surround fields which is always a winner for the kids.
Powerscourt Gardens
Head up to Enniskerry and indulge yourself in a bit of pure luxury at The Ritz Cartlon Hotel set in Powerscourt Gardens. If this is a bit too far out of your price range, then a trip to the gardens is a must. These famous gardens are some of the most beautiful in Ireland and the entire family can enjoy a long stroll taking in the beautiful landscaped gardens surrounding the majestic house which looks down over them. A popular spot for wedding photographs and events, they are one of the most photographed gardens in the country.
Tickets cost €8 per adult and €5 for children. In March 2012 Powerscourt Gardens introduced a family ticket. For €25 two adults and up to three children can enjoy the gardens. Don't forget to pop into the coffee shop for a bite to eat overlooking the rolling gardens.
(Information correct at time of writing 6/7/2012)
---
Overall, enjoy your holiday and stay safe. With the ever changing Irish weather, have your vehicle prepared and don't take any unnecessary risks.
Modified Date: