Slips, Trips and Falls
Keep Your Workplace Safe
Published on by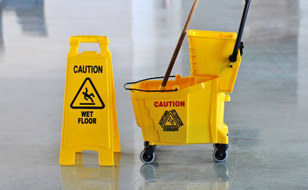 Did you know that slips, trips and falls are the largest cause of accidents at work in Ireland? In fact, Health & Safety Authority (HSA) figures show that a whopping 17% of injuries that require four or more days off work are down to people slipping, tripping or falling.
Unfortunately, people getting injured in the workplace is nothing new, but those seeking some form of compensation is. Only last year the Injuries Board raised concerns about the emergence of a claims culture that could potentially lead to higher insurance premiums for consumers and businesses. According to a recent article in the Independent claims to the Injuries Board increased by 5% over the last year and more worryingly they are up by a quarter since 2007.
Although businesses are required to carry out a risk assessment that is recorded in its Safety Statement, HSA Inspectors found that a staggering 22% of workplaces surveyed had failed to carry out a slip, trip and fall assessment.
To help reduce the chances of an accident, here are our top tips to make your workplace safer:
Have a clean workplace

A large number of accidents are down to untidy workplaces and poor housekeeping. You can keep on top of this by ensuring that floors are clear of any rubbish and that there are no obstacles blocking access or causing a hazard.

Clean up spillages

Whenever there's a spillage it should be cleaned up immediately. You should also look to place a sign near the area so people are aware they need to take extra care. It's also a good idea to investigate what caused it and see what can be done to avoid further spillages.

Keep stairways clear

Stairways are a very common location for accidents to occur. You can look to minimise the risk by making sure that stairs have handrails, non-slip marking and slip resistant covers. They should also be well lit (which brings us nicely on to the next topic).

Adequate lighting

Employers need to ensure that all floors are well lit, so that everyone can clearly spot potential hazards, such as spills and obstructions. Lights should be installed so that areas are evenly lit.

Tidy away cables

Most workplaces are filled with cables for computers, monitors, telephones and printers. It's really important that all trailing cables are safely tucked away to avoid people tripping over, falling and injuring themselves.
Hopefully these tips will help to keep your employees, visitors and the general public safe and sound at your workplace. If you would like more information on Health & Safety, check out the National Irish Safety Organisation and Health & Safety Authority websites.
If you'd like to take out business cover or just find out more information, give us a call on 1890 30 22 22.
Modified Date: