Reviewing Your Commercial Fleet
Identifying Ways To Reduce Costs
Last updated: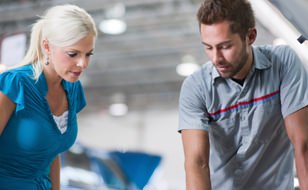 Your commercial vehicle, whether it's a van or car, can be an extension of your brand. It gets your company in public view while carrying out its business function. However if your business provides a delivery option, or has employees on the road, fleet management can become one of the most necessary expenses your business may have.
Every business, no matter what size they are, will look to identify ways for them to save on the company expenditure during the financial year. One of the potential ways that some businesses can look to reduce their annual expenditure is by reviewing their fleet and trying to identify ways to cut down on spending.
We've asked our commercial insurance team to put together a list of things you could consider that might help lower the cost of your commercial fleet.
Ways to save on commercial vehicle costs
Electrical Vehicle Grant Scheme:
The Irish government has set a target of having 10% of the driving population using cars powered by electric batteries by 2020. To help achieve this target they are offering the following grants and VRT relief for vehicles purchased and registered before the end of 2014.
€5,000 for a Battery Electric Vehicle (BEV) or a Plug-in Hybrid Electric Vehicle (PHEV)-
VRT relief of up to €5,000 for a BEV & €2,500 for a PHEV, providing a maximum combined subsidy (grant + VRT relief) of €10,000 for BEVs & €7,500 for PHEVs.
Learn more about these grants by visiting www.seai.ie/grants/.
Although this might not be a feasible option for every aspect of your fleet it could be still worth your time investigating further for certain elements of your fleet
Think of the long term:
Although we are all tempted to make extravagant purchases from time to time but when it comes to getting a vehicle for your business it may be best to think of how the vehicle will be used long term rather than short term.
Take into consideration how fast do you think your business needs will expand and perhaps how potential product changes will be incorporated into your vehicle usage. Although you may need to invest more in the now it could save you having to reinvest the same amount in the near future.
Leasing a vehicle can help you due to the structured nature of the repayments. This usually requires little investment at first and all costs can be budget over the lifetime of the lease.
There are both negatives and positives to leasing a vehicle depending on your companies' budgets so make sure you discuss the specifics of the agreement before signing off on a leasing agreement.
Resale Value
Before you decide to purchase, or lease a commercial vehicle with a view to resell, make sure you do your research as sometimes it is best to make a decision based on research rather than preference. Try to identify a vehicle with good resale value and one which will suit all the business needs.
Choosing a vehicle that doesn't loose too much of it's resale value means that when the time comes, that your lease is completed or you decide to sell on, you will still retain a proportion of your original investment.
Choose Wisely
Once again doing some research in advance of making a decision on your fleet can help you save in the long term. Try to identify what you need the vehicles for and then plan accordingly. Take fuel efficiency, engine size and potential usage into consideration. Larger engine size can mean larger road tax. Finally consider the brand when making your purchase.
Although something like a mini cooper might be cool ask yourself does it fit the company image you want to convey to the public? Always consider needs over desires.
Insurance
When it comes to arranging insurance for your commercial vehicle or fleet you have a number of options including going direct to an insurer or using a broker. Because a broker, like Chill, works with a number of insurers they can help you find a policy that suits your needs and budget.
If you would like to see what savings you could make on your commercial cover why not try our van insurance quick quote or call us on 014003400 to speak to one of our commercial vehicle experts.
Identifying ways to reduce your budget is always a goal of most organisations and one way is to review your commercial fleet to see what savings can be made. Our advice is always to consider your options while making sure you think of the long term when making any decision.
Chill can help you with your long term van and business insurance requirements by working with you to search for a great deal that suits your insurance cover needs.
First published by Ian O'Reilly