Our Advice for Young Drivers
Before You Hit the Open Road
Published on by Fergal Lynch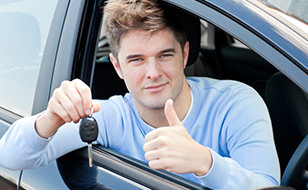 November is Young Driver Month, which means for the whole month we'll be sharing some words of wisdom to keep young drivers safe. If you're currently learning to drive, we know that you'll be looking forward to hitting the open road and the fantastic sense of freedom which accompanies it, but it's really important not to rush in. Remember that you have years ahead of you, so here's our top tips to help you in those all important early stages.
Invest in some lessons

You may have done a spot of driving on a beach, closed street or a private property, but there really is no substitute for getting out on the road. If you're looking to learn, we'd advise you to book lessons with a recognised company and a qualified instructor. Johnny from around the corner might be good driver (or thinks he is), but this won't necessarily make him a great instructor. You can check out the RSA website for a list of qualified driving instructors near your area.

Practice makes perfect for the test

Before you can take your driving test you must have at least 12 hours of lessons and a pre-test under your belt, which needs to be signed off by an Approved Driving Instructor. Although 12 hours is the minimum, we'd advise you to have as many lessons as you need until you feel confident behind the wheel.

Be sensible

You may have your heart set on a fast car, but trust me, life will be a lot easier if you learn to drive in a smaller, less powerful one. There are a number of reasons for this:

It should take less time for you to adjust to driving by yourself.
It will be less hassle to park.
Your insurance premium will typically be lower.
You'll spend less on car tax and fuel.
Your Mammy will worry less.
One final thing. Although price is very important when buying car insurance, it should never be the only factor you consider as low cost policies can often come with high excesses or reduced benefits. The best advice is to relax, shop around and take your time to choose the right policy. Or better still, get in touch by hitting Get a Quote or by giving us a call on 01 4003400.
Modified Date: