Our New Chill Insurance Ad
Cutting the Cost of Your Insurance
Published on by Fergal Lynch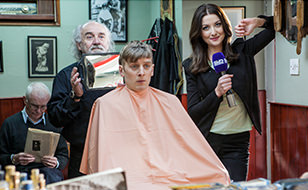 We are all rather excited today here at Chill Insurance HQ as we proudly unveil our brand new TV ad that further cements our quest to help our customers cut the cost of their insurance. What's more, we have a new face of Chill Insurance to bring this message to the public! The new first lady of RTE 2FM's breakfast show, Jennifer McGuire.
The concept behind our new ad is It's A Mad World. We think it's mad the way that people traditionally search for their insurance and often end up paying for something they are not happy with. We are the champions of shopping around and it's mad that everyone still spends ages on the phone when one call to us will compare 14 different insurers in one go!
Jennifer's straight talking and direct attitude makes us sit up and listen to what she has to say. We all may think it but Jennifer is always the one to say it.
The ad is the first in a suite on new ads featuring the RTÉ star, who is now putting her famous attitude and image to our brand. This advert takes place in a traditional Irish barber shop where our unsung hero receives a horrendous haircut, but is too polite to say that he isn't happy with it and simply adds "It's grand". It's a situation that we can all resonate with and brings a cheeky smile to our faces. I'm sure you are thinking of a similar situation you've been in right now whether it be a restaurant or a shop, we've all done it!
Queue Jennifer who bursts through the door to challenge why he has accepted this haircut and hasn't said that he wants better; just like with insurance. In true Jennifer style, she mocks the young man and refers to his horrific haircut as "Patch" which he is still too polite to say he dislikes.
With Jennifer on board, we wanted to make sure our adverts had the cream of the crop in Irish talent. For this we enlisted International Emmy Award winning "IRISH" director, Declan Lowney. Declan recently directed episodes of Chris O'Dowd's Moone Boy and brought Steve Coogan's Alan Partridge to the big screen in Alpha Papa. He has also worked on Little Britain and Father Ted, so we felt his subversive style was a great match to what we wanted to achieve.
We proudly see this ad as a change to the usual message from many insurance companies, offering insurance at rock bottom prices. What sets Chill Insurance apart from our competitors is that we compare 14 of the leading insurance companies for customers in one go. This gives you, the customers, the best choice and value with no stress, no hassle and no endless form filling in.
So keep your eyes peeled on the TV just before 9pm to catch the premier of Jennifer in action as the new face of Chill Insurance. Don't forget to follow us on @chill_insurance and let us know what you think by using the hash tag #chillcutsthecost, and become a fan on Facebook where we will have some fantastic competitions and prizes coming your way over the next few weeks.
If you want to cut the cost of your insurance, call us now on 1890 30 20 20 or hit Get A Quote now and see how much you could save.
Chill, we'll take it from here.
Modified Date: