Looking to Quit Smoking?
Extinguish that Craving
Published on by Fergal Lynch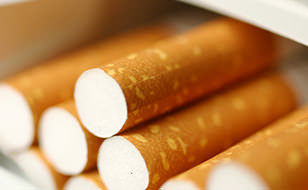 It's pretty difficult to ignore the anti-smoking adverts that have hit our TV screens recently. Although everyone seems to have seen the ads, many smokers still want to ignore the harmful facts about lighting up. Not only does smoking pose serious health risks, but it also burns a hole in your pocket and will increase the cost of your life insurance.
Some smokers manage to quit overnight and others go cold turkey, but many find the addiction too much to defeat on their own. So what can you do to extinguish the craving and help lower the cost of your premium? We've scoured the web to find the best advice so you can overcome the urge to smoke.
Positive mental attitude

It's all about the PMA! Start a diary or make a list of reasons why you want to stop. Keeping a diary of when you've smoked will also help you spot the triggers that affect you. Keep this somewhere you will see it, so that if you ever feel a craving you can go and re-visit your diary and remember the reasons you gave up in the first place. Remember to stay positive and remain determined.

Stay active

Smoking is a habit. Why not pick up a new hobby that you've always wanted to try or go for nice long walks? Staying busy, taking regular breaks and keeping active will keep your mind off smoking, help with stress and make you look and feel better for it. When you suffer a craving just remember it will only last a couple of minutes, so don't give in!

Be healthy

Cigarette cravings are often mistaken for hunger pangs. If you feel hungrier than usual or worry about putting on weight, try and avoid snacking. I'd recommend that you keep plenty of fruit and vegetables handy. Chewing gum can also help you to resist the temptation to smoke.

Reward yourself

Smoking is an expensive habit and the cost of cigarettes will only continue to rise. You really will save yourself a pretty penny by quitting. Why not make a list of things you'd like to do with all the money you'll save such as a nice holiday, the latest gadget or a new wardrobe. You'll deserve it after all your hard work. Take a look at the calculator on Quit.ie to see how much you can save by quitting.
Remember that if you fall off the bandwagon, don't give up! If you'd like to speak to one of the team about life insurance, hit Get a Quote now or give us a call on 1890 30 20 20.
Modified Date: