It Will Never Happen to Me
Home Security On Ireland AM
Published on by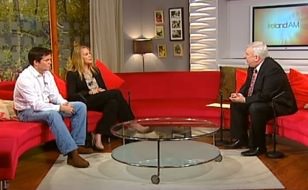 We have blogged a lot recently about home security and keeping safe while you are away on holiday, so by now we hope that all of our tips and advice have been duly noted so your home and belongings are kept safe and secure.
This morning, our insurance expert Jo Fernandez appeared on TV3's Ireland AM to discuss home security and what to do to keep your home safe. She was joined by Fergal Gallagher, who unfortunately was a victim of burglary last Christmas and found himself in the position of requiring the assistance of the Gardaí and his insurance company.
Fergal Gallagher returned to his Co. Dublin home last Christmas and entered into his living room to nothing out of the ordinary. Upon entering his bedroom in his ground floor apartment, he was met with the devastating scene that he has been broken into. The double glazed doors leading from his bedroom had been smashed open with a crow bar and his and his wife's bedroom ransacked. Naturally Fergal called the Gardaí and reported the break in and began to assess the damage and loss the thieves had caused.
The items stolen were small valuable items such as personal electronics, money and jewelry. Items with a great sentimental value had been stolen, which can often cause more heartbreak as these items are irreplaceable. The very first necklace he bought his wife before they were married was taken; an item which can never be replaced.
Fergal had a house alarm but it was not working, and like many of us, we often postpone getting things fixed like this, thinking it won't happen to me. However, unfortunately for Fergal, it did happen to him. Ironically, Fergal is a journalist and the very day of the break in, he was working on an article about home security and burglaries. We do at this point wish to point out that there is no direct correlation between Fergal's research on his article and his own break in, it was merely an unfortunate coincidence.
Whilst on Ireland AM, Fergal told his story of his misfortune to the Irish viewing public and Jo offered expert tips and advice on what to do if you find yourself in a similar situation.
Jo discussed measurers which we all can take in advance of the worst happening. It is never any harm to spend an hour documenting your personal belongings which would be a high target to theieves such as your phone, tablet computer, laptop and jewellery.
Jo suggets that by taking photos of these sort of items and keeping a record of them, can greatly assit you if you ever find yourself having to make a claim. By having your ducks all in a row, makes claims much quicker and simpler.
The Gardaí also provide a host of checklists and tips on their website and Home Security Checklist Challenge which is a great way to make sure you are fully secured before you venture out or away on holiday. It covers basic advice such as window and door locks, and poses questions which we may often forget are important such as a lock on your garage or shed and not leaving any of these unlocked when going out, even for a short period of time.
Jo also offered advice on checking your home insurance policy. It is important to note any exclusions in your policy such as bicycles, or extended periods of leave from your property. Taking the time to read your policy documents can make the difference of cover in the case of a claim.
Modified Date: