Irish Motoring Trends
RECORD CARS, GROWING IMPORTS AND MUCH MORE!
Published on by Fergal Lynch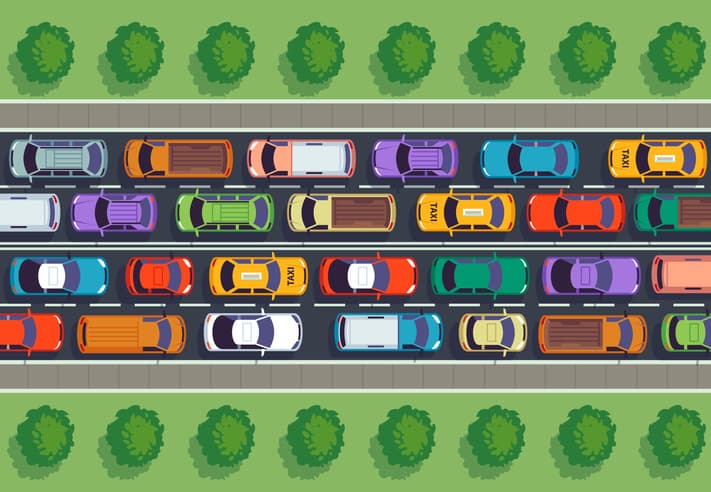 With new changes coming in soon for motor tax and a renewed focus on electric cars, it is an interesting time to take a minute and explore the key motoring trends in Ireland.
Every year, the Department of Transport releases vehicle and driver statistics and the latest report has revealed a few surprises.
RECORD NUMBER OF PRIVATE CARS
If you're spending more time in traffic jams and thinking there are more cars on the roads - you're 100% right! In fact, there are 2,106,369 private cars registered here in Ireland – the highest number since records began.
With our economy improving and a strong net inward migration of 34,000 people in 2018, it is no surprise to see the number of private cars increasing.
CONTINUED GROWTH IN IMPORTS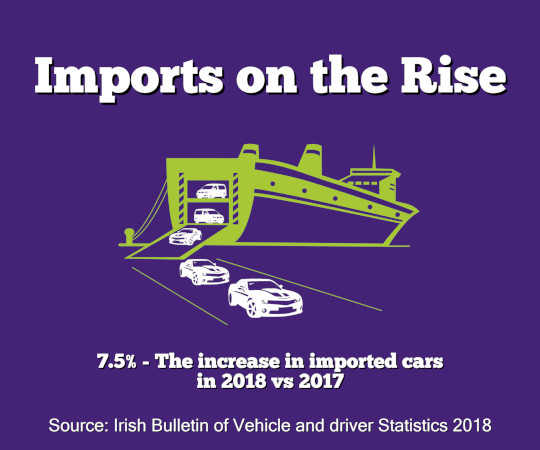 With a weaker Sterling, Irish drivers continue to opt for imported cars – especially from the U.K. Private car imports increased by 7.5% in 2018 vs 2017. Although imports continue to increase, the growth has cooled some what and is not at the same high level which we witnessed in 2017.
With uncertainty surrounding the economy and Brexit, it is unclear how this trend will continue into the second half of 2019 and 2020.
MILEAGE ANXIETY AND ELECTRIC CARS
Despite a lot of talk about clean cars and zero emissions, it is surprising to see such a small take up of electric cars. Only 2.1% of private car drivers have opted to drive an electric car in Ireland.
Range anxiety still appears to be an issue and the poor recharging infrastructure is not helping matters either.
TOYOTA CONTINUES TO DOMINATE
Toyota continues to be the most popular car brand with 13.5% of all private cars (283,715), sporting the Toyota badge. Volkswagen comes in second place with a volume share of 12.3%. The third most popular brand is Ford, accounting for 11.6% of all cars.
Looking at the more luxurious car brands, you'll find it very hard to find them here in Ireland as there aren't too many driving around.
Luxury Models Registered in Ireland

Lamborgini: 4
Rolls Royce: 6
Ferrari: 30
Aston Martin: 55
Tesla: 296
Learner Drivers
We all remember the nervous time when we were learner drivers! Currently, 8.3% of all drivers in Ireland are classified as Learners.
It is welcoming to see the waiting times for the driving test improving in 2019 vs 2018
As of July 2019, the shortest time to wait for your driving test is in Finglas with an average waiting time of 4.9 weeks. Clifden currently has the highest waiting time of 9.6 weeks.
LESS RELIANCE ON DIESEL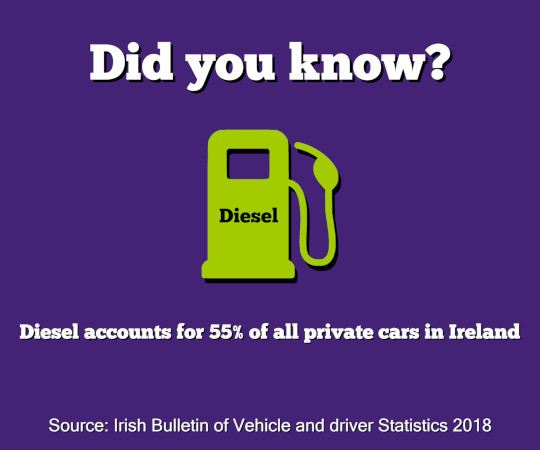 With many major car brands halting the development of new diesel engines, it is welcome to see drivers opting for petrol and hybrid/electrical cars when new car registrations are reviewed. New private cars with diesel engines accounted for 54% of all new registrations in Ireland in 2018 vs 64% in 2017.
Currently, diesel accounts for 55% of all private cars in Ireland and that figure is expected to drop dramatically over the next decade. The Irish government has set itself the goal of ridding Ireland of all diesel and petrol cars by 2030.
---
We hope that you have found these facts and figures interesting! If you are interested in receiving a competitive quote for car insurance, get in touch with us today.
See how much you could save on your car insurance. Get a Quote or call us on 01 400 3400.