Introducing Our New TV Ad
Don't Be Nice Just Get The Best Cover
Published on by Fergal Lynch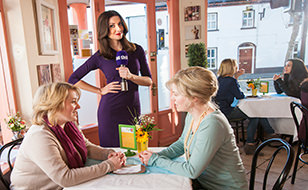 Since February you might have spotted Jennifer Maguire on your TV screens as the new face of Chill Insurance. The ad featured Jennifer tackling a young man, who had just gotten a horrendous haircut in a barber's shop, because he's just too polite to say he's not happy with what he had received. We have all been in the same situation but have never taken any steps to address it.
Through Jennifer we wanted to get the message out there that as an insurance broker we think its mad how people don't shop around and say when they are not happy with an insurance quote when they have a chance to.
We're happy to say that we have Jennifer and director Declan Lowney back on board for our latest advert. This time the action takes place in an everyday café where Jennifer erupts into the scene again to confront two squabbling friends who are determined each of them will pick up the bill. This time Jennifer is tackling another common trait we all have, we pretend that money isn't an issue when paying for a bill in a café or restaurant with friends.
Through Jennifer we are championing the idea that people should stop pretending that money isn't an issue when it comes to situations like this but more specifically when it comes to their insurance. When they can just visit www.chill.ie and Chill Insurance will get them a good deal.
Speaking about the latest advert; Head of Marketing for Chill Insurance; Fergal Lynch said;
""We are very excited and proud to be launching our latest brand advert from the Mad World campaign. The Café advert is brilliantly humorous and like with the Barber, should rouse a few feelings of nostalgia with viewers. I think we are all familiar with our friends, mothers and their friends insisting on getting the bill when out for a coffee and almost wrestling to the ground in an attempt to pay. With this advert we have over exaggerated this notion with a twist of humour to highlight the fact that we do act like money isn't important and we should be making this consideration when searching for car insurance or home insurance."
As with all our ads, we proudly see this ad as a change to the usual message from other insurance companies who offer insurance at rock bottom prices. At Chill Insurance we see ourselves as consumer champions because we compare 14 of the leading insurance companies for our customers in one go giving you the best choice and value with no stress, no hassle and no endless form filling in.
As a thank you to all our customers we have an exclusive first look at our new TV ads featuring Jennifer Maguire and two ladies who go to extreme lengths to get to pay their food bill.
The ads will be released to the general public later on today and we would love to hear what you thought about them on @chill_insurance, Facebook and Google +.
If you want to cut the cost of your insurance, call us now on 1890 30 20 20 or click Get A Quote now and see how much you could save.
Modified Date: