How To Renovate A Kitchen On A Budget
Kitchen Renovation Ideas
Last updated: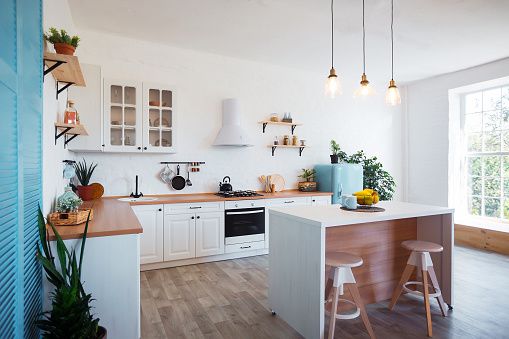 Whether your worktops are looking a bit worse for wear or you just fancy a style revamp, a full kitchen renovation can be expensive. New units cost a lot and the job can get messy very quickly.
Instead, you may want to consider some low cost changes that you can make yourself without worrying about anything major going wrong, such as a leak from a burst pipe. While your home insurance can cover these kinds of problems, it's best to avoid the risk altogether. Below, you can find some easy changes to transform your kitchen, but first, how much could a brand new kitchen cost.
How much does a new kitchen cost?
Firstly, how much could a new kitchen set you back? The cost will depend on a variety of factors, mainly:
the size of the room
the material the kitchen will be made from
any optional extras or additional features that you want.
This is why a new kitchen can cost anything from €7,500 to €30,000.
How to design a kitchen on a budget
However, you may not have that kind of money to spend on a room, or you may not want to spend that much. If you're planning to move home or put your house on the market, the property's value might not increase as much as you hoped. Instead, altering what you already have could cost significantly less.
When it comes to laying out your new kitchen, keeping the original design the same could save you money. The cost will increase if you want the sink to be moved to a new position or a wall to be knocked down. This expense could be avoided by sticking with the original layout. To create a fresh look, you could instead opt to make some small but powerful alterations, including painting the cabinets, changing the door handles and replacing the worktops. Painting your current doors could cost you less than €100 and replacing the worktops around €500 per metre. With these updates, your kitchen could become unrecognisable. Below, you can find how to do each of these to alter your kitchen no matter what your budget.
How to paint kitchen cabinets
Painting your cabinets could provide your kitchen with a whole new lease of life. Take wooden cabinets from brown to white or go bold with coloured cabinets, such as dark blue or pink.
The first step is to remove all knobs or handles from the front of the cabinets, as well as their contents. To protect the doors' hinges, cover them with masking tape and use a dust sheet to ensure no paint gets on the floor. It's important to complete this step as it can be difficult to remove paint stains and splatter marks.
Before you can paint your cabinets, you need to make sure that they're clean and dust-free. Use sugar soap and a soft cloth to remove grease and dust to create a smooth surface ready for painting. If your cupboards are made from wood, they could benefit from a quick sand down. Use fine sandpaper to remove any imperfections. Once you've done this, use a damp cloth to get rid of any dust from the surface again.
Now you're ready to start painting. Apply a primer to the cabinets using a small paintbrush around the edges and a roller for the middle of the cabinet. A roller will produce a smooth finish, however you can also use a synthetic bristle paint brush to avoid stroke marks.
Once the primer is dry, apply two coats of your chosen colour. Between coats, allow the paint to dry thoroughly and give the cabinets a light sand. Once the second coat has dried, carefully remove the masking tape from around the hinges and reattach the kitchen handles. Then admire your handiwork!
How to put handles on kitchen cabinets
Handles finish a kitchen cabinet off, but if they're wonky or misaligned, they could ruin the clean, sleek look you were aiming for. There are a few tips and tricks that you can use when installing your cabinet handles to ensure they're perfectly straight.
If your cabinets have a door rail, this can be used as a guide to line up your handles. The bottom of the handle should fall in line with the bottom door rail. Then, you only need to centre the handle and drill the holes to attach it.
An alternative method involves using putty or sticky tack. Temporarily attach the handle to the door using either of these substances to see if you like its position. When you're happy, use a pencil to mark where to drill. Double-sided masking tape can also be used for this task.
How to change kitchen worktops
Worktops can be the most expensive part of a kitchen, particularly if they're made from wood or stone, such as marble or granite. However, changing the worktops can transform your kitchen to make it look like a brand new room. So how can you do this without breaking the bank? You have a couple of options.
If you have laminate worktops, you might consider painting them. You may not have heard of worktop paint, however it's easy to use and is ideal for surfaces in all kinds of properties and buildings, including schools, bars, kitchens and restaurants. You can apply two coats and the surfaces will be dry within 48 hours, ready to use as normal. The paint can cost around €60, making this a cheap DIY solution.
Worktop overlays can also save you a substantial amount of money. These can slot over your existing work surface, creating almost no mess or dust and costing much less than purchasing solid worktops. They're extremely durable and are made from excellent, hard-wearing materials, including granite and marble, so you aren't compromising on quality.
It is important in this day and age that we have the right home insurance cover. You can get a quote here or give us a call on 01 400 3400
First published by Ian O'Reilly