How To Buy Home Insurance
Simplifying Home Insurance
Last updated: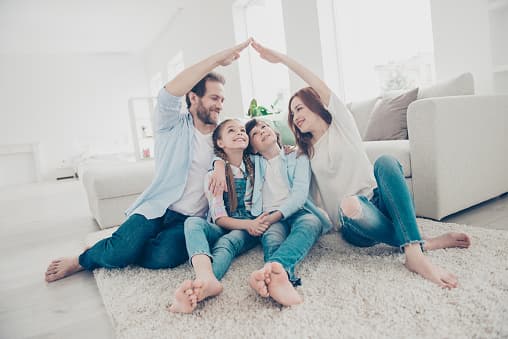 Home insurance might not be a legal requirement, but having this coverage in place can play an important role in protecting your finances and giving you peace of mind. It means that if your home is affected by anything from a fire or flood to a burglary, you won't be left counting the cost.
So, how can you go about finding the right policy for you? To do this, it pays to know what types of home insurance coverage are available, what level of protection you might need and where to go to find the best policies. Keep reading for information and advice on all these topics.
What does home insurance cover?
What is home insurance exactly? This broad term can be used to describe buildings cover, contents insurance and combined policies that incorporate both these elements of financial protection.
What does building insurance cover?
Buildings insurance is designed to cover the physical structure of your property; the bricks and mortar. This includes everything from the walls and roof to permanent fixtures and fittings within your home, such as fitted kitchens, bathroom suites and built-in wardrobes. It protects you if these elements of your property are damaged in a range of events, such as fire, flooding, storms and subsidence.
Buildings insurance is usually required if you're a homeowner with a mortgage. Lenders typically stipulate that mortgage holders must have this type of financial cover in place. Even if you own a property without a mortgage though, it's still important to make sure you're covered in case the worst happens.
What does contents insurance cover?
Contents insurance is designed to cover the cost of replacing your possessions if they are stolen or damaged. As a general rule, it covers any items that you could take with you from your property if you decided to move. This includes everything from clothes and jewellery to items of furniture and electricals. There are different levels of contents insurance available, from protection against theft, fire and flooding to accidental damage cover that can protect you against things like spillages of paint or mistakenly putting a nail through a pipe. It's even possible to get protection for downloads now that covers the expense of replacing material downloaded to your laptop or tablet if these devices are damaged or stolen.
It's advisable for everyone to have contents insurance, whether they rent or own their home.
Should I get a combined buildings and contents policy?
Rather than getting separate buildings and contents insurance, many people choose combined policies. There are a number of potential benefits associated with doing this. For example, it can save you time when searching for policies and it may earn you a discount from the insurer. It can also make things easier if you need to make a claim on both buildings and contents insurance at the same time. Being able to deal with the same company rather than having to liaise with two separate cover providers can make your life much easier at what may be a very stressful time.
How much should I insure my house for?
As well as deciding on the types of cover you will take out, it's important to think carefully about the level of protection you need. For example, when purchasing buildings insurance, you should make a reasonable estimation of how much it would cost to rebuild your home from scratch - and make sure you have cover up to this amount. Don't base your insurance on the market value of your property. This figure is irrelevant in terms of the rebuilding cost. The Society of Chartered Surveyors Ireland provides a calculator to help you work out the rebuilding cost of your home. If you want to be completely sure that you have enough buildings insurance in place, you can ask an independent surveyor to calculate the precise cost of rebuilding your property.
When figuring out how much contents insurance you need, you should make sure you factor in all of your possessions and calculate the contents value correctly. This can seem like a daunting task, but it needn't be if you're methodical. It can help to go from room to room and add up the value of each item. Bear in mind that you may need to name high-value items on your insurance policy individually to make sure they are fully protected to the correct value.
Do I need extras on top of basic home insurance?
Before you buy a home insurance policy, think carefully if you need or would like any extras on top of the basic level of coverage. As mentioned previously, accidental damage can be a policy add-on that gives you a greater level of protection. You might also want your home insurance to include extras such as:
Cost of alternative accommodation (in case your home becomes uninhabitable due to an event you're insured for)
New for old protection (allows for possessions to be replaced as new instead of at current value)
Credit card cover (provides protection for the unauthorised use of credit cards, and can be extended to debit cards, bank cash cards and cheques too)
Fire brigade cover (in case you incur charges as a result of a fire).
Where can I find the right policy for me?
With so many providers and policies available, as well as a host of optional extras, it can be difficult knowing which policy is right for you. To make life simple for you and to avoid having to scour the market yourself, you can search for home insurance here on our website. Working with many insurance providers, we will do the hard work for you and help you to get the right policy at the most competitive price - saving you time, hassle and money.
First published by Fergal Lynch