Home Renovation Incentive Scheme
Do Up Your House And Claim Tax Back
Published on by Sinead Greene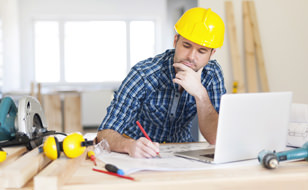 The Home Renovation Incentive (HRI) scheme was announced in the 2014 budget and will run until December 2015. The incentive was launched by the government as a way to support current homeowners who wanted to carry out home refurbishments through tax compliant contractors.
To help bring you up to speed, if you are thinking of doing some home renovation and apply for this incentive, we have put together some of the key information that you need to be aware of.
What Is The Home Renovation Incentive?
At present the home renovation incentive provides tax relief for homeowners by way of an income tax credit at 13.5% of qualifying expenditure on repair, renovations or improvement works that they hope to carry out on your main home. Please see the qualifying parameters below.
What Are The Benefits?
Although each home renovation can be different, the incentive offered by this new renovation scheme could be a help when you are deciding whether or not to undertake a home makeover. There are some minimum and maximum costs to take into consideration which include;
The work must cost a minimum of €5,000 (before VAT), which will attract a credit of €675
The maximum is €30,000 (before VAT), which will attract a credit of €4,050.
Who Qualifies?
As with many schemes there are some qualifying parameters for your home to be eligible for the rebate. The homeowner looking to benefit from this tax incentive must be owner occupiers of a private residence where this is your main residence. You must also be Local Property Tax and Household Charge compliant and also pay income tax to qualify.
Which Residents Don't Qualify For The Incentive?
As we mentioned, to avail of this incentive, you have to be an owner of the property. Work carried out on the below properties don't qualify, at present, for the tax assist.
Rental properties
Holiday homes
New builds
A complete reconstruction of an uninhabitable house.
What Work Qualifies For The Incentive?
There is certain repair, renovation and improvement work that you must be undertaking to avail of this tax incentive. These include works such as;
Painting and decorating,
Plastering
Rewiring
Plumbing
Tiling
Bathroom upgrades
Fitted kitchens
Window fitting/replacement
Extensions
Attic conversions
Garages
Driveways
Landscaping
Septic tanks
Where planning permission is required and is in place by 31st December 2015, work paid for up to 31 March 2016 will qualify.
What Extra Aren't Covered Under This Incentive?
The vast majority of the repair or renovation work you might wish to carry out may be covered by this scheme but as a rule it is best to remember that any services with a VAT rate of 23% will not qualify
This includes some of the below items:
New furniture
Carpets
Furnishings
White goods
If you are thinking of purchasing any of the above make sure to ask in store if they are part of this or any other scheme.
Qualifying Contractors
If you have decided to undertake the home renovation then choosing the contractor is the next aspect of the process. To make sure that you are hiring a recognized contractor ensure you choose one that is vat registered and can produce the necessary documentation.
During the process of searching for quotes from contractors makes sure you do a quick background check.
Ensure they give you their business name
VAT Number
In-date tax clearance certificate
Their insurance details
Some references of previous work and clients as this will inform you that they are tax compliant and good at their job.
Remember: The cheapest quote doesn't necessarily mean the best value or work quality.
Multiple Contractors
In some instances the work you might wish to carry out may require the use of multiple contractors. If this is the case ensure that each contractor gives you the details as per above and you should keep all documents such as certificates, estimates and receipts to claim tax back.
Make sure that the contractors have all their insurance details in place before the work commences.
If you are a building contractor looking for insurance cover our team would love to help. Get a free insurance quote via our dedicated page or on 1890 30 20 20.
When Is The Credit Payable?
The tax credit can be claimed for once all work is complete and paid for. This tax credit is non-refundable so any unused tax credit will roll forward to the next year. The credit is payable over the two years following the year in which the work is carried out and paid for. The first tax credits will be available in 2015.
www.revenue.ie has a great breakdown of HRI which is a great resource for both the home owner and the contractor. To download a copy of the guide just click on this link.
If you do decide to undertake some refurbishment you should always contact your insurer before and after the construction work.
If you are looking to either renew or take out home insurance we'd love to help. Go to our home insurance page where you can get a free quote. You can also call us today on 1890 30 20 20 and we'll work with you on getting a great home insurance quote.
Modified Date: