Home Contents Evaluation
Value Your Valuables
Last updated: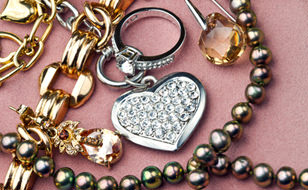 It is common practice nowadays to have insurance on your home and legally you must have car insurance. However, it pays to evaluate and document any additional high value items that you wish to place under your home insurance policy.
Jewellery
Sentimental and high value pieces of jewellery are one of the most common contents to be included on home insurance policies. It is advised to specify these types of items when taking out your policy; however you will be required to have an official valuation of the item and present this to your insurer or broker to prove the value of it.
Your insurer will specify the maximum limit that they will cover an item for without proof of value (for example a ring worth up to €2,000*), items above this amount will require a valuation from a reputable jeweller confirming that in their professional opinion the item is worth a certain amount. You will then have to send a copy of this valuation to your insurance company or broker who will hold this on file as verification that your item is worth the amount you say.
It is important to remember that the value of items can increase and decrease relevant to changing market conditions for precious metals and stone. When you renew your policy each year, it is worth having these specified items re-evaluated in case the value has changed.
When including jewellery on your home insurance, check with your insurer at the time of quoting, exactly what you are covered for. Are you covered for loss inside and outside of the home? Does it cover you for damage or a lost diamond in the ring? An item such as a diamond ring often holds more sentimental value than anything, so if the worst was to happen, you are best having the peace of mind that you can get one of your most precious items replaced or fixed.
Some insurance companies are moving towards adopting a preferred jewellery supplier. This means that when you specify an item and are required to get an official and approved valuation, or make a claim for the item; your insurer may present you with a list of selected jewellers with whom they do business with and will only accept a claim or valuation from.
Bikes
Be sure to check if your home policy covers you for items kept in out buildings such as bicycles kept in garden sheds or garages.
Burglaries into out buildings are extremely common as many people fail to secure them with necessary locks and security measures.
When taking out your policy, ask your insurer if bicycles are covered and to what value. Again, you may have to produce proof of the value of the bike via a purchase receipt or approved valuation. If your bike is racing bike or used for a certain purpose, therefore costing a bit more than the average pleasure bike, the chances are you are keen to keep it protected and may even already have bicycle insurance on it, but do check the level of cover provided by your home insurance policy.
Gadgets
As many people now have a smartphone, iPhone or tablet device, it is becoming more popular for these to be included on the home insurance policy. Where this is a good and safe idea, remember that if you claimed on your home insurance for a broken/lost/stolen phone, or laptop it could affect your no claim bonus. Your excess generally will be a minimum of €100 and in turn potentially affect your premium for the following year as it will be recorded as you having made a claim.
We are not saying don't insure your gadgets, but if you are prone to a few accidents with them, and feel that its likely you may claim off your insurance, you may be better to consider taking out a gadget insurance policy. The excess for gadget insurance starts from only €35, so if your phone was lost, stolen or broken, you can claim for a new one and only pay the €35 excess. This will have no bearing on your home insurance and leave your no claims bonus and premium in tact, helping work towards a reduced premium the following year as you would have gained a further year no claims.
Make a list… check it twice
It may seem like a tedious and mundane task to write down everything you want to cover on your home insurance policy from each of your expensive jewellery items, to iPhones and tablet computers, but for the sake of half an hour to list all these items down, will save you a lot of time and pain if the worst was to happen and you found yourself unable to get them replaced.
We recommend that you take photographs of these items as well and keep them documented and safe along with vital items like the deeds to the house. This way, if anything was to happen, you have a visual record which you can produce to your insurer and help with the claims process.
*Check your policy documents for specifications on this as every insurer can be different.
First published by Ian O'Reilly