Winter Delights
A Guide to Travel Insurance for Your Winter Holidays
Published on by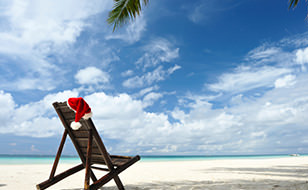 There's a CHILL in the air, wooly hats are at the ready, and jackets are being zipped up. Winter's hit and it's here to stay. But are you one of the lucky ones making a split for sun, sea and sand? Perhaps you're hopping on a plane and escaping the cold grasp of Ireland's winter this year? All of us here at Chill Insurance have got a case of the green-eyed monster if you're one of the lucky ones to take a winter break away from home.
But, before you grab your swimming trunks; snorkel; and sun-glasses, have you stopped to consider the possibility of purchasing travel insurance to cover you against the worst? If you have, then we're the ones to talk to.
Travel insurance explained

Travel insurance is designed to cover a number of unexpected situations you might encounter while abroad for pleasure or business. So, whether it's a fun in the sun holiday, a big annual conference, you can travel knowing you're covered for the worst.

Variety is the spice of life!

This is very true. We provide three different types of cover depending on the length of your trip – Single, Multi-trip, and Extended Stay. Single-trip is for those planning a once-off holiday break; Multi-trip is for any of you frequent flyers lucky to getaway more than once a year; and Extended Stay for those planning a trip abroad for up to 12 months.

So, what's on cover?

There are tons of things, but in a nutshell our travel insurances protects you against any medical cost and expenses you might incur or in the event of cancellation of your trip, the expense is covered. Has your baggage or personal belongings ever been lost or stolen? Our travel insurance has you covered should you find yourself bagless. I'm sure some of us have been unfortunate enough to have our passport and travel documents lost or stolen. No need to worry, this is covered too!
Planning a skiing trip this winter? Perhaps you're equipment cost an arm and a leg? Why fret, travel insurance even covers your gear should it go missing.

Do you really need it?

There are many that tend to ask this. The truth is, like any form of insurance it's like a back-up against any risk that could happen. With the increasing number of holiday goers going on a getaway, and the multitude of situations that can happen, is it worth taking the risk and not being covered.
At Chill Insurance, we recommend considering travel insurance when planning your holiday budget. When you compare it to the thousands of euro you could lose if the unexpected and unfortunate happens, travel insurance is a small price to pay to know you need not worry on your winter holidays.
So, why not give us a call on 1890 30 34 09, or hit Get a Quote now and get the right policy for you.
Modified Date: