Don't Be Away with the Fairy Lights
A Guide to Fairy Lights Safety
Published on by Simon Keating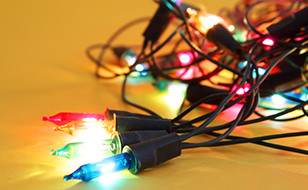 As the festive season is about to begin, so is the rush to get the Christmas lights out and up. Decorating your home is always fun… no matter how long it takes. By this stage you've probably rummaged through the attic, dusted off the box marked LIGHTS, and are now pulling out reams and reams of little fairy lights.
That mish-mash of tangled wires can look like a daunting task, but what results will be a spectacle that would leave even Santa bedazzled! But don't get lazy. Each year, there are many homes that suffer damage due to faulty lights. It doesn't cost anything to be careful, but can cost everything to be careless. So take care when setting up your lighting extravaganza!
Here at Chill HQ, we are always safety conscious, so we've decided to give you some important Do's and Don'ts for Fairy Light safety.
The Do's

When purchasing lights, it is vital to check that they have been tested by a reliable source. Ensure that the lights carry the European CE mark also. Alternatively, if using last year's lights, be sure to check there are no wires frayed or bulbs broken before use.
When putting up the decorations lights outside, be sure to check that each string has a fuse built into it, or that the correct fuse is in the plug, and is working properly. In addition, be sure to only use lights designed for outdoor usage. NEVER use indoor decorations as they may not be fit to tackle the harsh winter weather.
Always choose a safe area to setup lights. If placed inside, keep them away from any heaters, fireplaces, etc. When outside, keep the away from any leaky drains. In other instances, if the lights heat up, they can set fire to any dry leaves caught in the drains.

The Don'ts

When attaching them to the outside, DO NOT use nails or metal staples. Use insulated hooks instead to protect the lights against the outside elements.
NEVER be tempted to string several sets of lights together, and avoid creating a tripping hazard if the decorations are placed low to the ground.
When taking down your decorations, DO NOT remove them by pulling at the wires. This can damage the chords, and not to mention possibly damage the house.
Christmas fairy lights can cause serious damage to a household if there is an accident through improper or careless use. It is always recommended to confirm that you will be covered under your home insurance in the event of an incident. If you are looking for competitive and comprehensive cover over the Christmas season, give our agents a call on 1890 30 20 20 or hit Get a Quote now!
Merry Christmas from all of us at Chill Insurance.
Modified Date: