Get the Right Life Insurance
Find A Policy For You
Published on by Fergal Lynch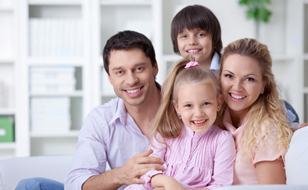 Life insurance is not something we naturally tend to talk about, but often the trigger for the conversation is a life changing event, such as getting hitched or the arrival of a child.
Huge life changes like this often make us aware of the people who depend on us, and that's why it's really important to work out if you have the right level of financial protection. If you don't have adequate protection, then the reality is your loved ones will be reliant on state benefits, which is likely to mean a big dip in their living standards. Maybe now is a good time to reflect on your need for life cover?
If you're thinking about taking out life insurance or moving provider, here are my top tips to help you find the right level of cover.
Work out what level of cover you need

Take some time to have a look at your outgoings versus your income. This will give you a good idea of the amount of money your dependents would need to live on in the event of your death, then have a look at our online life cover calculator to get an idea of the level of cover that you may need.
Life insurance is ultimately about giving you peace of mind and ensuring your family will be financially secure if the unthinkable happens! As a nation we don't like to think or talk about how financially exposed we could be by the death of a loved on, but it's a discussion worth having with your partner today.

Let us shop around for the best value cover

Before taking out life insurance we'd strongly advise you to visit our life page on our website. There's never been a better time to look for cover as the market is so competitive at the moment and we always have special offers and discounts available.
In fact, you may get up to 50%* off your first year premium or a discounted monthly premium for the duration of your life policy. If you already have life insurance you should review your current policy to make sure you have the right type and level of cover, just remember to compare like for like when getting a quote.
You can find out more information about life insurance over on FAQ's page or if you'd like to speak to one of the team, just give us a call on 01 4003400.
Chill, we'll take it from here.
*T&Cs apply.
---
Up to 50% off discount terms and conditions:
To avail of this discount the policy must have a minimum premium of €500 per year and a minimum term of 10 years.
Premium inclusive of discount is paid upfront when application is accepted.
This policy cannot be used in whole or part to replace or otherwise alter an existing policy with Zurich Life. Client(s) cannot have held a similar policy with Zurich Life within the last 5 years.
The discount only applies to the first year premium.
---
Monthly premium discount terms and conditions:
From time to time we are able to offer discounts off your monthly premium.
Discounts may be applied for the full term of your policy, subject to you maintaining your monthly payment by direct debit.
These offers are subject to change without notice; please contact us directly for specific terms & conditions that apply for this discount option.
Modified Date: