Making a Racket in Sutton
Junior Tennis Finals
Last updated: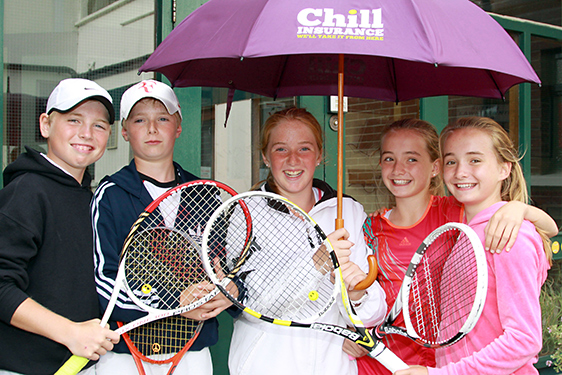 The weather seemed to have be kind all week long to the players and spectators of the Chill East of Ireland Junior Tennis Open at Sutton Lawn Tennis Club all last week, and the final on Saturday seemed to be shaping up for a sunny day. Well the weather gods were obviously smiling on the organisers with only a slight 10 minute delay in play towards the end of the day.
I was lucky enough to attend the final and be greeted with a level of tennis which would give a young Andy Murray a run for his money! The young tennis players which are being nurtured and trained at Sutton LTC showed great promise as they took to the courts in a bid to thrash it out for their converted trophies.
Once the rain stopped and play resumed, the final matches of the day were the doubles matches, and the crowd was in full swing to watch the action on the centre courts. Along with a roaring BBQ and a fully stocked teas and coffees, we all settled in to enjoy the last of the tennis for the day.
Each of the winners in each category was presented with the trophies by club President Mr Paul Turpin in front of their family and friends and MC'ed by club captain Mr Frank McCracken.
The organising of the event and the smoothness in which it was run was superb and a great tournament was enjoyed by all. Congratulations to all who took part in the event and well done to the winners.
The results from the final were as follows:
Girls U12 Singles Final

Alanna Clarke (3) def. Ciara Dillon (5) 6-3 6-3 .

Boys U12 Singles Final

Conor J Johnston (1) def. Matthew Gordon (2), 7-6 5-7 6-2 .

Girls U14 Singles Final

Shauna Casey (1), def. Niamh Mc Cormack (6) 6-1 6-3 .

Boys U14 Singles Final

Philip Lynch (1), def. Michael Peter Dudley (4) 6-4 2-6 6-3 .

Girls U16 Singles Final

Sarah Curran (3) def. Ciana Bowe (2), 6-4 6-3

Boys U16 Singles Final

Matthew Alex Coffey (1) def. Daniel O'Neill (2) 6-4 6-0 .

Girls U18 Singles Final

Sarah Curran (3) def. Ciana Bowe (2), 6-4 6-3 .

Boys U18 Singles Final

Conor F Mccooey (1), def. Michael Robert Donnelly, 6-0 6-3 .

Girls U14 Doubles Final

Aimee Goodwin and Emer Margaret Mc Entee (2) def. Lily Lloyd and Niamh Mc Cormack (1), 6-2 2-6 6-2

Boys U14 Doubles Final

Philip Lynch and Sean McCullagh (1) def Michael Dudley and Rex Lloyd 2-6 6-3 7-6

Girls U18 Doubles Final

Ciana Bowe and Rachael Lawless (1) def. Deirbhile O'Keeffe and Seona O'Keeffe, 7-5 7-5 .

Boys U18 Doubles Final

Shane edward O'Dea and Daniel O'Neill (1), , def. David Matthews and Ruairi O'Connell (2), , 6-7 6-4 6-2 .

Girls U12 Plate Singles Final

Katherine Bolger def. Ellen McAdams 6-1 6-1

Boys U12 Plate Singles Final

Timothy Sweeney def. Adam David Keating 7-5 7-5

Girls U14 Singles Plate Final

Alison Byrne def. Emma Wilson 6-7 6-3 6-0 .

Boys U14 Plate Singles Final

Conor Holland def. James Buchan, , 6-1 7-5 .

Girls U16 and U18 Plate Singles Final

Laetitia Close def. Clodagh Mchale, 6-4 0-6 6-3 .

Boys U16 and U18 Plate Final

Kevin Mcquaid def. Stephen jack Murphy 6-4 6-0 .
First published by Ian O'Reilly