DIY Decorating
Tips for Do It Yourself Success
Last updated: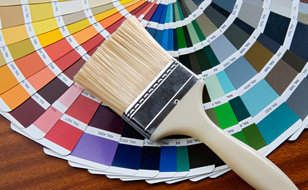 At Chill we love to help you guys save as much of your hard earned cash as possible by offering great value home insurance and money saving advice. Well, this week we thought that we'd help you to make even more savings by sharing some fantastic DIY tips. Remember, not only is doing it yourself cheaper than hiring a painter, it also gives you a huge sense of achievement!
Buy high quality filler

It's important that you have the right tools for the job, so we'd advise you to use a good quality filler to seal any holes in your walls. We'd also recommend that once the sealant is set you use a light sand paper with fine grain to smooth over the filler. This will give the wall a nice even appearance.

Patience is a virtue

We've all been there. You've spend the whole morning painting a wall and then you can't wait to give it a second coat. You need to be patient though. If you're applying a second coat, make sure the first is 100% dry, otherwise you may remove some of your handiwork.

Use paint sparingly

Don't slap too much paint on the brush in one go. It can be really tempting to do this, but you should avoid it, as it can result in unsightly patches. And nobody wants that now, do they?

Invest in a roller

Again, having the right tools makes things easier and if possible we'd advise you to get a good roller. It's a great investment and will ensure that you can apply a nice smooth coat of paint.

Be careful!

It always pays to be extra careful when you're making renovations at home. If you're going to be removing picture hooks, sealing holes in the wall or working near light switches, you'll need to be on your guard to ensure that you don't cause any damage.
If you'd like to chat to one of our friendly team about home insurance, hit Get a Quote or give us a call on 01 4003400.
First published by Ian O'Reilly