Catching Up With Caoimhe
Q&A With A Call Center Star
Last updated: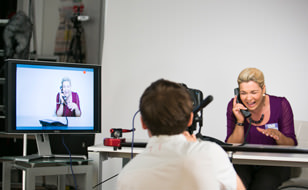 Earlier this week we launched a brand new TV advert featuring our very own Caoimhe Rathbone! In the ad Caoimhe shows the lengths Chill will go to get customers the very best deal.
When she's not in front of the camera or playing hard ball with underwriters, Caoimhe is often out with friends, so we were delighted when the call centre star found the time to be interviewed for the Chill blog.
Hey Caoimhe, people will know you from the adverts, but what's your role at Chill?

I work in the Outbound team as a Sales Rep. Loads of people get in touch with us through the website and its my role to give them a call back, understand their needs and try to get them the best deal.

How long have you worked at Chill?

I only started in early August, so it's incredible to be so new to the role and get selected for the adverts. I'm very grateful for the opportunity.

You've been on TV a lot this week, but what's your favourite TV programme?

At the moment I love watching X Factor! It's so exciting every year guessing who is going to become a star. When I'm not watching Louis, Gary, Tulisa and Nicole I like tuning into Desperate Housewives, 24 and Prison Break.

When you're not driving a hard bargain with insurers or starring in adverts, how do you like to relax?

In my spare time I love shopping, going to the cinema, watching TV with friends and listening to music. I'm a big fan of female artists like Rihanna, Beyonce and Cheryl Cole.

How did you get the role in the adverts?

I heard about the auditions and thought why not? I love acting and really enjoyed filming the angry, funny and flirtatious scenes.

What's your favourite Chill advert?

Definitely 'the Breakup'! It's hilarious! Hopefully, the new ones will be as successful.

What's the best thing about working at Chill?

I love the team! There's always a great atmosphere around the place; even if it's a horrible day outside there's always lots of fun in the call centre.
First published by Ian O'Reilly