Car Insurance Cover Options
Explaining Third Party, Third Party Fire and Theft & Comprehensive Cover
Published on by Fergal Lynch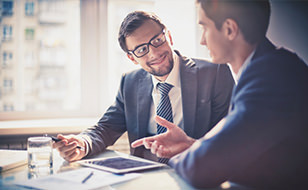 As the good guys of insurance we are here to help you when it comes to making the decision on what car insurance cover suits you best. We do this by searching our insurers for you and getting you a range of different cover options. We like to think that we take most of the leg work out of searching and comparing for you.
One of the most common questions we at get asked by our customers is "What is the best type of insurance cover for me?". With so many different car insurance options available, it can sometimes be a little confusing when it comes to choosing the right cover for you.
We've asked our helpful car insurance team to breakdown each motor insurance cover type we currently offer and what benefits our customers could get when choosing this type of insurance.
Third Party
Firstly it's important to be aware that there are two different types of Third Party Cover available to the customer – Third Party and Third Party, Fire, and Theft.
Third Party Car Insurance
This is considered the most basic cover available for a vehicle. It is the minimum level of insurance required to drive a vehicle by Irish law. But, what does it cover?
In the event of an accident, Third Party will only provide compensation to the driver and passengers of the other vehicle involved in the accident. This means that any damage sustained to your vehicle is NOT covered. There is also no cover provided if your vehicle is stolen or goes on fire. So, as a result, even though you might have this type of insurance, you are still open to a substantial cost for losses to your car.
Third Party Fire and Theft Car Insurance
On average this is the most popular type of cover for Irish motorists. Setting up a policy with Third Party, Fire, and Theft means that you are covered if there is loss to your car through theft or fire.
This type of policy also provides cover if there is any loss in the attempt of fire or theft. With this type of cover, you can avail of extra benefits and add-ons such as windscreen damage cover.
Comprehensive Cover
Finally a comprehensive policy, which is offered by all our insurers, includes third party, fire and theft cover as well as accidental damage to your vehicle. There are many additional benefits to choosing this type of policy such as windscreen repair and breakdown rescue which can be added to your cover.
---
Choosing the right cover could save you time and money in the long run. But making sure you have the correct cover to suit your needs, budget and situation can be more important. Call us on 01 4003400 to speak to one our team who are always on hand with guidance and advice.
Alternatively, if you have any additional questions, why not visit out FAQ page where we have a selection of answers to some of the questions we get asked by our customers on car cover. If you have any questions on cover types that we don't answer in our FAQ's why not leave a comment below, on our Facebook page or tweet us on @chill_insurance.
Modified Date: