Be SEPA Prepared
5 Point Guide to SEPA
Published on by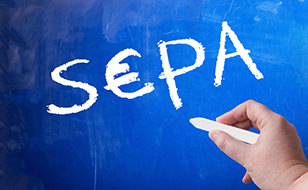 I wish to start off with a confession. I have heard about the migration to the Single Euro Payments Area or SEPA on various radio ads and on plenty of websites. But even though the phrase has stuck in my head I am still unsure what it actually means. I had some inkling that it was related to online banking transactions but after that I am a little lost.
Online transactions themselves, via smart device or desktop computer, have seen a significant increase over the last number of years. Pew Research center estimates that 81% of Americans, who manage household finances, banked online in the last 12 months and over 69 million people banked online in the same period. Closer to home some 2.2 million Irish people used online banking in the first half of 2013. This accounted for 10.5 million payments. A vast majority of these payments were for mobile phone top ups and international payments.
If you are one of these 2.2 million people, who bank online, you may have noticed some changes in how your payments are processed. As of February 1st SEPA has been in operation and it's aim is to standardise euro electronic payments across Europe and will cover 28 European countries. The purpose of SEPA is that it will allow you to make and receive payments seamlessly, make credit transfers and collect a direct debit to any SEPA enabled account.
To help you get up to speed with this new system we have asked our business team to look at all the information available and update us on the 5 changes that you need to know about.
---
5 Point Guide To SEPA
Sort codes and account numbers will be replaced with International Bank Account Number (IBAN) and a Business Identifier Code (BIC). These codes were already in use but they will be your primary reference going forward.
All direct debits and credit transfers should be SEPA compliant. If you are a business or an individual this will cover everything from staff payroll, paying creditors or receiving electronic payments.
SEPA brings in a number of important business changes including: new file submission time frames, new customer file formats, increased consumer protection rights and new automated process for rejected/returned transactions.
Full compliance is required by 31st of March, 2014.
SEPA will now provide guaranteed standard timelines for payments and the return of unsuccessful payments.
---
So as you can see from some of those insights, SEPA will have an impact on your online banking from now on. The benefits for the consumers and businesses are that it makes online banking more transparent and less cumbersome for all involved.
If you are still unsure about if you are SEPA ready www.readyforsepa.ie has the most up to date information on the process for individuals and businesses.
Modified Date: