Are You Holding A Public Event?
A Quick Guide To Public Liability For Events.
Last updated: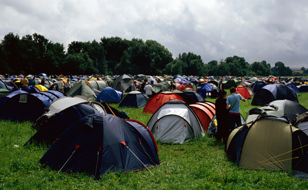 Every day you will come across people talking about attending events of some sort. These can be large scale such as Forbidden Fruit or Bloom in the Park or small local events such as your local community fun day or 5 KM run.
Our time sponsoring Cork GAA during last years All Ireland pursuit allowed us to take in a variety of events from the large scale finals and post match dinners right down to the open training sessions.
This year we are also pleased to announce that we are one of the platinum sponsors of the Taste of Dublin event taking place in Dublin's Iveagh gardens. Although the pace at this event wouldn't be as frantic as the final few moments in both of the hurling finals we are really looking forward to getting to sample some of the fine dining and gastro experiences during the four day event.
If you are thinking of planning an event this year, be it small or large, you will need insurance to provide cover for yourself, those attending and those performing/displaying at the event.
We asked our head of SME, Miriam Sherlock, to give us a quick run down of some of the relevant insurance information you need to be aware off if you are planning on organising an event.
What insurance cover do I need if I am planning an event?
The main requirement would be Public Liability however it depends on the event and on the contractual terms and conditions in which a company has entered. If you are planning on holding an event and require some further help or information on public liability why not contact us for a free quote on 01 4003400.
What is covered under this type of policy?
The policy can be broad or specific depending on requirements. Typically Public Liability, Employers Liability, Property Damage and Cancellation cover is included in a policy.
What isn't covered under this policy?
Exclusions on any insurance policy are specific to the underwriting company providing cover – typically there are exclusions in respect of any dangerous activities (definition varies), intentional damage/injury, cancelling an event due to low ticket sales….etc.
The venue I am using has some cover in place but do I need my own cover as well?
It is advisable to consider insurance due to the potential conflict which may arise in the event of an adverse incident resulting in litigation, it also depends on the contractual terms and conditions in which a company has entered.
We will be using 3rd parties for music and food. Are they covered under my insurance or do they need their own cover?
It is advisable for each party to have their own insurance in place. Always ask any third party providers for their cover details in advance and also ensure each party is fully aware what is covered under their own cover.
How do I direct people to my certificate of insurance? What do I need to show the event organisers to show I have cover in place?
You will receive a schedule of insurance and policy wording; both of which can be shown to Third Parties.
---
If you are hoping to hold an event during the year, and need help arranging your public liability insurance, our dedicated business insurance team are on hand to help with any insurance question you may have.
All you need to do is go to our business insurance page and do a quick quote or call our team on 01 4003400 and we'll take it from there.
First published by Ian O'Reilly