A Guide To Euro 2020
Dublin Hosting Four Matches
Last updated: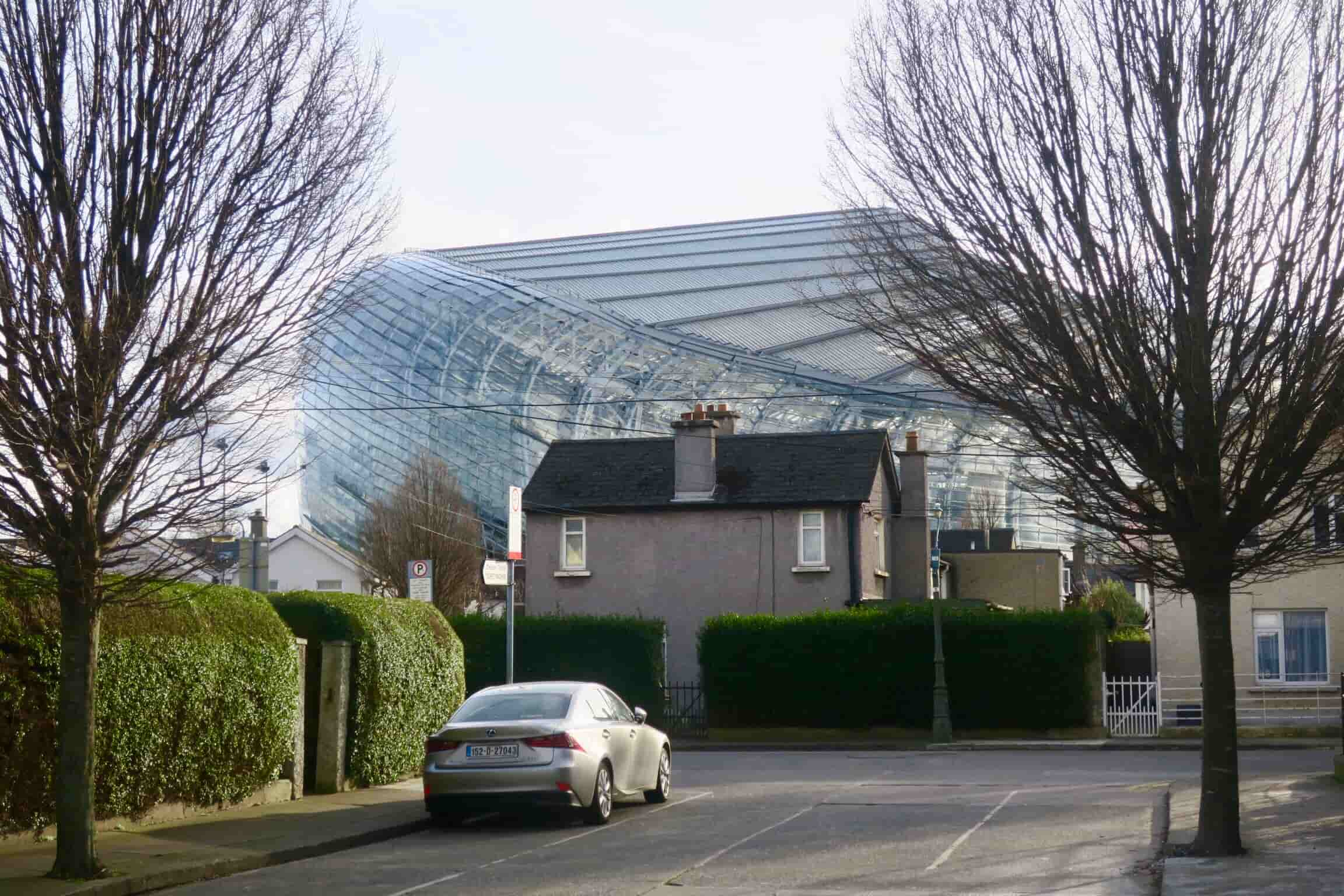 With Euro 2020 now visible on the horizon, football fans everywhere are eagerly awaiting the summer, where the continent's most exciting footballing nations will battle it out to be crowned European champions. Four years ago, it was the underdogs Portugal - spearheaded by the talismanic Cristiano Ronaldo - that lifted the Henri Delaunay Trophy as Euro 2016 champions, and there's just as much drama expected this year. With a vast array of world class players set to play a key role in their country's hopes of success, combined with UEFA's decision to host the tournament in several nations across the continent to celebrate the 60th anniversary of the European Championship competition, it truly is set to be a celebration of football to remember.
Although the Republic of Ireland's dreams of playing a part in Euro 2020 currently hang in the balance, Dublin has already been confirmed as one of the tournament's host cities. If you're looking to go to Euro 2020 in Dublin or if you simply want more information about the event, our useful guide covers all the bases.
Where is Euro 2020?
As with many recent editions of the UEFA European Championship, there isn't just one host nation. This trend started at Euro 2000, where the tournament was co-hosted by Belgium and the Netherlands. Since then, two editions of the tournament have seen one host nation, with the other two being shared between two nations.
UEFA have introduced another development to the competition this year, with 12 host cities across Europe. Cities and stadiums chosen for playing out Euro 2020 fixtures include:
Amsterdam, Holland: The Johan Cruyff Arena (Ajax)
Baku, Azerbaijan: Baku Olympic Stadium (Azerbaijan national football team)
Bilbao, Spain: San Mames Stadium (Athletic Bilbao)
Bucharest, Romania: Arena Nationala (Romania national football team, Steaua Bucharest)
Budapest, Hungary: Puskas Arena (Hungary national football team)
Copenhagen, Denmark: Parken Stadium (Denmark national football team, FC Copenhagen)
Dublin, Ireland: The Dublin Arena (Republic of Ireland national football team, Ireland national rugby union team, Leinster rugby)
Glasgow, Scotland: Hampden Park (Scotland national football team, Queen's Park FC)
London, England: Wembley Stadium (England national football team)
Munich, Germany: Munich Arena (Bayern Munich)
Rome, Italy: Stadio Olimpico (Italy national football team, AS Roma, SS Lazio, Italy national rugby union team)
Saint Petersburg, Russia: Krestovsky Stadium (Zenit St Petersburg)
Where is the Dublin Arena?
Located on Lansdowne Road in the Ballsbridge section of Dublin, the Dublin Arena is recognised as being the home of Irish football and rugby. It's built on the spot which previously housed the Lansdowne Road Stadium which, prior to its demolition in 2007, was one of the oldest sports stadiums in the world.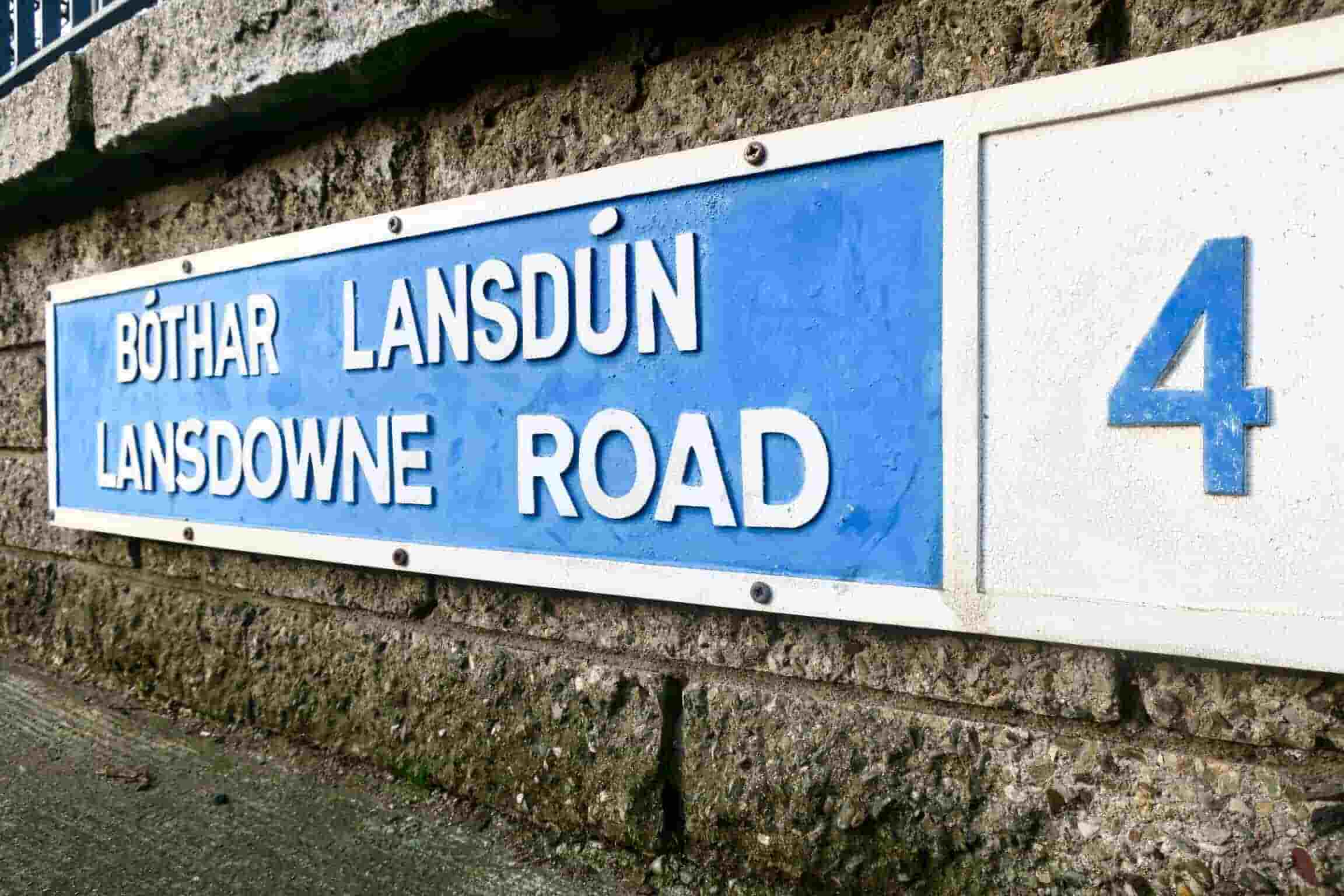 The Dublin Arena officially opened its doors on 14 May 2010 and the first football match played in the ground took place three months later in a friendly between Manchester United and a starting XI of the best players from the League of Ireland. Unfortunately, it ended in a 7-1 thrashing at the hands of a full strength Manchester United side.
How many seats are there in the Dublin Arena?
The Dublin Arena currently has a capacity of 51,000. Although this is an improvement on the Lansdowne Road Stadium, it only beats the previous capacity by 3,000 seats. The current figure is also a reflection of the number of seats in the Dublin Arena. This is different to the Lansdowne Road Stadium, which only had 25,000, with the remaining 24,250 people in attendance occupying standing-only terraces situated at the north and south ends of the ground.
Is the Dublin Arena covered?
Every seat in the Dublin Arena is covered by the roof, which spans around the rim of the ground. This is good news for anyone lucky enough to get a ticket to one of the Euro 2020 fixtures being held in Dublin, but it's a different situation for players. The roof of the Dublin Arena reaches across every seat to prevent rain from hitting anyone in attendance, but it doesn't cover the pitch itself, leaving footballers to fend for themselves when the weather turns nasty.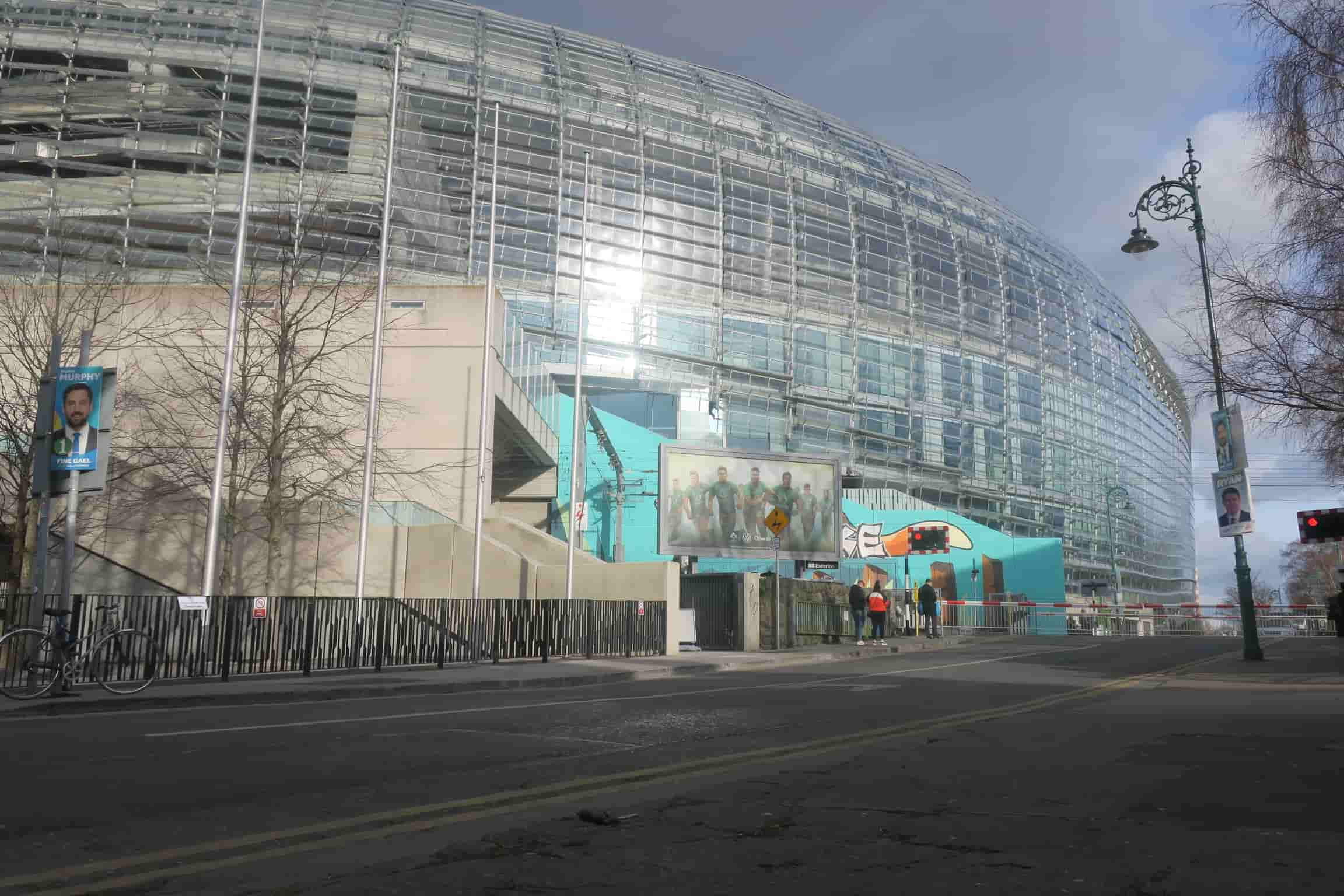 How to get to the Dublin Arena
As the Dublin Arena is officially hosting four fixtures at Euro 2020, it's important to know how to get there. You're able to get to the Dublin Arena in a number of ways, with options of travelling via foot, car, train or bus. Instructions for each of these methods are as follows:
By foot - From Dublin city centre, start at St Stephen's Green, walk up Merrion Row before moving on to Baggot St Lower and Baggot St Upper. You must then cross the Grand Canal at Baggot St Bridge and walk along Pembroke Road. When you reach the junction at Northumberland and Merrion Roads, cross the road, where you'll see the recognisable Ballsbridge Hotel. Beside the Ballsbridge Hotel is Lansdowne Road. Walk along it for around ten minutes and you'll see the Dublin Arena on your left.
By car - Starting at Trinity College in the city centre of Dublin, move away from Nassau Street and travel down Merrion Square and Lower Mount Street. After crossing the Grand Canal, keep on Northumberland Road until the second set of traffic lights, where you will then need to turn at Lansdowne Road. Continue along Lansdowne Road and the Dublin Arena will appear on your left.
By train - For travel via train, the quickest way to get from the city centre to the ground is by using the DART (Dublin Area Rapid Transport). Simply take the DART south, where you can choose between Connolly Station, Tara St Station or Pearse Station. The DART runs directly below the west stand of the Dublin Arena, and it couldn't be easier to travel to the stadium in this way, as it stops on Lansdowne Road Station, right outside the ground.
By bus - To reach the Ballsbridge area of Dublin from the city centre, the relevant busses are the number 7, 8, 45 and 84. However, this could change closer to the time, especially as there will be a lot of people in Dublin for Euro 2020, so it would be advisable to check the timetables on the day you're travelling.
How to get tickets for Euro 2020
As with any major sports event, the availability of tickets for Euro 2020 has been limited. Tickets for the tournament were allocated using a ballot system. The draw that determined who would be fortunate enough to receive tickets for key matches, including those taking place in Dublin, occured in November 2019. In December 2019, there was also an additional ballot for the tickets of less in-demand games.
However, if you weren't able to secure tickets through these ballots, unfortunately it is unlikely you'll be able to attend any Euro 2020 matches, with no further opportunities to sell tickets planned at this time.
Where to watch football in Dublin
If, like many people, you weren't fortunate enough to secure a ticket to see Euro 2020 live, you may be interested in finding an alternative venue. Many people will have booked hotels and flights early before they were able to confirm Euro 2020 tickets, but that doesn't mean you can't still enjoy the atmosphere of watching football in Ireland, with plenty of places to enjoy the event.
From the many sports bars, pubs and inns around Dublin city centre, some of the most popular include:
The Back Page (199 Phibsborough Rd, Phibsborough, Dublin 7,)
The Living Room (Cathal Brugha St, Rotunda, Dublin 1)
Sinnotts (South King Street, Dublin 2)
The Woolshed (The Parnell Centre, Parnell St, Rotunda, Dublin 1, Ireland
The Bleeding Horse (24-25 Camden Street Upper, Saint Kevin's, Dublin 2)
The 51 (51 Haddington Rd, Dublin 4)
The Mercantile (28 Dame St, Dublin 2)
Trinity Bar and Venue (46-49 Dame St, Dublin 2)
What are the dates for Euro 2020?
UEFA Euro 2020 officially starts on 12 June 2020. The first game is between Turkey and Italy, with the Stadio Olimpico in Rome being the first venue to host the event. Group F's final game between Germany and play-off winner A or D will complete the group stage on 24 June.
A three-day gap allows for players to rest before the Round of 16 kicks off on 27 June, the Quarter-finals start on 3 July, the Semi-finals commence on 7 July and the UEFA 2020 Final is scheduled for 12 July, with Wembley Stadium in London being the venue.
Fixtures being played at the Dublin Arena are Match 10 on Monday 15 June, Match 21 on Friday 19 June and Match 34 on Wednesday 24 June, which all fall under Group E. The Dublin Arena is also the venue for Match 44 in the Round of 16 on Tuesday 30 June 2020.
When does qualifying start for Euro 2020?
Qualification for Euro 2020 started on 22 March 2019, with the final game being played on the 18th November 2019. Although the top two teams from each group cement a place in the Euros, 16 of the teams that failed to qualify are able to fight for a place in the tournament through the Euro 2020 qualifying play-offs. These fixtures will be carried out between 26 March and 31 March 2020, resulting in one team from each of the four paths securing qualification for Euro 2020.
How many teams qualify for Euro 2020?
A total of 24 teams will compete at Euro 2020. Results from qualification saw two nations qualify from each of the ten qualifying groups, equating to a total of 20. England and Czech Republic qualified from Group A, Ukraine and Portugal qualified from Group B, Germany and the Netherlands qualified from Group C, Switzerland and Denmark qualified from Group D, Croatia and Wales qualified from Group E, Spain and Sweden qualified from Group F, Poland and Austria qualified from Group G, France and Turkey qualified from Group H, Belgium and Russia qualified from Group I, and Italy and Finland qualified from Group J.
The qualifying play-offs will determine a further four nations to qualify for the tournament, meaning that a winner from each of these groups will make it to Euro 2020.
UEFA Euro 2020 qualifying play-off Paths:
Path A: Iceland, Bulgaria, Hungary, Romania
Path B: Bosnia and Herzegovina, Slovakia, Republic of Ireland, Northern Ireland
Path C: Scotland, Norway, Serbia, Israel
Path D: Georgia, North Macedonia, Kosovo, Belarus
Can Ireland qualify for Euro 2020?
Dominant performances from Switzerland and Denmark left the Republic of Ireland in third place in Group D. Unfortunately, the three-point gap between second and third meant that the Green Army fell short of instant qualification to Euro 2020, but they've been handed a lifeline in the form of the qualifying play-offs.
Mick McCarthy's Republic of Ireland side were drawn into Path B, starting their first game away to Slovakia on 26 March 2020. If they're able to defeat Slovakia, they will play Bosnia and Herzegovina or Northern Ireland in the Path B final on 31 Match 2020. The winner of this match will secure a place at Euro 2020.
First published by Fergal Lynch