World Leaders And Their Official Cars
Ceremonial Cars From Across The World
Last updated: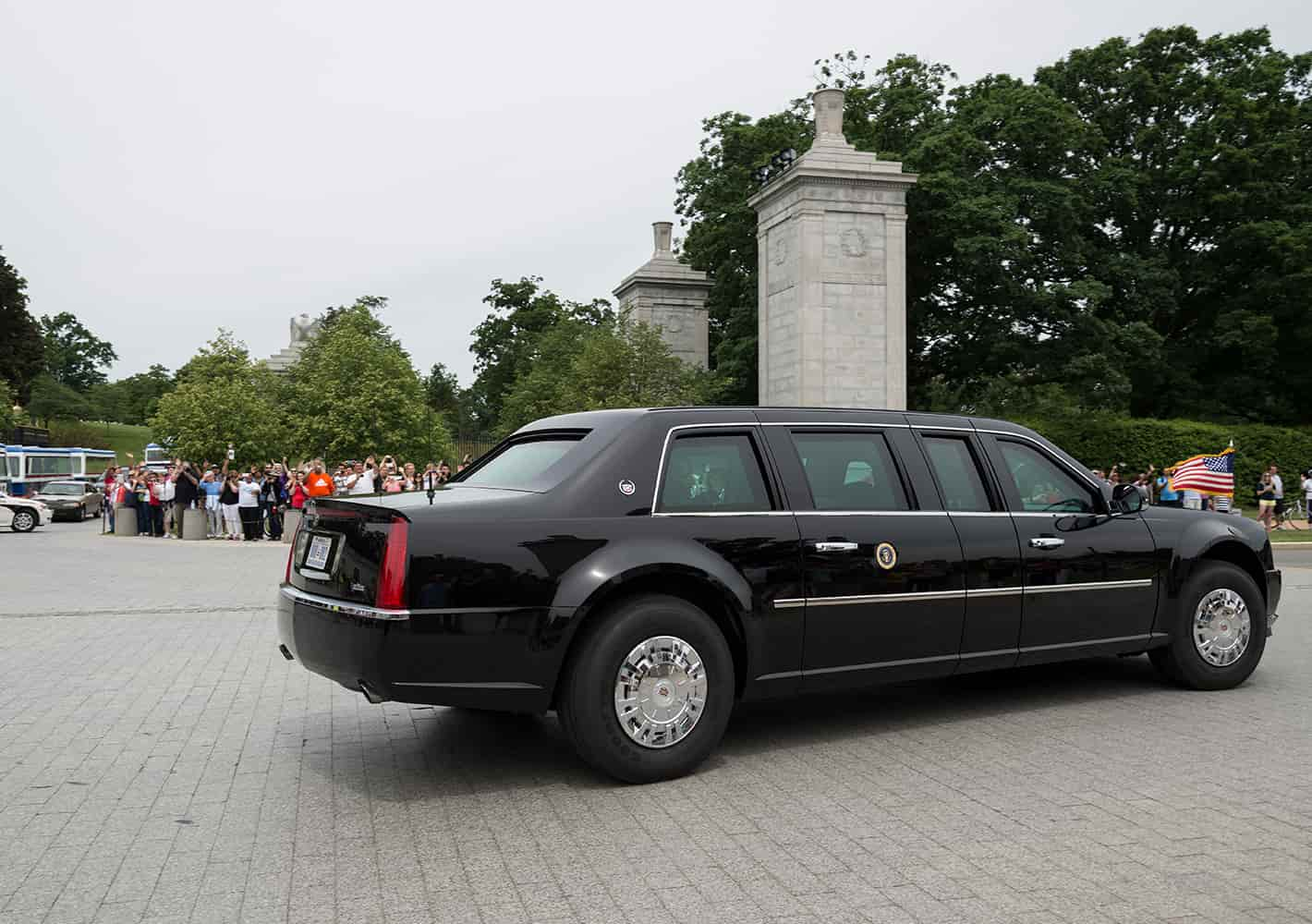 When it comes to transporting the world's leaders from A to B, only the safest and reliable will do. As part of our latest campaign, we've chosen five world leaders across different countries and the official and ceremonial vehicles they use on a regular basis. We've picked out the most significant safety features, modifications, aesthetic elements and eco-credentials of each one, ranking them out of 10 to see how they compare against each other.
If you're keen for a sneak peek at how the British Royal Family, Australia's Prime Minister, the US President, the Irish Taoiseach and China's President fair up in the car stakes, keep reading.
Putting Safety First
There's no denying that these world leaders have extremely high profiles and so safety is often of the highest priority when they are on the move.
As expected, the vehicles they travel in are often heavily armoured with essential safety features such as plated, bulletproof doors and windows, with the US President's Cadillac One boasting 8 inch-thick doors.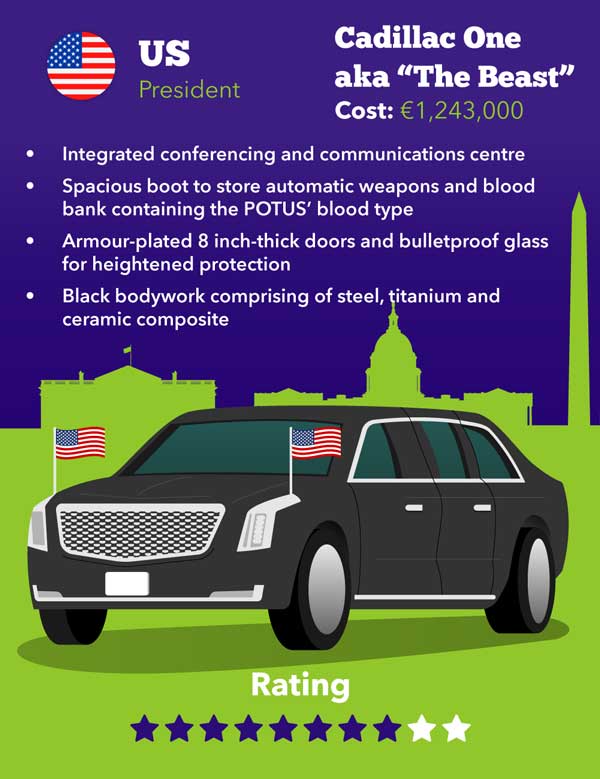 The Bentley State Limousine that the Royal Family often ride in features a blast-resistant cabin that can be sealed air-tight in the event of a gas attack, while the Australian Prime Minister's BMW Series 7 has inbuilt sensors that can detect toxic chemicals, in addition to an on-board oxygen supply. The Aussie PM's BMW also features a self-deploying fuel cell, increasing safety if it were to be hit.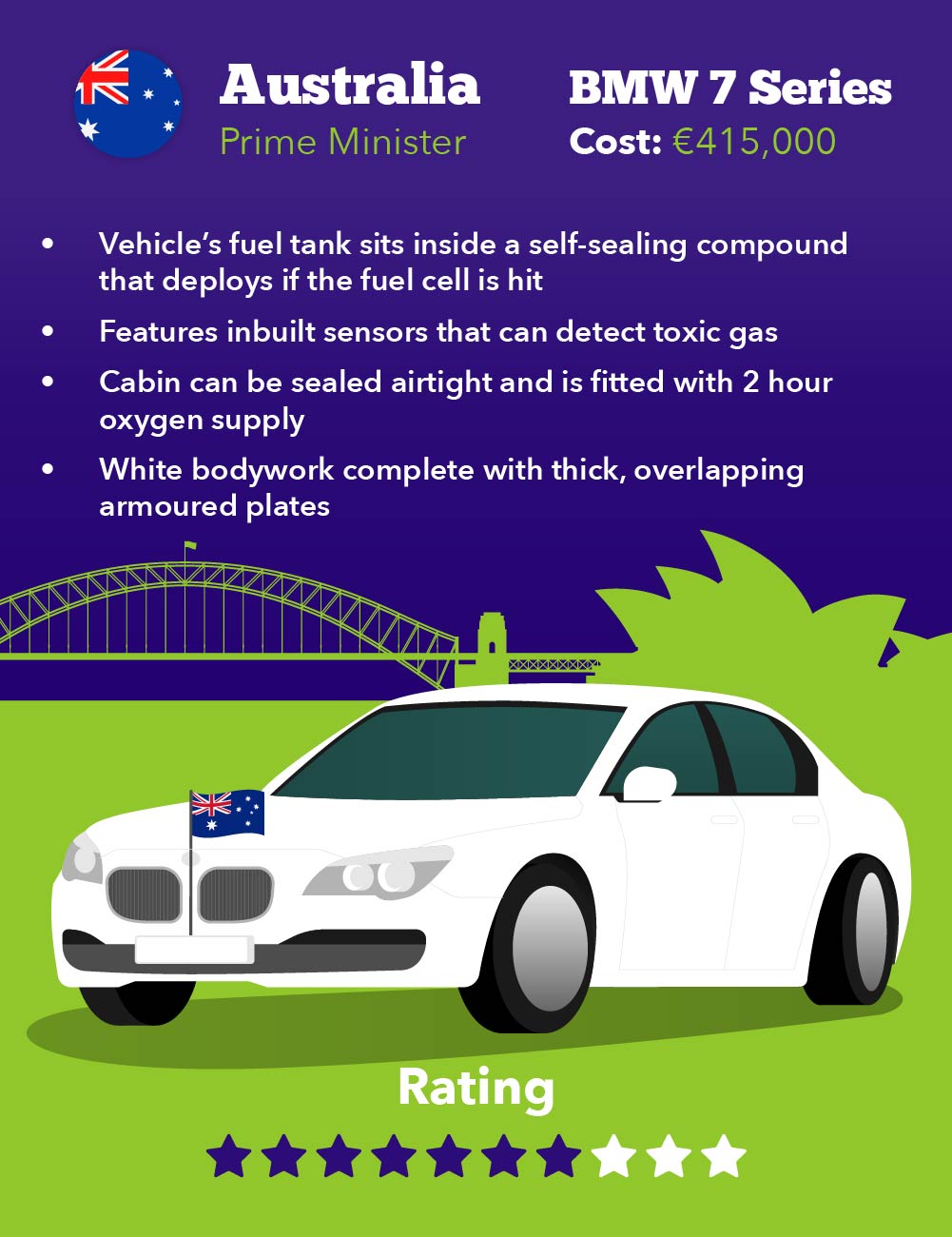 In Ireland, the Taoiseach often travels in a Lexus LS hybrid model which is driven by specially trained members of the Garda Special Detective Unit. But safety protocols for the Irish PM don't end there. Travelling for the Taoiseach may often involve a convoy of vehicles containing armed close protection officers for heightened security.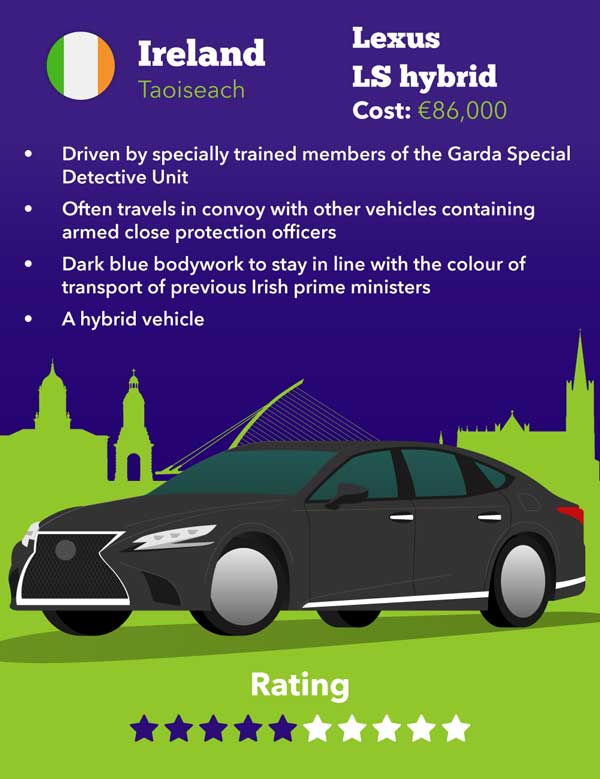 But where safety is concerned, it seems the POTUS spares no cost. "The Beast" has a spacious boot to store not only automatic weapons in case of an attack, but also a blood bank that contains pints of the president's blood type.
Making Must-Have Modifications
Unsurprisingly, world leaders do not simply choose a vehicle from a dealership forecourt and drive away the same day with their new set of wheels. The cars of these individuals are often heavily modified so that they feature everything and more that would be required while they're on board.
As for practical modifications, the Royal's Bentley State Limousine has rear-hinged doors to make it easy to get into and out of the car. It also has opaque rear window panels which can be removed to allow increased visibility during public events and then put back into position for privacy.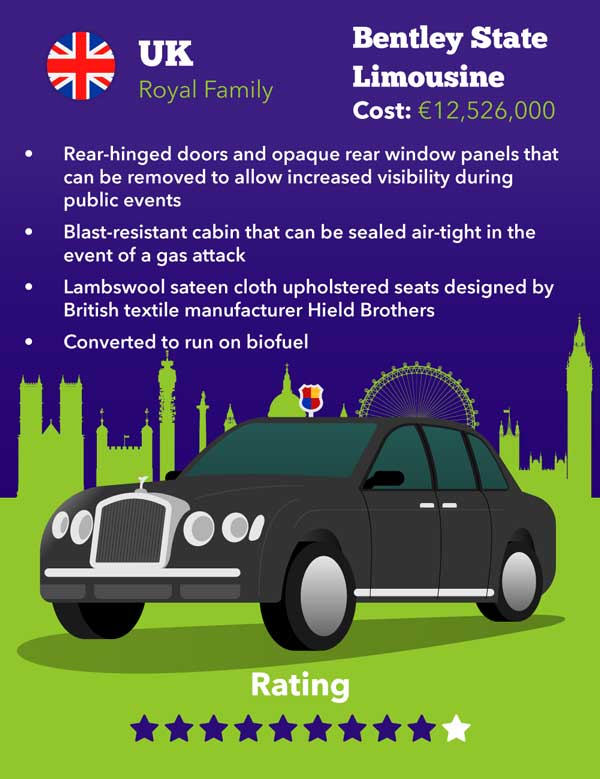 All About Aesthetics
Aside from being kitted out with essential safety features and state-of-the-art technology, it's important for world leaders to look the part when they're on the road too. Ireland's Taoiseach travels in a Lexus LS hybrid with stunning dark blue bodywork - the very same shade of the transport of previous Irish prime ministers, keeping up a traditional and consistent appearance.
The HongQi L5 which transports China's President gives off a more retro vibe. The vehicle has a unique 1950s design and even features distinctive celadon-jade car door handles. Inside, the vehicle has a beautiful natural wood interior throughout the cabin, while a red flag-shaped emblem attached to the car's bonnet makes it easy to distinguish when the President is passing by.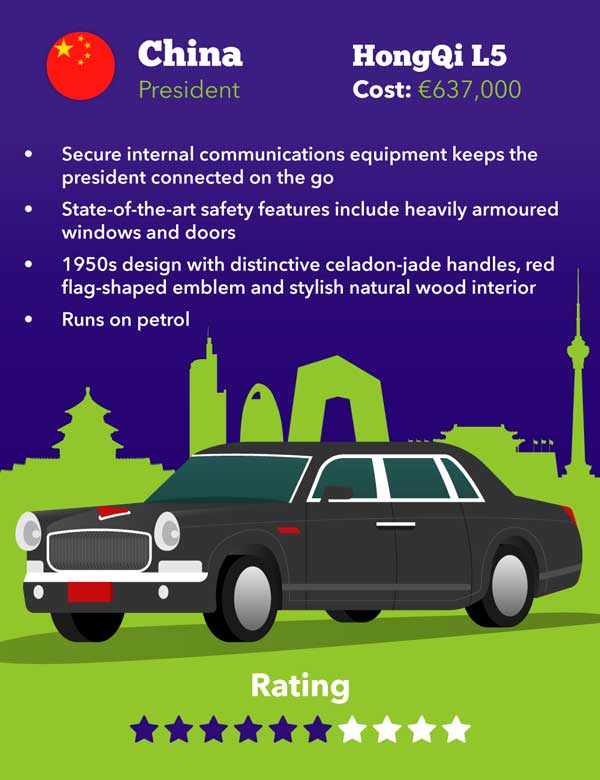 The POTUS' vehicle isn't nicknamed "The Beast" for no reason. The Cadillac One has an all black exterior. In fact, the bodywork is made up of a steel, titanium and ceramic composite , making the US President hard to miss when leaving the White House.
For the Royal Family, aesthetics are everything. The Bentley State Limousine they travel in has beautiful lambswool sateen cloth upholstered seats designed by British textile manufacturer Hield Brothers . The Firm replaces the Bentley's usual 'Flying B' bonnet ornament with a mascot of St George slaying a dragon, or a single standing lion when travelling in Scotland, to indicate that the Queen herself is on board.
Keeping Those Eco-Credentials In Check
For these world leaders, keeping their eco-credentials in check varies massively. The Royal's Bentley has been specially converted to run on biofuel, giving the vehicle an eco-friendly boost.
On the flip side, the Lexus LS that the Irish Taoiseach uses is a hybrid, meaning it ranks low when it comes to being kind to the environment, especially when combined with the fact the PM travels with other vehicles in tow as part of a convoy.
As a world leader, getting from one place to another requires a lot of work - especially when it comes to making car modifications. Whether it's adding bulletproof windows, installing automatic weapons into the boot or fitting a HD TV, there are many ways these vehicles are adjusted to ensure they meet the demands of their owners.
First published by Ian O'Reilly