Why You Should Consider Engagement Ring Insurance
Protect your precious jewels
Last updated: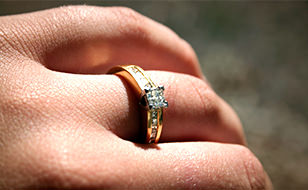 We all know that engagement rings sometimes cost a pretty penny, so we're all for the idea of getting them insured to make sure it's protected under any scenario, be it loss, theft or damage. But how do you go about getting engagement ring insurance?
IT'S ALL ABOUT THE C'S
Choosing an engagement ring is one of the biggest decisions you will ever make. So remembering the Cs is crucial: Carat, Colour, Cut, Clarity and Contents Insurance. Don't worry, we know it can be a stressful time looking for the perfect ring, but if you can take care of the carat, colour, cut and clarity then we'll take care of the rest. That's why we're the good guys in insurance.
READ YOUR INSURANCE DOCUMENTS
Have a quick read through your insurance policy documents to find out whether your ring is covered under your home or contents cover. In most cases your engagement ring will have to be over a certain amount for it to be noted as a specified item in your contents insurance.
GET YOUR RING VALUED
It is highly important for you to get your ring appraised and valued, and most jewellers have a valuing service. So why not pop down to your local jewellers to get your precious diamond approved? It could save you heartache just in case anything should happen. The valuation process should only take a couple of days to get a concrete value for your piece of jewellery. The jewellers will give you a formal document that you can give to your insurer, but we also suggest getting your ring valued every two years as the value of jewellery can go up and down significantly.
PICTURE PERFECT
Rings come in all shapes and sizes, which will make yours one of a kind. So, we suggest taking plenty of photos of the engagement ring and keeping them safe with all the important documentation. We suggest giving a photo of the ring with the documentation to the insurer and to keep one yourself for your own records.
ASK FOR THE RIGHT COVER
Your engagement ring will last a long time, so having it properly covered against loss, theft or accidental damage will make sure you and your partner will have a few less restless nights. Most home insurance policies have the optional extra of adding 'all risks' cover to your policy. Make sure to ask your insurer when taking out, or renewing, your house insurance policy if they offer this type of cover.
Chill are only a tap away, so if you have any questions about insuring your engagement ring, feel free to get in touch with us. We might not be able to tell you if your partner will like the ring, but we can help you make sure your engagement ring is safely looked after.
First published by Ian O'Reilly