What Time Do Most Burglaries Occur?
Keeping Your Home Safe
Published on by Fergal Lynch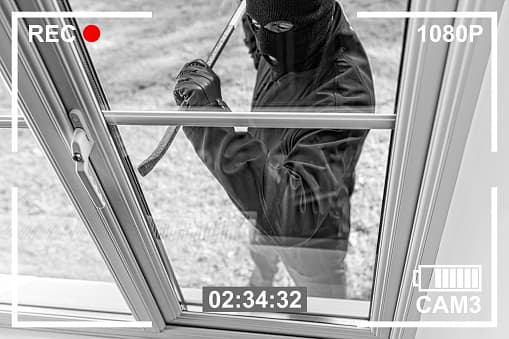 When most of us think of an average burglar, we think of a person in dark clothing breaking into our home in the dead of night - either when we are fast asleep or away from the house for the evening. However, on the whole, this is not an accurate image.
From burglar alarms and light timers to security cameras and outdoor floodlights, securing your home and best preparing to deal with the threat of burglary can be stressful. Here at Chill, we offer plenty of free advice and useful information that can help you to keep your home as secure as possible.
In this post, we take a look at what time most burglaries occur in Ireland, provide our top tips for keeping your home secure and look specifically at how to make sure your home is safe at night.
Do burglars break in at night?
Break-ins can happen at any time day or night. Acording to
An Garda Síochána
, most burglaries occur between 4pm and 9pm especially during the winter months. This is a time period where houses can often be empty as the owners may be commuting and darkness has already fallen.
Naturally, burglars do not want to risk being caught and therefore tend to attempt break-ins when they believe the occupants of a property are out at work or doing the school run. Some potential burglars may also wander around a neighborhood during the day looking for break-in opportunities, when they could be confused for workmen or just regular people going about their daily business.
It is important to remember that most burglaries are crimes of opportunity and can happen at any time of the day, particularly if you have not taken the necessary precautions to protect your property.
How to keep your home safe at night
There are many steps you can take to make your property more secure at night. From simple tricks that require no additional installation to technology designed to scare-off potential burglars and make breaking in far more difficult, there is no shortage of options when it comes to securing your home. It's also worth remembering that aside from helping to prevent break-ins and deter thieves, some of these added security measures could positively affect your home insurance policy, notably in preventing potential increases in your premiums triggered by you having to make a claim as a result of a burglary. With this in mind, tips to keeping your home safe at night include:
Installing a burglar alarm - modern home burglar alarms use motion sensors to detect movement or the opening of windows and doors. If the alarm is set and a motion sensor is tripped, a loud alarm will be triggered, alerting the home's occupants or neighbours of the potential break-in. Perfect for use at night, most alarms can now be set on a room-by-room basis, meaning you can set the alarm before you and your family go to your unmonitored bedrooms.
Installing motion-triggered floodlights - as discussed, burglars do not want to be noticed, particularly at night, and tend to target homes they believe are unoccupied. Motion-triggered outdoor floodlights provide a great way to scare potential thieves off by literally shining a spotlight on them. Designed to be placed near main entrances, both at the front and rear of your home, floodlights can also help to alert you or your neighbours to the potential security threat.
Installing home security cameras - although traditionally expensive and complicated to install, today home security cameras are far more readily available and can even be sold to you as part of a smart doorbell package. Becoming increasingly more common, home security cameras not only act as a deterrent but also potentially provide key evidence that can be handed to the police in the event that you are burgled. However, cameras must only film your garden and driveway in order to comply with EU law.
Strengthening your home's doors and windows - while it might sound obvious, making sure all potential entrances to your home are as secure as possible is a key part of keeping your home safe. Fit deadbolts on all external doors if possible and, if you live in an older property, consider changing your windows for new models that come with built-in locks. Doing the basics right, like securing doors and windows, could make all the difference.
Having a fake night in - burglars are more likely to attempt a break-in if they believe a property is unoccupied. Therefore a dark, unlit home could be a potential target. One simple way to help prevent this is to make sure you leave lights switched on in some rooms of your home, as well as a radio or tv to simulate voices, if you know you are going out for the evening. This can deter burglars who may be put off by the thought of someone inside the property. Similarly, if you are leaving your home unoccupied for a longer-period of time, say for a holiday or business trip, it is worth using light timers or smart technology to ensure lights and other electronics can be turned on and off during the evenings to give the impression the house is still occupied.
How to set a light timer
If you opt to use light timers to help deter potential burglars when you are away from your home, it's important that you know how to correctly use this technology. To set up and use a light timer effectively, see the following steps:
1. Depending on the size of your property, buy a number of light timers so that they can be used in a few different areas of your home. Choose key areas of your home, such as the porch, hallway, living room and bedroom. If your home has multiple storeys, ensure you use at least one on each floor.

2. Set the timer by plugging it in and setting the dial to indicate the current time of day and turn the timer switch from 'on' to 'auto'.

3. Move the toggles on the outer rim of the timer to the desired times you wish the lights to turn on and off. Typically, toggles that are pushed down indicate the time the light should come on while the toggles that are pulled up show the time you want the light to switch off. However, these toggles may be colour-coordinated or simply labelled depending on design.

4. Set each timer to match your typical routine. For example, set the timer in your living room to stay on during the hours of the evening that you would usually sit in there, and your porch light timer to turn off in the morning when the sun rises.
Modified Date: