What is Public Liability Insurance?
Find Out More Now
Last updated: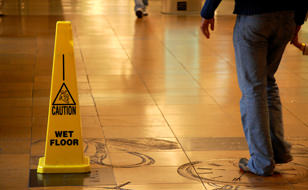 Over the next couple of months I'm going to write a series of posts looking at different aspects of business insurance, explaining some of the terms and hopefully debunking a couple of myths along the way. That's because we understand business owners want to get on with the important job of running a business, not worrying about paperwork or jargon.
This week's focus is Public Liability insurance. If you take out this insurance your business will be covered in case a third party, such as a member of the public, a supplier or visitor to your premises is injured, killed or has their property damaged at your premises and you are found to be negligent. An everyday example of this could be a window cleaner dropping a bucket on a passer-by's head or a member of the public slipping and falling at your premises.
Public Liability insurance is not a legal requirement, but it's important to understand that in the event of a claim your business will be liable for the amount awarded should you be deemed negligent. We've seen an increase of 25% in personal injury claims since 2007, so we'd advise you to have some Public Liability cover as the cost of a claim can be very high.
The typical level of Public Liability cover for a business is €2.6 million or €6.5 million. However, we recognise each business is unique and will have different needs, so our team will be able to advise on what level of cover you should go for.
If you're looking for business insurance or want to know more about Public Liability insurance, you can give our team a call on 01 4003400 or hit Get a Quote now. They'll be delighted to answer any questions you have and take the hassle out of searching for business insurance.
First published by Ian O'Reilly