What is a Green Card?
Everything you Need to Know About Green Cards
Last updated: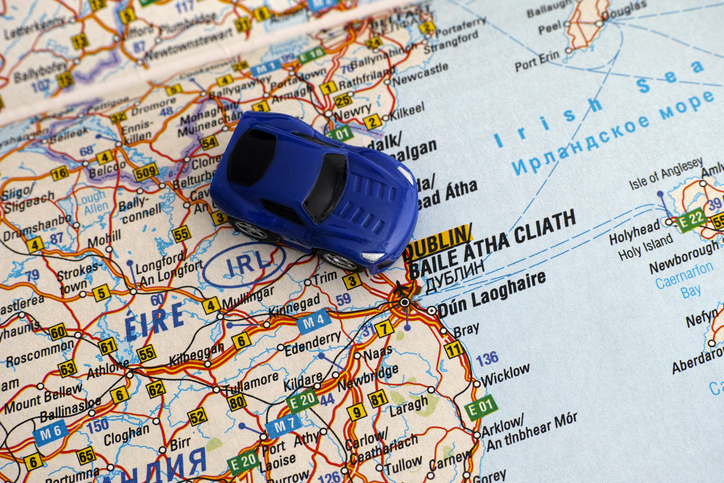 Travelling is exciting, particularly when you plan to take your car with you by ferry or train, or road-trip to some faraway destination. But what are the rules around driving your car in another country? Whether you're travelling a long distance or simply holidaying a little more locally, you might be wondering what the rules are around taking and driving your Irish-registered vehicle. In some cases, you might need a green card.
If you don't know what a green card is or when you might need one, we've got you covered. Keep reading to find out more about this type of documentation.
What Are Green Cards?
A green card is an official document that is printed on green paper (no surprises there) and is used as proof of insurance. This document isn't just recognised legally in Ireland, but internationally, meaning you can use a green card when you want to enter another country in a car. Sometimes, it is known as an International Motor Insurance Card (IMIC).
The green card must be shown to the law enforcement agency of the country you wish to enter, and it tells the police that you have the minimum level of car insurance required to drive in that country. It is applicable to a specific vehicle (and not assigned to an individual person), which means each vehicle will require its own green card if you wish to drive it outside of Ireland. This also means that if two people are insured on the vehicle, only one green card is required.
The purpose of a green card is not only to act as proof of insurance, but also to ensure that, in the case of an accident, any victims with foreign registration plates aren't disadvantaged and will receive a fair level of treatment.
How Long Is A Green Card Valid For?
A green card is valid for as long as your insurance policy is valid. Therefore, if the insurance on your vehicle expires in 12 months, for example, the green card will also run out at the same time. Your insurer will usually advise you of the date of expiry, so you can be sure not to drive the car abroad if the insurance has run out.
The document will be issued for a minimum of 15 days - you cannot get a green card for less than this amount of time.
How To Obtain A Green Card
You can get a green card by contacting your insurance company or insurance broker, depending on who you purchased your insurance through. They will then contact the Motor Insurers' Bureau of Ireland (MIBI) to ensure that you get your green card as requested. The MIBI is the Green Card Bureau for the Republic of Ireland.
Your request should be approved should you have a valid car insurance policy on a registered vehicle in Ireland. If there are any problems with your application, your insurance provider may contact you for clarification. However, this is unlikely if you have valid car insurance.
While the MIBI provides blank green cards and electronic applications to insurance providers free of charge, some may charge you a small administration fee for the application. This can vary from provider to provider, so you should ask upon your first enquiry what the charge may be.
Who Needs A Green Card?
You may need a green card if you plan to drive your own vehicle in another country. We discuss this in more detail below, including which countries your green card is valid in.
Where You'll Need A Green Card
There are lots of countries that use the Green Card system to establish who has valid insurance on their car when they've travelled from another country. All countries within the European Union use this system, as well as those in the European Economic Area (EEA). Some North African countries also use it, as does Switzerland, Russia, some parts of the Middle East and the UK.
However, you do not need a green card if you are travelling from an EU country to another EU country. This is because you are instead protected by the EU Motor Insurance Directive. They use the Protection of Visitors scheme, instead, and you don't need to do anything to be part of this scheme. It aims to protect victims who are involved in a road traffic accident outside the country they usually live in.
You also don't need a green card if you're travelling from Ireland to Andorra, Iceland, Liechtenstein, Norway, Serbia or Switzerland.
If you don't need a green card to travel to these places, where do you need a green card?
Albania
Azerbaijan
Belarus
Moldova
Morocco
Iran
Israel
Russia
Tunisia
Turkey
Ukraine
These are just a few examples. Always check the information for the specific country you're travelling to before you go.
Do You Need A Green Card To Travel To The UK From Ireland?
If you're planning to drive an Irish-registered vehicle in the UK, you no longer need to apply for a green card. As long as you have a valid Irish insurance disc that can be shown should anyone ask, you don't need the green card. The disc proves that you have valid insurance and is enough. The same can be said if you're planning to travel from Ireland into Northern Ireland.
If you don't have an insurance disc, a green card may be needed instead. You can apply for a new one or, if you have one already, just check it's in date before you travel.
Do You Need A Green Card To Travel In Ireland From The UK?
You no longer need a green card to drive a UK-registered vehicle in Ireland. From August 2021 (post-Brexit), it was decided by the European Commission that green cards won't be needed. The same rules also apply for vehicles that are registered in Northern Ireland.
So should you wish to travel to Ireland from the UK or Northern Ireland, a green card isn't required. Instead, you may wish to bring some form of proof of insurance, in case you're asked for it.
First published by Ian O'Reilly