What Does House Insurance Cover In A Fire?
Protect Your Home
Last updated: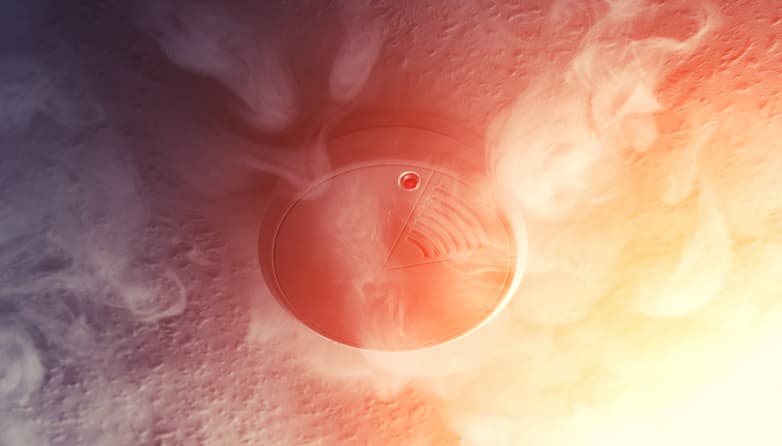 No one wants to experience a house fire, but unfortunately, with so many electrical devices, candles and gas appliances in our homes, fires can occur. Fires can be devastating and the last thing you want to find out is that your home wasn't properly insured against the damage caused by smoke and fire.
If you've had a house fire, you may be wondering what your home insurance will cover. Does it just cover the contents, or will you get some form of compensation to assist in the rebuilding of your home?
We've tried to answer these questions and more in this article, though do be aware that every policy is different and you may need to refer back to your policy booklet for your precise level of cover.
Firstly, it's important to know what type of home insurance policy you have. The most common types of home insurance are building and contents insurance. If you have both forms of cover, your building plus the belongings inside it will be covered up to the amount confirmed in your policy.
You could have landlords insurance if it's a rented property and unoccupied home insurance if no one is living in the house or flat. Students and tenants should consider taking out insurance to protect their contents.
Does house insurance cover chimney fires?
The fire service is called out frequently to chimney fires every week in Ireland. Many people may not know the importance of keeping a chimney clean and free of blockages to prevent these fires from starting.
The main cause of chimney fires is creosote. This is a substance that's created as a result of condensed smoke. It can build up on the inside of the flue and is highly combustible. When your fire is lit, the creosote can burn and cause a house fire that starts inside your chimney shoot.
Each policy is different; however building insurance will usually cover a fire caused by a chimney. If you called the fire brigade out to your house, your insurance may also cover this cost.
You can help to prevent a chimney fire from occurring with these simple suggestions:
Clean out your chimney at least twice a year
Time your chimney cleaning for around September or October as the weather gets cooler.
Check your chimney for blockages, such as birds' nests or other debris.
Does homeowners' insurance cover accidental fire?
Most home insurance policies will cover accidental fire and you can add it to your policy for a small additional cost if it is not covered.
However, you should aim to take the following steps to prevent a fire from occurring in the first place.
As outlined above, you should ensure that your chimney is maintained and cleaned to comply with chimney fire safety.
Tumble dryers can be a potential fire hazard if the lint isn't removed from the machine on a regular basis. When lint builds up, it can clog the appliance and the fibres may catch fire. There will be a filter in your machine that catches these threads and it should be cleaned regularly.
Candles should always be blown out after use. Never place a lit candle near fabric such as curtains, or underneath anything. For example, you shouldn't light a candle that has a wooden shelf directly above it.
You should also never leave cooking unattended. Pans can overheat or food that's cooking in the oven can catch fire when you aren't watching.
What happens after a fire?
You may be shaken up after a house fire, but there are certain details that need to be attended to in order to make sure that you can get the money you need to rebuild your home. As soon as the fire brigade have left the scene, you will need to notify your insurance provider straight away.
Shortly after notification of the fire, a loss adjuster will be assigned to your case. This will be the person who deals with your claim and will likely inspect your property before you move anything. As you're going through which items are completely destroyed and which can be salvaged, the loss adjuster should be present. This is so they can assess the level of damage and the number of items that were destroyed to provide you with an accurate reimbursement figure.
You may wish to appoint a loss assessor. Doing so is optional, however this person may be able to help you work out the extent of repair that's needed and create an inventory of the damage. They will also negotiate with the loss adjuster on your behalf, which could take some of the stress out of the process for you.
Depending on your policy, you may be referred to preferred builders or tradesmen to assist in the rebuild of your house. It's important that you keep any receipts to show what services you've paid for, such as clean up costs, building materials and labour.
For example, you may hire a professional carpet cleaner to restore your smoke-damaged carpet or you may have had a sofa reupholstered. It is important that you get these costs authorised before you proceed with the services.
How to get home insurance after a fire
If you've previously made a claim for fire damage, you may find it difficult to get a quote from some insurance companies who either can't quote you or provide a premium that is too expensive. If this is the case, there are some steps you can take to either reduce the cost or find out why you've been refused. Some providers may agree to cover your home if you put certain safety devices in place, such as a smoke alarm.
If you think that your current policy doesn't include fire damage, you can call Chill at any time to arrange for it to be added and put your mind at rest that your home is fully protected.
First published by Ian O'Reilly